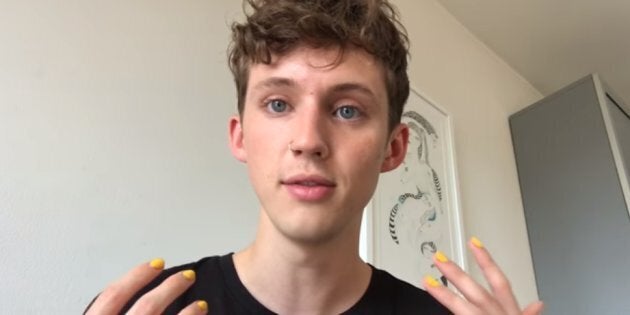 A group of well-known Australians launched a campaign on Tuesday to lobby the Turnbull Government to introduce a nation wide anti-bullying, anti-violence education program into schools.
The proposed program would focus on educating children about respecting and tolerating those who identify as LGBTQ. The group is seeking government funding for the program.
The push is being lead by singer-songwriter Troye Sivan and his mother Laurelle. It is also backed by other Australian celebrities including singer-songwriters Missy Higgins and Jack Vidgen, broadcasters including Kent 'Smallzy' Small and former newsreader Tracey Spicer. Actor Guy Pearce is supporting the cause and so is futurist Mark Pesce. In total there are 25 celebrities behind the campaign.
In a video uploaded to Youtube on Sunday, Troye Sivan outlined the premise for the movement.
"In schools across Australia, thousands of kids like me are bullied on a daily basis because of their sexuality. They're also bullied based on their religion, race, gender, faith, disability, skin conditions, social standing or political persuasions, Sivan said.
"That's why I'm getting behind a new push in the form of a letter to the Australian Prime Minister to roll-out a national anti-bullying, anti-violence program in schools across Australia where students are taught to respect and tolerate those who are like me."
In both the letter to the Turnbull Government and the video, greater national issues relating to domestic violence and suicide are addressed. The group believes that if a greater understanding of LGBTQ people existed at a grassroots level, these social issues could be eased.
"One in four Australian women has experienced physical or sexual violence by an intimate partner. This is not a statistic to be proud of. LGBTQ people have the highest rates of suicidality of any population in Australia. In fact, gay teens are 14 times more likely to commit suicide in Australia. Further research suggests that the majority of male-to-male bullying in schools is homophobic and that such bullies often become perpetrators of domestic violence later on in their adult lives," the letter reads.
In the video, Sivan also makes reference to the controversial 'Safe Schools' program which is being funded inconsistently across all Australian states.
"Australia needs and anti-bullying, anti-violence program with a focus on LGBTQ bullying that isn't just another anti-bullying program. What Australia doesn't need is a program tied up in politics and controversy," he said.
In the name of mutual respect and tolerance, the group asks for the government to federally fund a program to educate children across Australia about differences in religion, race, gender, faith, sexuality, disability, skin conditions, social standing or political persuasions.
They also recommend that an extensive number of experts including paediatricians, psychologists and criminologists are consulted before the roll out of the proposed program.
The group references the $6 million Labor promised to 'Safe Schools' in last year's election campaign as a way of reinforcing their view that this issue is of national importance.
ALSO ON HUFFPOST AUSTRALIA