Many of us have a love-hate relationship with veggies. On one hand, eating them makes us feel great, healthy and full of energy. Then there's the issue of veggies not tasting as good as, say, instant noodles or pasta.
But there's no beating around the bush -- eating enough vegetables is incredibly important for health, whether we like it or not. And hardly any of us are meeting the daily recommended amount.
"Less than four percent of Australians are eating enough vegetables each day," Alexandra Parker, accredited practising dietitian from The Biting Truth, told HuffPost Australia.
"Most of us probably don't even know we're failing this daily recommendation, yet it may be seriously affecting our health. The stats seem to stack up even worse for Australians aged 18 years and younger, with less than 0.5 percent meeting the vegetable recommendations.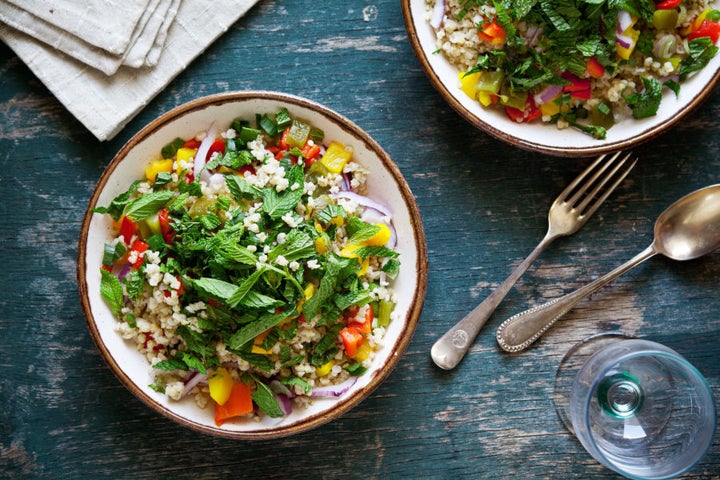 But why should we eat veggies?
"The Australian Dietary Guidelines say we should aim for five serves every day to ensure our bodies receive adequate fibre and essential vitamins and minerals," accredited practising dietitian from The Biting Truth Anna Debenham explained.
"Veggies are also low in kilojoules and fill you up, making them ideal for weight management (if you're trying to lose weight, eating more veggies is a great start). Maintaining a healthy weight is one of the best ways of reducing your risk of chronic disease and other health problems.
"A long term daily habit of eating adequate vegetables promotes a general sense of health and wellbeing, and can protect you from disease."
Eating vegetables regularly also ensures a good intake of fibre which, when combined with enough fluids, can improve bowel health and promote regular bowel movements.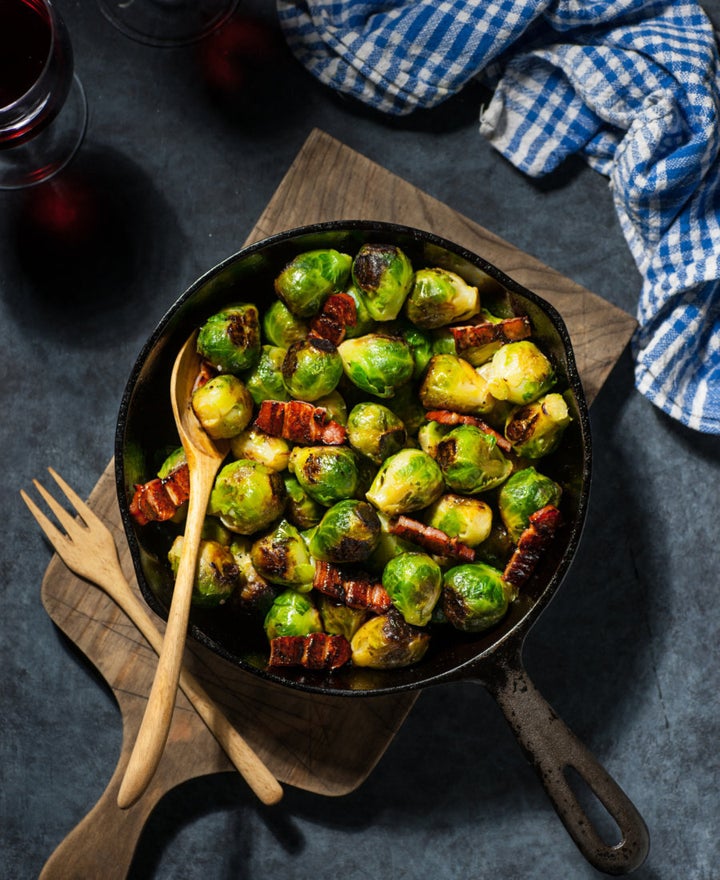 If you (or your kids) dislike veggies, variety and persistence is key.
"Parents need to be role models for their children by eating more vegetables. We need parents to be eating the recommended amount of vegetables and serving these up to their kids as well, otherwise they stand no chance," Parker said.
"If you are dealing with fussy eaters, remember that persistence is key. Keep offering the vegetable in different ways (for example, cooked, raw, roasted, mashed, grated) until your kids decide to give it a go. Offer vegetables at different times of the day, not just at dinner."
To jazz up your veggies and make them more enticing, here are some simple tips:
Add different herbs and spices and a splash of extra virgin olive oil
Add fresh chilli and garlic
Add a squeeze of fresh lemon (as a healthy substitute for salt)
Stuff vegetables, such as eggplant or capsicum, with lean meat and herbed/spiced basmati rice
Mix up your lasagna by using eggplant and sweet potato instead of lasagna sheets
Sauté veggies like brussels sprouts, broccoli and kale with herbs and spices, instead of steaming or boiling
Grate carrot and zucchini into pasta sauces and curries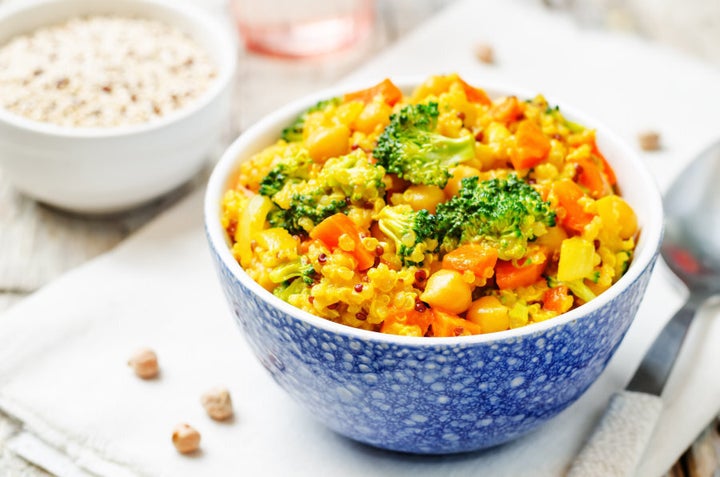 And these veggies don't have to be organic, or fresh all the time.
"Remember that fresh, canned, dried and frozen varieties are all nutritious options. While we usually prefer to opt for fresh vegetables, we always have frozen vegetables in our freezer as a back up, as it makes it easy to whip up a healthy, balanced meal," Debenham said.
"Include raw, cooked and many different colours and types. This is because different types of vegetables contain a variety of different nutrients that our bodies need to be healthy.
"Different types of vegetables may provide protection against different types of diseases." In other words, five serves of veggies "does not mean five serves of potato".
One serve of vegetables is 75g, or:

1 cup salad vegetables (e.g. leafy greens or raw salad vegetables)
½ cup cooked vegetables (e.g. broccoli, carrots, pumpkin)
½ cup cooked dried or canned beans, peas or lentils
1 medium potato or other starchy vegetables (e.g. sweet potato, taro, cassava)
1 medium tomato
Although many of us think we're eating enough veggies per day, chances are we're not.
For a visual representation, this is how many serves of vegetables are approximately in common meals -- plus easy ways we can add more veggies.
"If you go out for dinner regularly, you're likely to get fewer vegetables than if you cooked for yourself -- unless you order them as a separate dish," Parker said.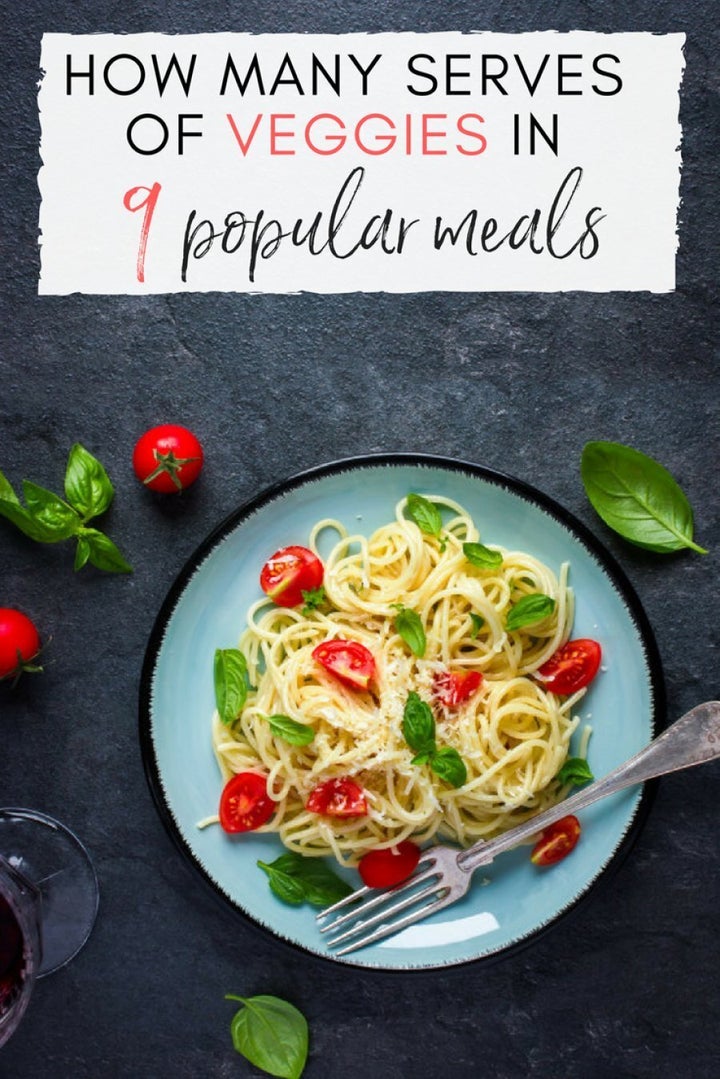 1. Spaghetti -- ½ cup veggies or fewer per serve
"Your bowl of spaghetti could contain less than half a cup of veggies," Parker said.
Tip: halve the pasta and replace with zucchini noodles for an added veggie boost. You can also add kidney beans or lentils to your bolognese mix to up the veggie content.
2. Lasagna -- ½ cup veggies or fewer per serve
"Your lasagna could be a similar story to your spaghetti bolognese," Parker said.
Tip: add eggplant or sweet potato strips in with (or instead of) your lasagna sheets to boost the fibre.
3. Pizza -- ½-1 cup veggies per pizza
"If you're lucky, an entire pizza might contain the equivalent to one cup of veggies," Debenham told HuffPost Australia.
Tip: to boost your veggie intake on pizza nights, keep the 'balanced plate' in mind (½ plate non-starchy veggies or salad, ¼ plate good-quality carbohydrates and ¼ plate lean protein).
"Try and order vegetable-based pizza as opposed to ones that are covered in processed meats like ham and salami."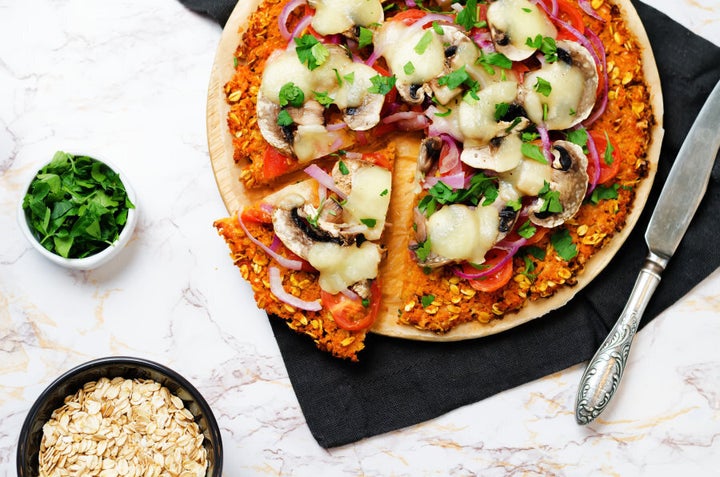 4. Burger -- fewer than one cup veggies
"Most burgers are going to offer less than a serving of veggies," Parker said.
Tip: sneak more veggies inside your burger by adding extras like spinach, onions, lettuce, tomato and even roasted capsicums and mushrooms. They'll pack layers of flavour and textures to your burger without compromising your health. Or, make veggie burgers instead.
"We'd also recommend ordering a side salad instead of fries."
5. Pie -- minimal veggies
"Even if you're purchasing pies with mushrooms, onion or leek, you are going to receive very minimal vegetables," Debenham said. "When you make one at home however, you might be able to squeeze in a serving of vegetables."
Tip: bulk out your homemade pies with celery, carrot, leek, mushrooms and peas. Enjoy with a side salad to help reach your five serves a day.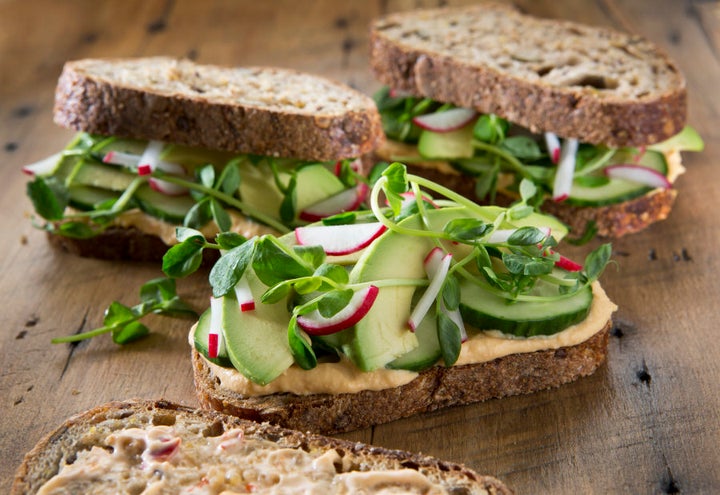 6. Sandwich -- one cup veggies or fewer per serve
"Sandwiches can often provide a serve of vegetables, and when served up on whole grain bread with a lean protein is a good lunch option," Debenham said.
Tip: opt for vegetable-based sandwiches with a lean protein. Avocado, lettuce, olives and tomato are great fillers that add flavour and crunch.
7. Quiche -- fewer than one serve veggies per serve, when bought
"Homemade is going to be your best option as you can actually see how many vegetables go in. Store bought varieties mostly contain less than a serve of vegetables per slice," Parker said.
Tip: similar to pies, bulk up your quiche with lots of delicious vegetables.
8. Soups and stir fries -- up to three serves of veggies per serve
"Vegetable-based dishes like soups and stir fries are going to provide you with a bigger hit of veggies," Debenham said. "The variety of vegetables you include in these dishes can be just as important as the amount."
Tip: frozen veggies are equally nutritious, and often more affordable, and will allow you to incorporate more varieties of veggies into the dish.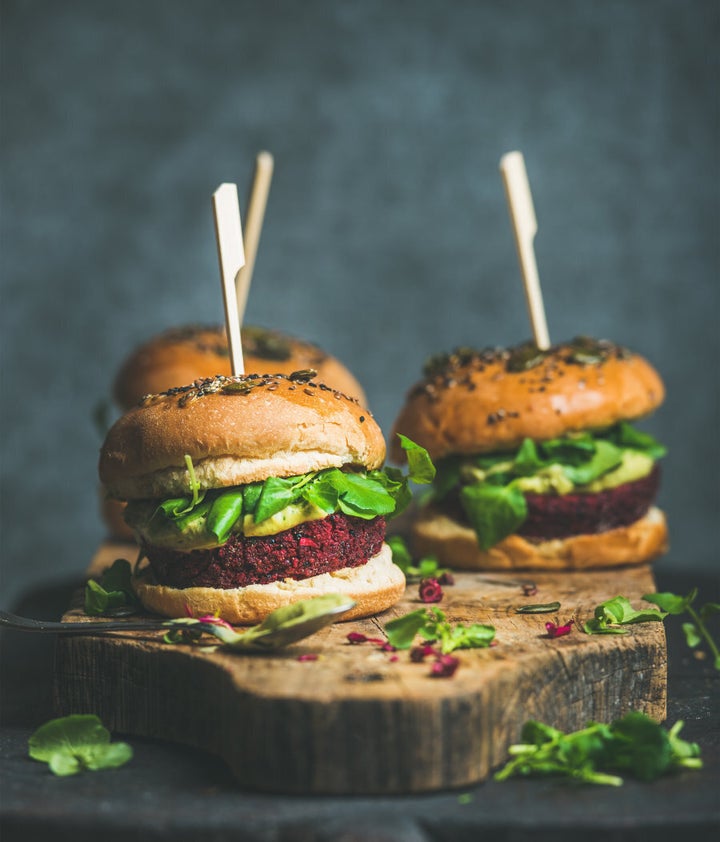 9. Tacos -- one serve or fewer
Depending on your fillings, tacos can contain one serve of veggie or fewer, but there's an easy way to boost the content.
"Legumes (for example, chickpeas, lentils and kidney beans) are the ultimate superfood and can be added to your favourite meals to count towards your vegetable intake. Try adding lentils to your bolognese or throw in some beans next time you have tacos," Parker said.
ALSO ON HUFFPOST AUSTRALIA