If your idea of a cosy night involves binge-watching a TV show and eating ice cream, welcome. Seriously, is there anyone in the world who hates ice cream?
Because everyone loves ice cream, we thought it would be a good idea to taste test a few (yes, hard job). But there's a catch: the ice creams would all be vegan.
The taste testers didn't know this, however.
From mint choc chip and caramel, to triple chocolate and ice cream sandwiches, here's what HuffPost Australia thought of six vegan ice creams.
Actual footage from the judging process.
1. 'Zebra Dream' Mint and Pana Choc Chip
This coconut milk based ice cream is flavoured with real peppermint essential oil, with spirulina giving it that minty green colour. Studded throughout the mint ice cream is Pana 80 percent chocolate, while agave nectar adds sweetness.
Judge one: It's mint choc which is my favourite flavour. I like it because the mint is very light. Sometimes it's really overpowering. It could do with a bit more chocolate.
Judge two: It's nice that it doesn't taste like fake mint.
Judge three: It doesn't taste artificial, but I don't like the consistency of the ice cream. It falls apart in your mouth which is really strange. Not that it's a bad thing, just different. The mint is nice and authentic, though.
Judge one: Yeah, it's a little bit crumbly and less creamy than normal.
Verdict -- mint flavour is delicious, needs more chocolate bits and a creamier texture.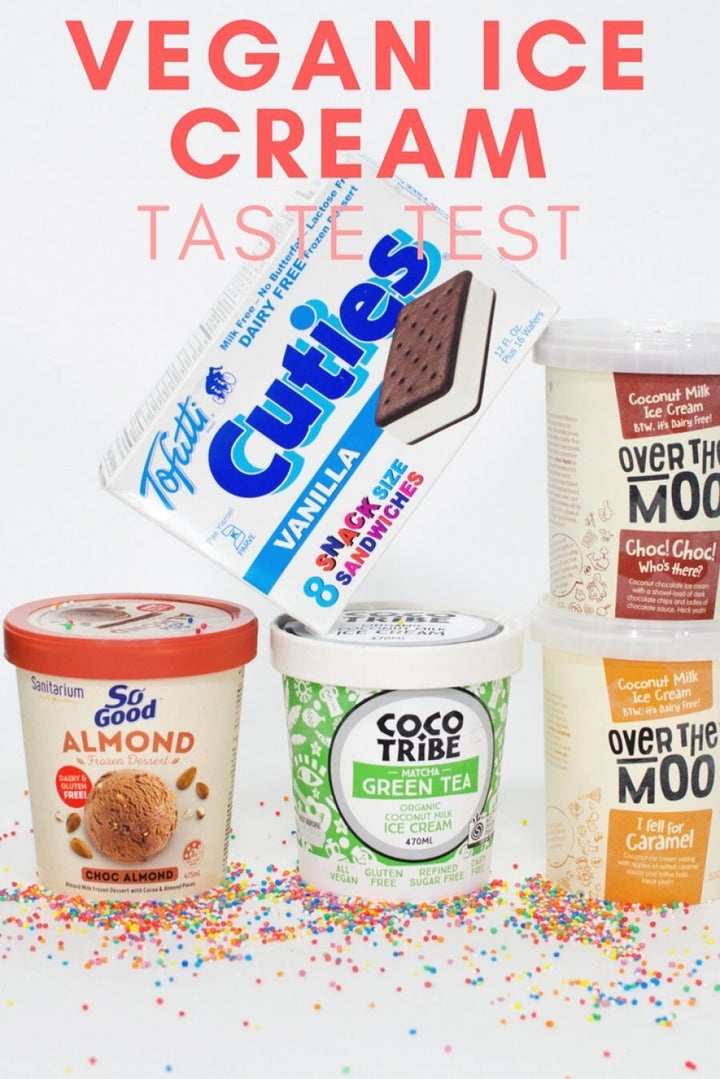 2. 'So Good' Choc Almond
This chocolate ice cream uses almonds and almond butter as the base, with roasted almond pieces coming through at each bite.
Judge two: The consistency is better. It's smooth and not too chocolatey, which I like.
Judge three: Yes. This is good. It's smooth and creamy.
Judge one: I really like this one. It's very creamy and has a nice chocolate flavour -- but not that really rich chocolate that you can't eat much of. You could almost eat a whole tub.
Judge three: Yep, I agree. And I probably will.
Judge one: It's nice and light. I thought it was just chocolate, but I just got a hint of a nut at the end. Hazelnut maybe? I like it. Would eat again.
Judge three: There is an aftertaste of hazelnut and the subtle chocolate taste... it's not an overpowering chocolate. You know you're having chocolate but not an artificial kind.
Verdict -- a smooth chocolate ice cream with a light, creamy consistency.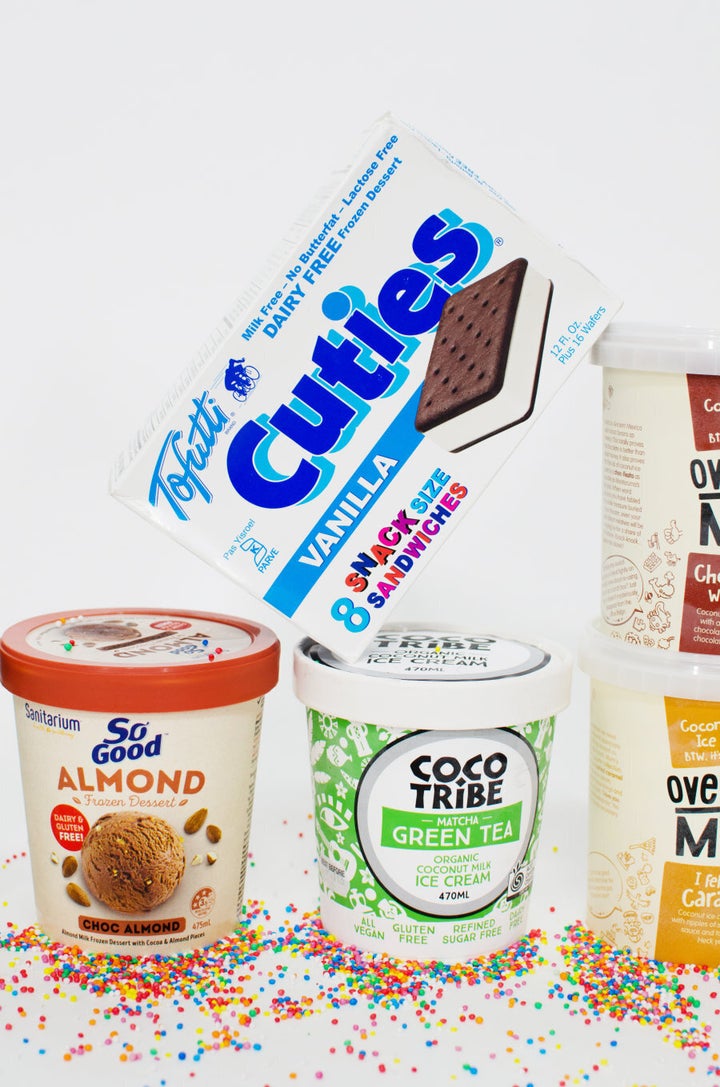 3. Coco Tribe Matcha Green Tea
Coco Tribe ice cream and yoghurts are handmade in small batches in Sydney, and are completely dairy, gluten and refined sugar free. The matcha green tea ice cream uses organic coconut cream and matcha powder as a base, with hints of vanilla.
Judge three: Oh. It's green. This is going to be green tea or something.
Judge one: On a first scoop it's quite icy. Hmm it's very icy, like a sorbet.
Judge three: I have no idea what this flavour is. I don't hate it but it's such an unusual flavour. It's a weird, subtle sweetness.
Judge two: I'm going to say it's green tea. It's very sorbet-y. There are lots of air bubbles.
Judge three: *shaking head* No. No, I would not eat. It doesn't taste like anything to me. It tastes more like a palate cleanser than an ice cream. My palate does feel refreshed but there's no overwhelming flavour in that at all.There's a subtle flavour, but you don't want that in your dessert.
Judge one: Correct. It feels like one of those weird, obscure things you'd get at a fancy restaurant before you get your real dessert. But it's light and refreshing.
Judge two: You could have it in your smoothie, maybe.
Judge one: Or maybe with another flavour of ice cream or with toppings.
Judge three: I'd be very sad if I got this at a restaurant. My palate is fine, I want chocolate.
Verdict -- average in flavour and texture, better for a light and healthy option.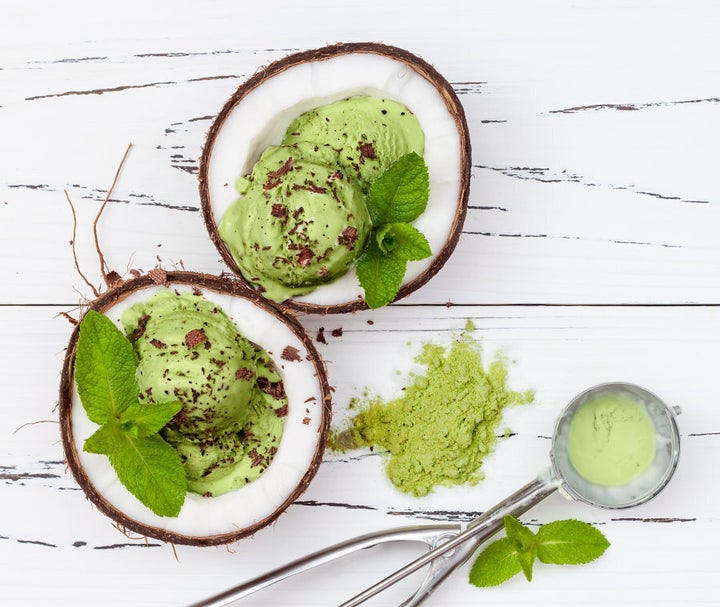 4. 'Over The Moo' Choc. Choc. Who's there?
This triple chocolate milk ice cream has a coconut milk base, with a generous amount of crunchy dark chocolate chips and chocolate sauce.
Judge one: Yes, this looks good. Ohhhh. Chocolately.
Judge three: This looks like a real flavour. It's soft, ohhh. This tastes like my childhood. It tastes like New Zealand ice cream.
Judge one: It's almost fudgy. Mmm, it's really good. It tastes like chocolate icing, or even chocolate cake but in ice cream form. It's so soft. Yum.
Judge two: True, it's mousse-y. And there are bits of chocolate in it. It's very easy to eat.
Judge three: You've got to have bits. It's spongy almost like chocolate cake.
Judge one: I still like the first gentle chocolate ice cream, but that was different.
Verdict -- very, very delicious, with a creamy texture and loads of chocolate.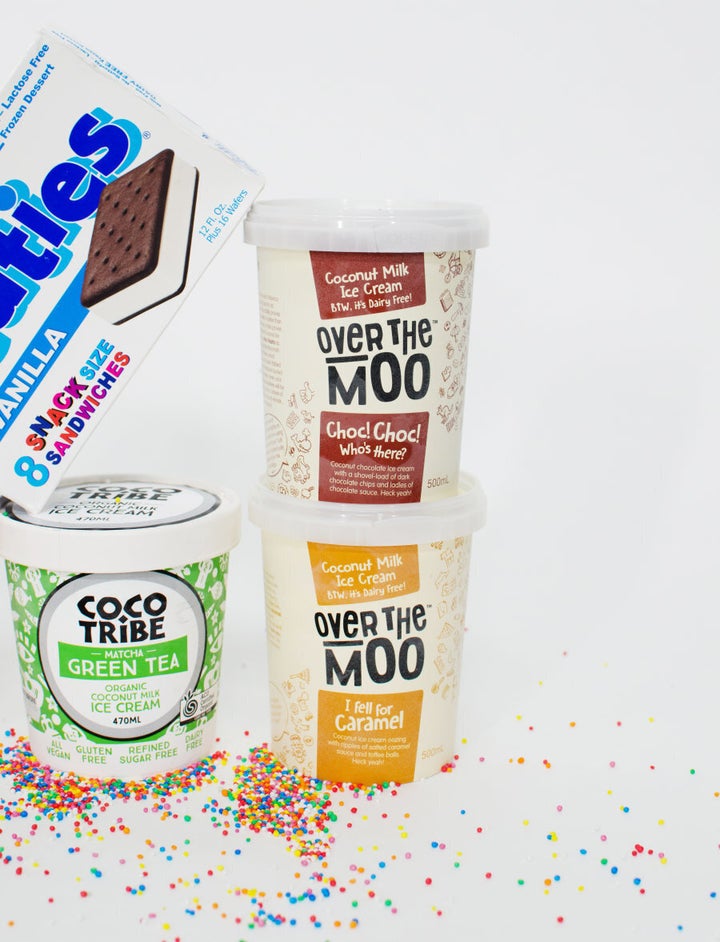 5. 'Over the Moo' I Fell for Caramel
The other Over The Moo flavour is caramel, consisting of coconut ice cream with ripples of salted caramel sauce and crunchy salted caramel chunks.
Judge one: Ohh it looks, again, very soft and creamy. Wait. There's a thing in there, I've got to get the thing. It's got gooey bits!
Judge three: Wowww. It's like butterscotch.
Judge one: Or, if you close your eyes, it tastes like a rainbow Paddle Pop, which is caramel flavoured if you didn't know. The texture is a little icy on top but the flavour is amazing.
Judge two: This is good. Really. Good. What's the gooey stuff?
Judge one: Like a caramel or butterscotch sauce. But the flavour doesn't match the usual appearance. It should almost be a creamy brown flavour.
Judge three: Oh my, there's more than just caramel sauce.
Judge one: Is that a ball of something? There are so many balls! It's really good. How was your ball?
Judge three: I got two balls. They were great. I like this. I would not send this back.
Verdict -- overwhelmingly tasty, generously studded with caramel balls and sauce.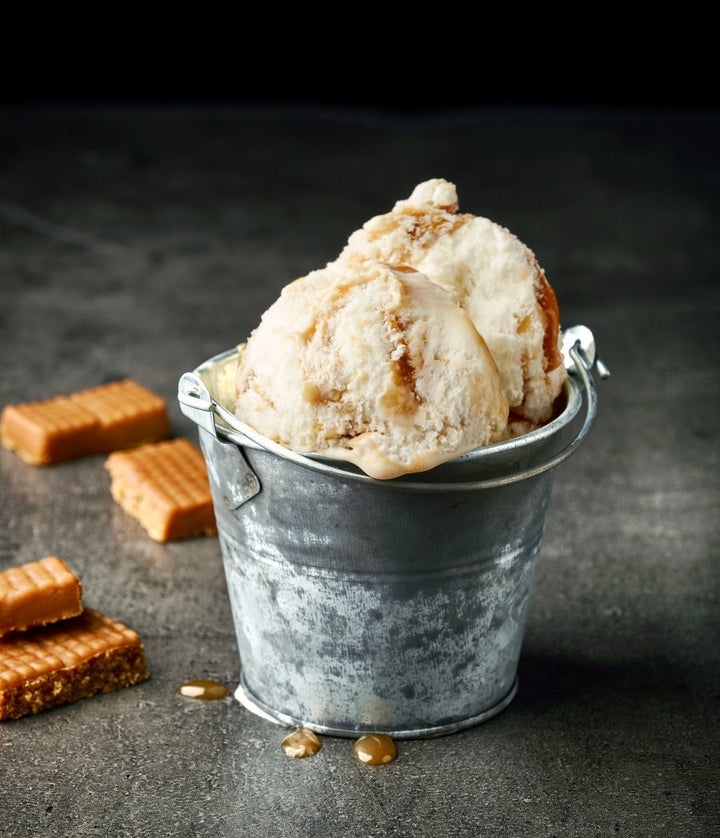 6. 'Tofutti' Cuties Vanilla
These 'snack size' ice cream sandwiches are in traditional vanilla flavour and are made with a tofu base, while the biscuits are chocolate flavoured.
Judge three: It's a sandwich! *giggles*
*HuffPost staff member walks in*: Where was my invite? This is insubordination.
Judge one: There have really been some winners, but this one... You can't like everything. It reminds me of a Maxibon in the look...
Judge two: But not in the taste.
Judge one: The biscuit is a bit too soft for my liking. You can't really taste the biscuit.
Judge three: And it doesn't have a very chocolatey flavour. *shows sticky chocolatey, biscuit-y fingers* I'm sorry, but you don't get this with a Maxibon.
Judge one: It just has a very generic sweet flavour. It's not offensive but it's not tantalising. It's a bit blah. And it's so melty.
Judge two: I think the biscuit has a lot to do with it. It's nice to eat but it leaves you feeling like you want something more.
Judge three: It's one of those things -- and I find this with dairy products -- if you leave them in the freezer or fridge, it just picks up every fridge flavour. And this mess... it's a crime.
Judge one: They could have put something in the ice cream. You need a crunch.
Verdict -- pretty average, not big on flavour or texture.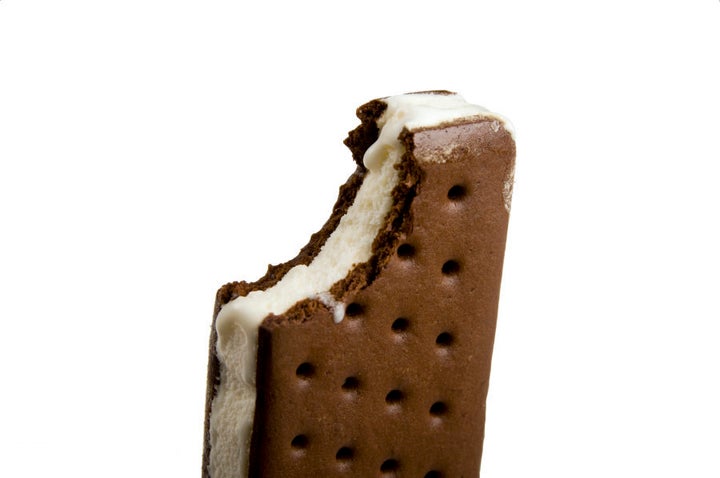 The big reveal.
Judge one: But you liked some of them!
Judge three: Not anymore!
Judge two: I had an inkling. My number one would be The Over The Moo ice creams.
Judge one: Yep, and the nutty chocolate one was amazing.
Judge two and three: Yeah, that was really good.
Judge one: The green one was actually matcha green tea. Interesting. And what brand were the sandwiches?
Judge three: Oh for f**k's sake. Goddamn it. There's a way to be a person and this isn't it.
Judge one: Is it actually made out of tofu, though? It can't be tofu.
Judge three: I'm out. I'm done.
ALSO ON HUFFPOST AUSTRALIA