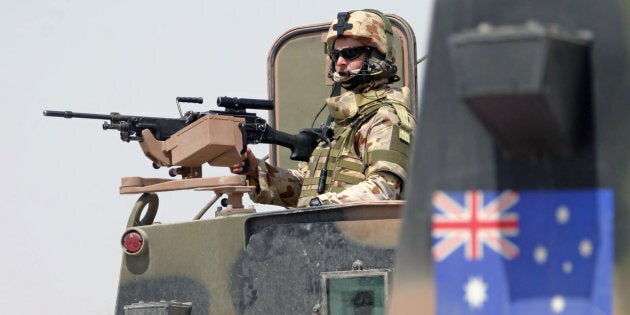 Aussie diggers battling mental health issues will receive a big boost in Tuesday's federal budget, with the government set to announce a range of initiatives including suicide prevention programs.
NewsCorp Australia reported on Sunday that the Turnbull Government will announce the ramped up services in this week's budget to help veterans with their mental health and conditions like post-traumatic stress disorder, depression, and substance abuse.
The budget will reportedly include a $350 million boost to the Department of Veterans' Affairs, which is said to represents the biggest windfall to defence mental health services in decades.
Veterans Affairs Minister Dan Tehan told the ABC that the government was committed to bolstering services for soldiers impacted by war service.
"The earlier you can intervene when it comes to mental health issues the better," he said.
"If you've served one day you are eligible for the full suite of mental health treatments ... that's available to you free. The help will be there for you."
Tehan said new funding would see more investment in helping returned diggers get employment, further research into mental health conditions, and a push to accelerate turnaround times on Department of Veterans Affairs claims.
The funding injection also takes in more than $30 million for non-liability mental health services to ex-service personnel and a $10 million spend on suicide prevention programs, according to NewsCorp.
ALSO ON HUFFPOST AUSTRALIA