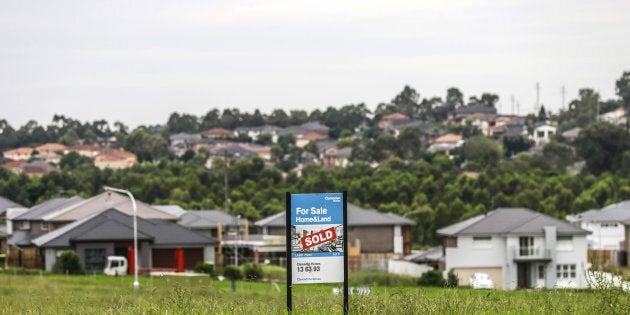 Almost 90 per cent of Australians believe that home ownership will be out of reach of future generations, alarming new research shows.
The study, from the Australian National University, found a whopping 87 per cent of those polled were either very concerned or somewhat concerned that future generations of Aussies would not be able to afford to buy a house.
The Attitudes to Housing Affordability: Pressures, Problems and Solutions report also found 68 per cent of those without property were concerned they would never get a foothold in the market.
It found 20 per cent of those surveyed were struggling to keep up with mortgage or rental payments, while 18 per cent saying it was a constant struggle.
Two per cent said they had fallen behind on their mortgage of rent, the survey found.
Lead researcher Dr Jill Sheppard said the poll indicated many Australians still believed home ownership was a large part of the nation's way of life.
But Sheppard said respondents increasingly had concerns about skyrocketing house prices in capital cities, especially Sydney and Melbourne.
"A vast majority (of Australians) now believe home ownership will be unachievable for future generations," Sheppard said.
"Young Australians are particularly pessimistic and have little faith that they will be able to buy a home and replicate the levels of home ownership of previous generations.
"This poses a significant policy dilemma for federal and state governments as they grapple with rising prices, affordability, and the aspirations of those wanting to own their own home."
Those polled backed a further ramp up in housing supply including a boost in public housing, according to the study which surveyed 2,513 people between 6 March and 27 March.
Despite the downbeat findings, some relief for house hunters could be on the way, with recent data from research firm CoreLogic showing some cooling in key Sydney and Melbourne property markets.
The CoreLogic numbers revealed Sydney price growth was flat in April and ticked up slightly in Melbourne over April -- a big turnaround from dramatic price rises over 2016 and 2017.
Indeed, Citibank warned this week that house prices could drop by as much as seven per cent over the next two years as housing supply surges and demand eases.
"Given the stretched house price valuations in Sydney and Melbourne some correction would seem likely as supply continues to catch up to demand," Citi analysts wrote in a briefing note.
While the housing outlook may be improving, there remains continued frustration among many Australians with the inability of major parties to fix the ongoing problem.
ALSO ON HUFFPOST AUSTRALIA