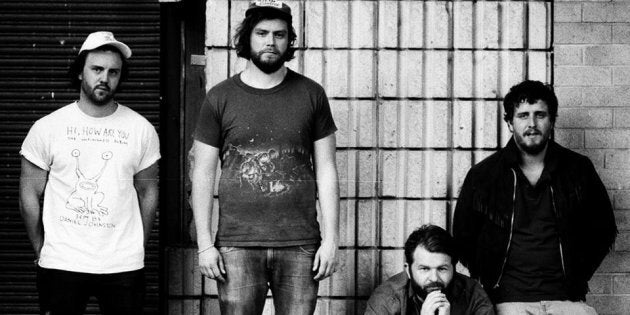 Racist jokes. Australia Day. The USA. Donald Trump. Your baby bump. The credit crunch. The coward punch. And you.
These are the things, in order, Adelaide rockers Bad//Dreems have had a "gutful" of. After carving out a little niche with the Australiana rock'n'roll of their debut album Dogs At Bay, they're back with a follow-up -- tighter, leaner, meaner, angrier than before. They're pissed off about a lot of things happening at home and abroad, and it's a vibe that seeps through every guitar lick, every drum bash, every snarled and pained lyric out of frontman Ben Marwe's mouth.
They're fed up enough, had a gutful enough, to have even titled the album after that most ocker of colloquialisms: Gutful.
"Gutful is real angry. You're sitting there, not being able to look away from the world we're surrounded by. People shouting at each other. That makes me angry," says guitarist Alex Cameron. We catch up with him and Ben in Sydney, just days after the album release. Their bald-faced, meaty, unabashed rock -- full of dry, warm guitar lines and thumping drums, borrowing as much from early AC/DC as it does Midnight Oil or even Jimmy Barnes with shout-a-long choruses and rhythms to pound your car steering wheel to -- has been overwhelmingly well-received so far.
"There's so much bullshit that's being propagated, and bullshit is unfortunately rising to the top," Alex says.
"It wasn't a calculated thing, we just couldn't live in the world for the last 18 months and NOT be affected by what's happened."
The boys talk about Hanson and Trump, nationalism, racism, bigotry. They talk about 'Gutful', the title track of the album, and the list of things they've had a "gutful" of. They talk about the new album being about them getting out of Adelaide and travelling the country, and the world, seeing more and being affected by more. At various points, Gutful takes on race hate, the Bra Boys, toxic masculinity and male violence, media, climate change, cultural apathy, all bundled up in guitar-shredding, throat-shredding suburban working-class rage. Bad//Dreems are fast becoming known as much for their heart-on-sleeve, passionate lyrics as their music, with no recent review complete without some reference to their 'political' bent, to 'protest rock'.
Just don't call them a political band.
"With Trump and Hanson and the controversy around Australia Day, within our generation I don't think calling out racism and idiocy needs to be politically charged. It's common sense," Ben says.
"It's being a human being," Alex adds.
"The reason you're into music is because you believe in that form of communication and expression which is above politics. Some bands have been political, Midnight Oil, but that's not us. The average person and everyman is pissed off about being buffeted around by all these forces in our time, whether that's the far-right rising, the lack of middle-ground or in-depth analysis of issues or proper discussion. People are fed up of that."
The question of whether Bad//Dreems are a political band is one we come back to a few times in our chat. The boys don't think they are; others aren't so sure.
"We had a big discussion when the album was coming out, the way the label wanted to promote it. We said we weren't a political band, but then someone came back and said 'I think you might be'," Ben laughed.
For Gutful, Bad//Dreems linked up with legendary producer Mark Opitz, recording nearly the entire album live, minus the technical studio wizardry which most rock bands use these days, in favour of preserving the "feel" of a live rock band. Opitz's portfolio reads like a who's-who of Australian rock legends - The Angels, Midnight Oil, AC/DC, Cold Chisel, INXS, Hoodoo Gurus, Noiseworks, Australian Crawl. It's no surprise that Bad//Dreems have been compared, at some stage, to almost every band on that list.
Their Australiana-soaked rock'n'roll, which shifts from balls-out swagger on 'Mob Rule' to the album's title track which nearly sounds like a Bon Scott-era AC/DC hat-tip, through to 'By My Side' which you can almost hear Jimmy Barnes covering at some point, and the warm washing guitar tones of the Midnight Oil-reminiscent '1000 Miles Away'. Their unabashedly working-class vibe and aesthetic -- work boots, footy jerseys, flanno shirts, and merchandise themed around South Australian beer West End -- keep those comparisons regularly rolling in.
Just don't call them a pub rock band.
"It's been interesting the way people have framed us. We're males playing rock music, and at some point, the moniker of 'pub rock' got put onto us. But we always felt there was much more to us than what people think 'pub rock' is," Alex says.
"We make guitar music recorded live in a studio, and the stylings of it, a lack of stylings, is quite close to that stuff [pub rock]. On this album we tried to make it a bit more explicit, that we're writing songs about things that perhaps challenge that stereotype of what four males playing rock music is."
Picking Opitz, which might seem to feed the pub rock narrative, was also a calculated move.
"He just produced so many good songs, and if you brush off the stigma on it, he's played a part in so many great Aussie songs. He's by no means defined by beer barn, banging rock," Ben said.
"His favourite Australian song is 'Wide Open Road' by the Triffids. He's much more nuanced, but he, like those pub bands, has unfortunately been pigeon holed into an easy fit."
It's not hard to see the parallel being drawn there.