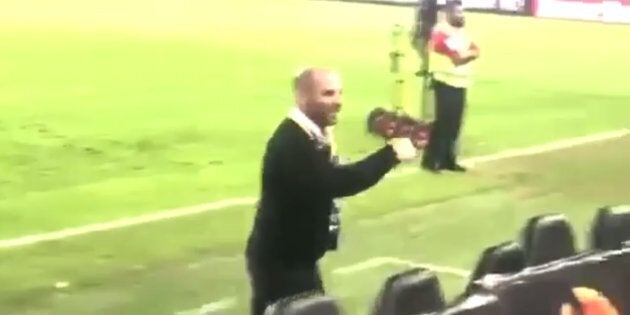 Masterchef judge George Calombaris has been charged with assault after allegedly shoving a teenage fan at the A-League grand final on Sunday night.
Calombaris, whose restaurants were last month found to have underpaid almost 200 workers to the tune of $2.6 million, was being taunted by members of the crowd about the pay bungle at Allianz Stadium in Sydney.
In footage captured by fans at the match, Calombaris is seen talking to Football Federation Australia boss David Gallop, shortly after the team he supports, the Melbourne Victory, had lost to Sydney FC in penalties in a fiery game.
The TV personality had attended the showpiece event with fellow Masterchef judge Matt Preston and chef Shannon Bennett, SBS reported.
After walking away from Gallop, Calombaris is seen gesturing at and talking to the taunters before approaching a young man standing in the stadium and allegedly pushing him.
At this point, a policeman walks over and leads Calombaris away as onlookers boo and scream, "Lock him up!". You can watch the full video here.
The 19-year-old alleged victim told A Current Affair that Calombaris' behaviour was "unnecessary and erratic" and he wanted to press charges.
"He was yelling at me, 'Come on the field, come on the field'. I'm not an idiot, I'm not going to go on the field," he said of the heated exchange between the pair.
He's a role model, he shouldn't be doing it."
"He came over, because I didn't come on the field. You can see on the video, I start to move back and then I just got hit in the stomach. I couldn't believe it really."
The teen, who wished to remain anonymous, told A Current Affair he didn't think Calombaris should get off the hook because he was a celebrity.
"He's a role model, he shouldn't be doing it. He's been given a media pass to be on the field and he's abused that privilege, that's for sure."
Calombaris apologised in a statement released by Channel Ten on Monday, claiming that the post-match abuse provoked him because it targeted his family.
"I have spoken to Melbourne Victory FC and Football Federation Australia today to report the situation and I'm truly sorry that this has happened," he said.
"While I am not proud of my reaction to the situation, I was offended by a spectator yelling out abusive and derogatory comments about my family."
Police confirmed in a statement that they had served a Future Service Court Attendance Notice to Calombaris for common assault.
He has been called to appear at Downing Centre Local Court on Thursday, June 29.
ALSO ON HUFFPOST AUSTRALIA