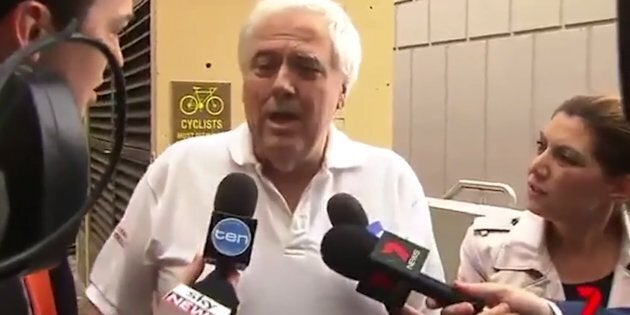 A sickly-looking Cliver Palmer, clutching a vomit bag and ventilator mask, has told a Brisbane court that he paid for two luxury cruises for his missing nephew, The Australian reports.
Palmer told reporters outside court that he is in "great pain" and is concerned about his ability to give evidence in the inquiry into the collapse of his company Queensland Nickel, as he has memory loss due to taking morphine.
He said he could not remember his daughter's middle name or his Amex PIN.
"This is not about Queensland Nickel. This is whether a citizen under medication which are narcotics which require to be signed off in the act should be dragged into court to give evidence and whether he can give evidence," he said.
"This is just a confirmation that this is a political witch-hunt."
Queensland Nickel liquidators have been chasing Palmer's globetrotting nephew Clive Mensink over the collapse of the Townsville refinery, which cost 800 workers their jobs and left creditors $300 million out of pocket.
Mensink was the sole registered director of the company when it collapsed last year, but hasn't stepped foot on Australian soil since two warrants were issued for his arrest in March.
Clive Palmer was due to answer questions over his nephew's whereabouts on Tuesday, but his legal team said he was recovering from a severe bout of pancreatitis and was too ill to attend court. Justice John Dowsett nevertheless ordered him to attend on Wednesday.
Palmer said he'd been suffering with pancreatitis for "weeks", but he did a television interview on Sunrise last Monday during which his GP, Reza Madah, admitted to the federal court that he showed no signs of forgetfulness or memory loss.
In the dock, Palmer told the court he paid for Mensink to go on two overseas cruises last year, ABC News has reported.
"I said he should go and see a doctor and talk to him about his problems then come back to Australia," Palmer said.
He also told the court that his father-in-law gave Mensick $10,000 when he "coincidentally" bumped into him overseas, which was part of the $200,000 worth of entitlements owed to Mensink.
The former federal politician also noted that the costs for the absent Mensink's legal fees were being paid for out of his entitlements.
"He should come back to Australia and answer legitimate inquiries," Palmer told the court.
ALSO ON HUFFPOST AUSTRALIA