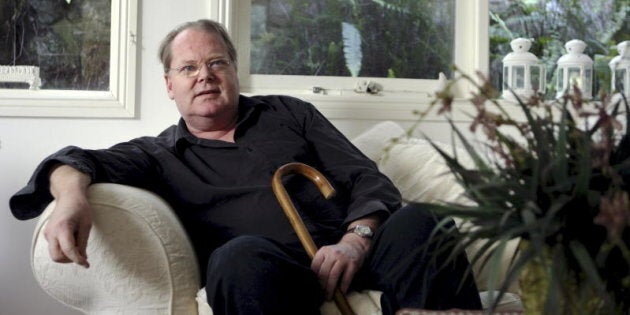 The death of veteran ABC journalist and broadcaster Mark Colvin on Thursday has sent shockwaves through the Australian media.
The 65-year-old award-winning reporter was the presenter of the ABC's flagship radio program PM from 1997 and passed away after battling a rare and chronic autoimmune disease, Wegener's Granulomatosis.
AM presenter Sabra Lane was reduced to tears when she concluded Friday morning's show, paying homage to the legendary journalist.
"Much has been said about our dear colleague Mark Colvin," she said.
"He was witty, incisive, supportive and a giant of our craft. We will miss you."
7.30 host Leigh Sales wrote a moving piece about her friend of 20 years who "pushed through extraordinary discomfort to be at work and to keep some semblance of a normal life chugging along".
"He could have been angry and bitter but I honestly never once heard him say anything like, 'It's not fair' or 'Why me?'" Sales wrote.
"It was a privilege to be his friend and I will miss him so."
Mary-Ellen Field, who donated a kidney to Colvin after being introduced by chance in an interview on PM, wrote a piece for The Guardian in which she shared some of her final memories with the veteran broadcaster.
"Mark called me on Tuesday; I could hear that he was full of medication," she wrote.
[H]e'd sweep up everyone in his enthusiasm, his wisdom, his great tidal waves of encouragement.
"He told me how much he loved me and that he would never be able to thank me enough for what I'd done, that I mustn't cry and that he needed me to be strong.
"He said he would call me on Wednesday. He couldn't, and I will never see his name flash up on my phone again. I can't stop crying."
Columnist James Jeffrey said that it was on Twitter -- "That corner of the internet that feels like it was designed with him in mind" -- where he crossed paths with Colvin.
"Many were on the receiving end of Mark's magic, and Twitter expanded his reach," Jeffrey wrote in a piece for The Australian.
"He was so generous -- not least with young journalists -- and he'd sweep up everyone in his enthusiasm, his wisdom, his great tidal waves of encouragement.
"He was one of the finest people I've ever known, and becoming his friend has been one of the great joys of my life."
ALSO ON HUFFPOST AUSTRALIA