WASHINGTON ― Less than 24 hours after the White House announced the termination of FBI Director James Comey, Senate Republicans expressed unease and demanded more answers from the president.
As Senate Majority Leader Mitch McConnell (R-Ky.) shot down calls for a special prosecutor to lead the ongoing investigation into Russia's meddling in the 2016 election and possible ties to President Donald Trump, a number of his rank-and-file members struggled to understand Trump's actions.
Some feared the president went too far in firing Comey, and that the timing looked suspicious. Others started to soften to the idea of a special prosecutor.
"I think the White House ― after multiple conversations after the last 12 to 14 hours ― understand that they've created a really difficult situation for themselves to move beyond this in a way that gives the American people faith and Republicans and Democrats in the House and Senate faith," Sen. Bob Corker (R-Tenn.) told reporters on Wednesday.
The road ahead for the White House looks "tough and narrow," he added.
"They're fully aware now that this has created quite a situation for them to deal with," Corker said, adding that "we'll see" if a special prosecutor is necessary.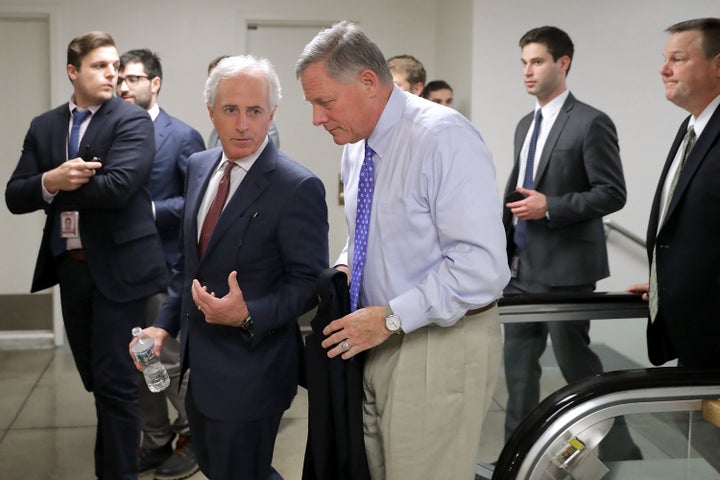 Sen. Rob Portman (R-Ohio) questioned the timing and circumstances of Trump's decision to fire Comey, which the White House claims was initiated by Deputy Attorney General Rod Rosenstein.
"I believe the White House should provide a fuller explanation regarding the president's rationale," Portman said in a statement. "I'm concerned about eroding trust in this premier law enforcement agency."
Sen. Richard Burr (R-N.C.), who is overseeing an investigation into Russian interference in the election as chair of the Senate Intelligence Committee, said Comey's firing "creates challenges" for his panel.
"The timing of this and the reasoning for it doesn't make sense to me," Burr said Wednesday. "I think this made our task more difficult, but it didn't make it impossible so we will continue."
Comey was scheduled to speak before the Senate Intel panel on Thursday. Burr later announced that acting FBI Director Andrew McCabe will testify before the committee in place of Comey.
Later on Wednesday, Burr and Vice Chairman Mark Warner (D-Va.) invited Comey to meet in a closed session next week, a committee source confirmed to HuffPost.
Sen. Lisa Murkowski (R-Alaska) split with her leadership over the possible need for a special prosecutor to take over the FBI's Russia investigation.
"I think it needs to be considered," she said.
Pressed on whether she thought the timing of Comey's firing looked suspicious, Murkowski said, "Sure."
Similarly, Sen. Shelley Moore Capito (R-W.Va.) left the door open on whether she thinks a special prosecutor is called for: "I'm not saying yes, but I'm not saying no."
"We need to find out what's happening and why," she added.
Sen. Marco Rubio (R-Fla.) also said he wants the White House to start answering questions.
"I do have questions about why he was dismissed at this time given his service and performance," Rubio told reporters, adding that he wants "justification" directly from the White House. "I don't think someone who served our country the way he has should be notified in the middle of a speech halfway across the country."
Frustrated by the drip-drip of information coming from the White House and FBI surrounding Russia, Sen. John McCain (R-Ariz.) repeated what he's been calling for since Trump fired his former national security adviser, Gen. Michael Flynn, earlier this year.
"I've said I want a select committee," McCain said. "I've said I want a select committee. I want a select committee."
This article has been updated to include that acting FBI Director Andrew McCabe will testify this week.