French fashion label Chanel has apologised for including a boomerang in its latest collection after consumer outrage.
In a one-line statement to HuffPost Australia, Chanel responded to the online backlash by citing respect as one of the company's core values. But the company would not say whether it would be withdrawn from sale.
"Chanel is extremely committed to respecting all cultures, and regrets that some may have felt offended," the statement read.
The product, which was described as a 'wood and resin accessory', was criticised for being an example of cross-cultural appropriation of Indigenous Australian culture.
People were unimpressed and slightly confused with the high-fashion copy of a unique Australian cultural symbol.
The boomerang itself has $1930 price tag, and filled a luxury boomerang-shaped hole in the fashion market that many of us didn't know existed.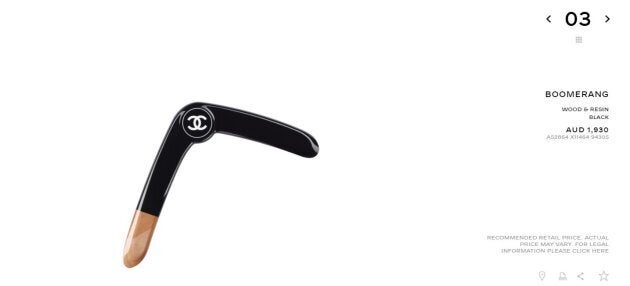 Other accessories in the collection include a set of 'Beach Rackets and Balls' for $4860 and a $500 set of tennis balls.
It is unclear if the boomerang will be removed from the collection completely.
ALSO ON HUFFPOST AUSTRALIA