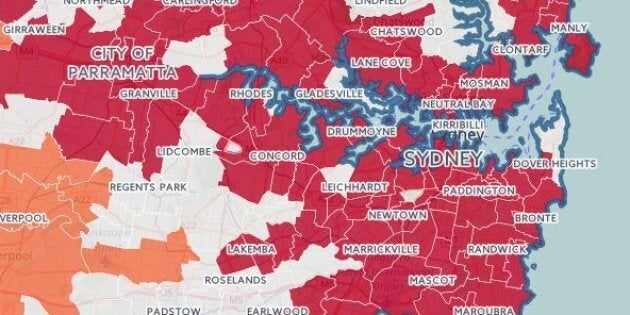 Yet another report has highlighted Australia's spiralling housing and rental affordability issues, with rented properties becoming even less affordable in almost every Australian city.
The Rental Affordability Index reported its findings on Wednesday, and the news isn't good.
The report, prepared by SGS Economics and Planning in partnership with National Shelter and Community Sector Banking, found:
Rental affordability in Sydney "is at a record low", with pensioners and single parents needing to pay up to 60 percent of their income to get a decent place in the greater city area;
The average family is now in "housing stress", a situation where they have to pay 30 percent of their income, or more, to rent a home;
The average family has to move 40 kilometres out of the city to find affordable homes;
Students can't find affordable housing anywhere in the cities, where their universities are located;
People are being forced to choose between affordable housing, and being close to jobs, schools and other essential services.
"Rental affordability in Sydney is at a record low. A full time teacher who is a single parent would be paying 43 to 55 percent of the family's income on rent in Greater Sydney," said Ellen Witte, Partner at SGS Economics and Planning.
"The RAI shows that working families -- not just low income households -- are now being priced out of Australia's metropolitan rental markets. Housing for pensioner groups is also in a particularly critical situation, given their additional needs and service-dependence."
The index found a single pensioner would have to spend a whopping 60 percent of their income to rent a single bedroom home in Sydney. This is what the rental picture looks like for a single pensioner: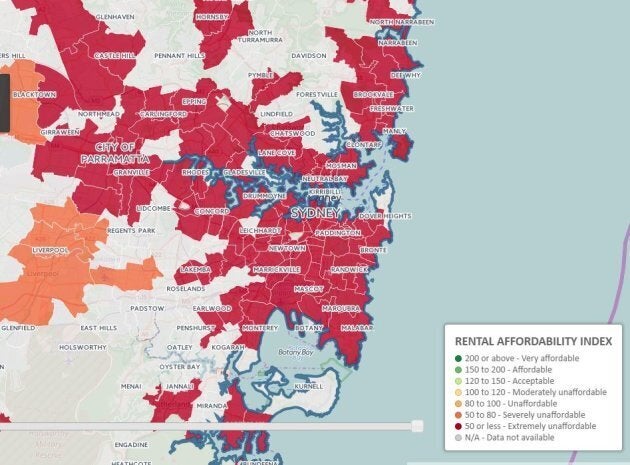 Not one area in the greater Sydney region is classed as being 'affordable' or even 'acceptable' for a single pensioner. Now, for a student sharehouse (three bedrooms, a combined household income of $75,000):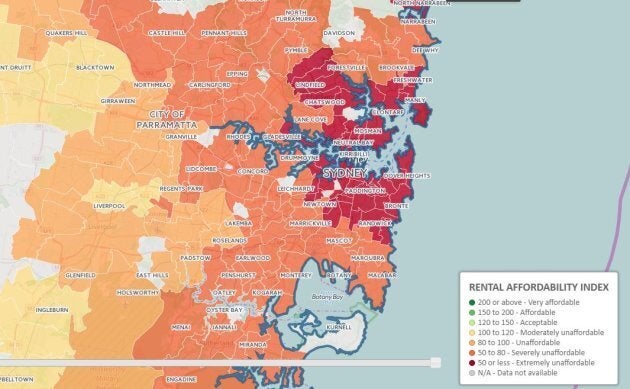 Again, not one area in the greater Sydney region classed as affordable. A student would have to head west to the Blue Mountains before hitting an area with 'acceptable' rents.
This is the picture for single parents (two bedrooms, $70,000 income):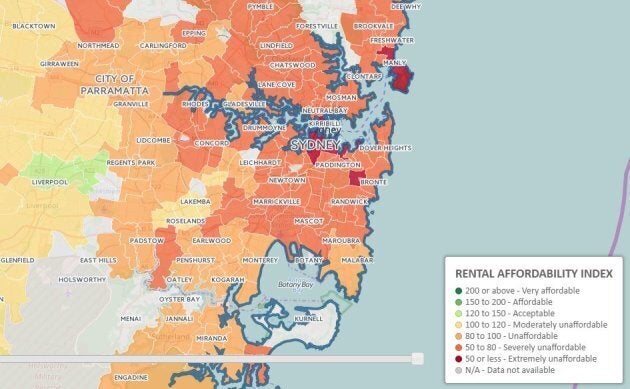 Such a family would have to head 45 minutes drive from the city, to Liverpool, before finding a home with 'acceptable' rents.
"We conclude that now even the average income household in Sydney is facing housing stress - this means families are struggling to make ends meet and pay for other primary living needs such as food, energy, water, education, healthcare and transport," Witte said.
The news for these renters is a little better in Brisbane, Melbourne and Adelaide, but not much. Student sharehouses, single parents and pensioners will still struggle to find anywhere within cooee of the CBD in those cities, with a sea of unaffordable red and orange on those maps.
Overall, Sydney's rents have become 3.8 percent less affordable in the last two years, while Hobart rents are 5.4 percent less affordable and Adelaide rents are marginally less affordable. In fact, the report finds that overall, in the last two years, rents have become less affordable in every Australian city bar one -- Perth, where rents have actually become 6.2 percent more affordable -- likely due to the end of the mining and resources boom in the west.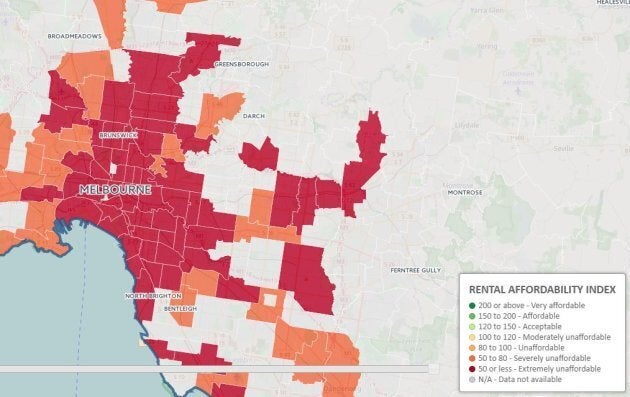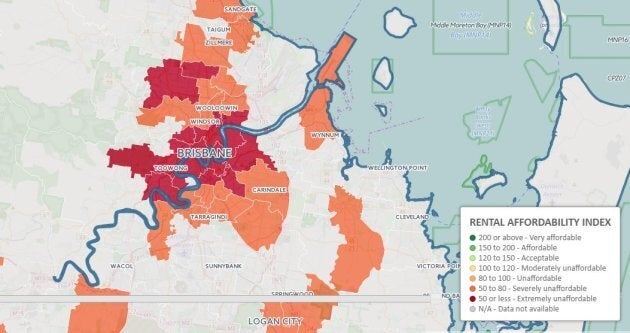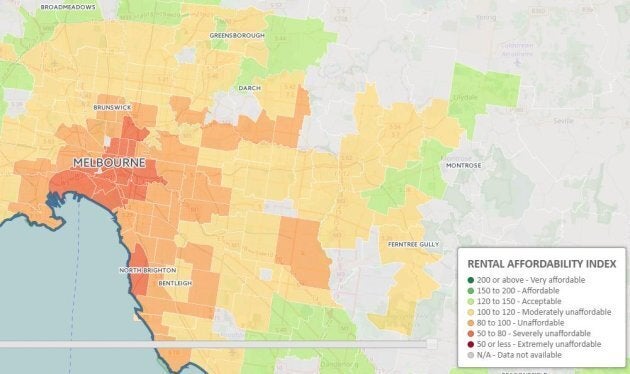 "Rents are most affordable in places where the least opportunities are in terms of jobs, services and education," said Witte.
Yaelle Caspi from the Tenants Union of Victoria told HuffPost Australia that governments, both state and federal, were not doing enough to address rental affordability.
"Renters are often forgotten in the debate and discussion often around housing affordability. Rentals are ignored. There's a major issue with affordability in the market, with people being locked out of housing and really struggling," she said.
"There needs to be more funding for affordable and social housing. We need more funding from a national level, there needs to be national action to curb the distortions we see in the market."
Caspi said changes to negative gearing and capital tax gains concessions for investors could help address rental affordability issues, disputing treasurer Scott Morrison's recent claims that altering those tax arrangements would discourage housing investment and therefore lower the stock of available rental homes.
"They encourage investors to get into the housing market, which increases competition in the rental market. There isn't really evidence to back up [Morrison's] claims. If you changed them, you'd see more first home owners moving out of the rental market, and reducing pressure in the rental market," she said.
"We see people locked out of home ownership who are staying in the rental market and putting pressure on prices. Low income households are now competing with higher income households [in the rental market], households which traditionally would have moved out of the rental market into buying."
The report's authors called for urgent government action to address the issues.
"This index reminds us how much work governments, the community and private sectors have to do. While the budget introduced some welcome measures house price inflation is locking people out of ownership and putting much greater pressure on rental markets which remain unaffordable and displaces low income households into the margins," said Adrian Pisarski, Executive Officer of National Shelter.
"The latest Rental Affordability Index is a wake up call -- without swift coordinated action to tackle housing affordability, Australia will become a divided country, with pensioners, working parents and low income groups locked out of living in metropolitan areas," said Andrew Cairns, CEO Community Sector Banking.
Click below to follow HuffPost Australia Politics on Facebook!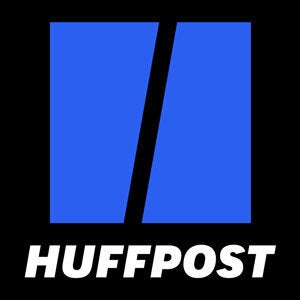 ALSO ON HUFFPOST AUSTRALIA