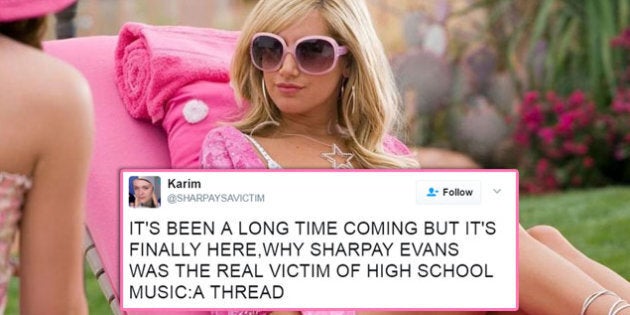 Hey Wildcats, here's something that'll really trip you out: what if everything you knew about "High School Musical" was wrong? Stick with us here.
A Twitter account called @SHARPAYSAVICTIM started a tweet-storm this week, claiming that the much maligned character Sharpay is, in fact, the victim of the film series, not the villain as she's been portrayed. Allow them to explain:
IT'S BEEN A LONG TIME COMING BUT IT'S FINALLY HERE,WHY SHARPAY EVANS WAS THE REAL VICTIM OF HIGH SCHOOL MUSIC:A THREAD

— Karim (@SHARPAYSAVICTIM) May 14, 2017
By simply shifting the narrative and focusing on Sharpay's perspective, the film takes on a whole different nature. Rather than the abrasive egomaniac she's portrayed as, Sharpay's true nature -- a hard worker and talented go-getter -- is revealed.
The entire thread is over 80 tweets long, covering all three "High School Musical" films and the truth behind Sharpay's troubled journey.
LAST TIME I CHECKED FEMINISTS DIDN'T TEAR DOWN OTHER WOMEN TO MAKE THEMSELVES LOOK SUPERIOR,and that was the first movie

— Karim (@SHARPAYSAVICTIM) May 14, 2017
If you remember the iconic trilogy (how could you not???) it follows the "Romeo and Juliet"-esque stories of Troy and Gabriella, two students who fall in love with each other through their love of high school musical theatre. Over the course of three films, Sharpay is portrayed as the villain, her ambition to succeed and star in the limelight cast under scrutiny.
Luckily @SHARPAYSAVICTIM has decided enough is enough, and has given a voice for what they call "Sharpay Stans", with a community of Sharpay fans rallying together in support.