If soup and curry just isn't cutting it as a winter warmer, why not try your hand at ramen -- the flavour-packed, salty brothy soup packed with noodles, perfectly cooked meat and soft boiled eggs.
But if the thought of making ramen from scratch has put you off in the past, don't worry. This ramen recipe by Supernormal is super doable, yet absolutely delicious.
This version is a lighter chicken and miso broth, which isn't as heavy as traditional pork versions. It starts with making the ramen broth by simmering chicken wings, veggies, ginger, soy sauce and seaweed. Next is the soy eggs, which are soft boiled and marinated in a sweet yet salty soy sauce.
Finally, put everything together in a big bowl, along with cooked chicken thighs, dumplings and ramen noodles.
Ready? Head to your local Japanese supermarket to stock up on ramen staples and get cooking.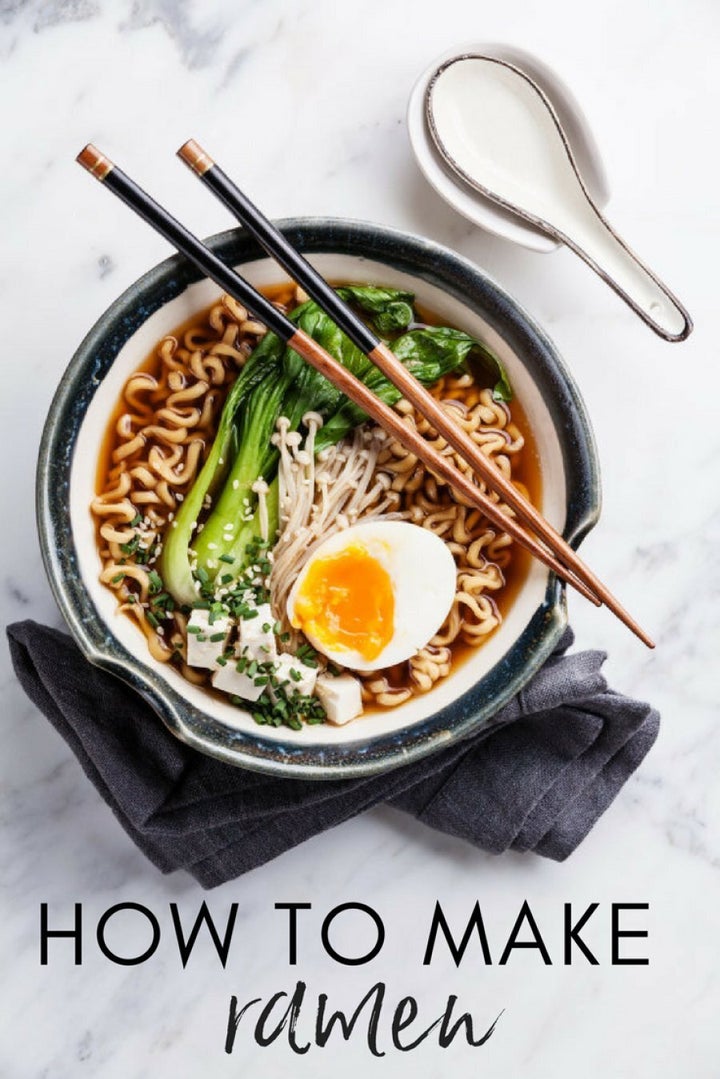 INGREDIENTS
Ramen broth (see recipe below)
Soy eggs (see recipe below)
2 tablespoons grapeseed oil
2 chicken thighs, boneless with skin on
8 chicken dumplings
500g ramen noodles (buy fresh from a Japanese grocer if possible, or use dried)
2 spring onions, green tops only, thinly sliced on an angle
1 tablespoon togarashi
1 tablespoon sesame seeds, toasted and ground
2 sheets toasted laver (nori), cut into 12 squares
METHOD
In a saucepan, bring the broth to a simmer. Lower the heat.
Heat the grapeseed oil in a frying pan. Place the chicken thighs in, skin side down, and cook for three minutes or until golden. Turn over and cook for a further three minutes or until cooked through. Remove from pan and slice each thigh into eight pieces.
Meanwhile, bring a large pot of water to the boil. Carefully drop in the dumplings and cook for two minutes. Drop the noodles into the same pot and cook the dumplings for a further three minutes. Pass through a strainer and divide the noodles and dumplings between four bowls.
Place one egg and four slices of chicken into each bowl. Divide the hot broth amongst the bowls.
Top with the spring onion greens and sprinkle with a combination of togarashi and sesame.
Lastly, place three squares of laver into the bowl.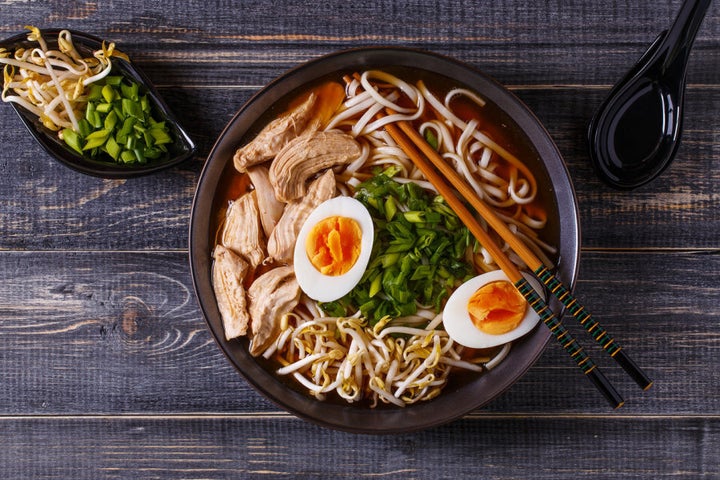 Ramen broth
INGREDIENTS
600g chicken wings
½ carrot
1 onion
2 litres white chicken stock
10g kombu
¼ cup miso
15g dried shitake
1 stick celery
3cm piece ginger
2 tablespoons tomato puree
2 tablespoons light soy sauce
METHOD
Preheat oven to 220°C.
Place the chicken wings into an ovenproof dish and roast for 30 minutes or until golden brown.
Heat a griddle pan until very hot. Place the carrots and onion onto the grill and cook for 10 minutes on one side until well charred.
Place all ingredients except soy sauce into a large stainless steel pot and bring to a simmer. Simmer for two hours or until the flavour has developed.
Strain the stock through a fine sieve. Add soy sauce to taste.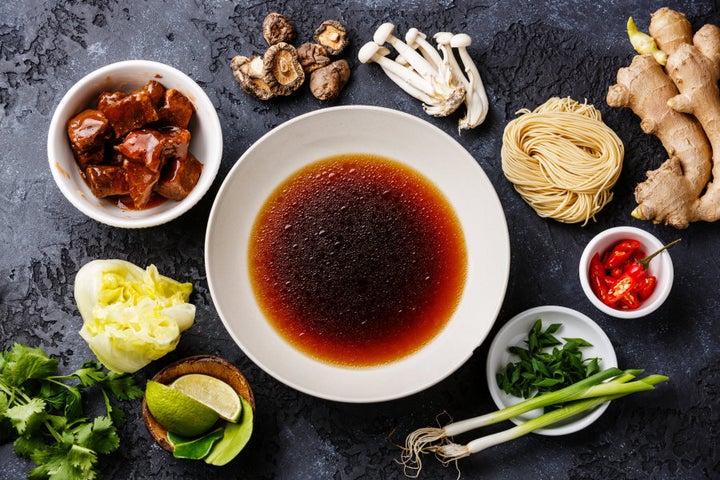 Soy eggs
INGREDIENTS
2 tablespoons sake
2 tablespoons mirin
4 cloves garlic, finely sliced
3cm piece ginger, finely sliced
¾ cup light soy sauce
2 tablespoons caster sugar
4 eggs
METHOD
In a small saucepan, bring all ingredients except eggs to a simmer. Cook over a low heat for five minutes.
Add two cups of cold water and set aside.
Bring a pot of water to the boil.
Pierce a small hole into the larger end of each egg using a thin metal skewer.
Carefully put the eggs into the boiling water and cook for exactly six minutes, stirring slowly for the first 1½ minutes to distribute the heat evenly.
Meanwhile, fill a large bowl with cold water and ice. When the eggs are done, transfer them to the ice bath and leave to cool for 15 minutes.
Once the eggs are cool, peel them in the water -- this will help them keep a perfect exterior.
Transfer the eggs to the soy sauce mixture and marinate in the fridge for at least two (and up to six) hours, making sure they are completely submerged. If necessary, top the eggs with a small plate to ensure submersion.
Remove the eggs. To serve, cut the eggs in half lengthwise.
You can save the soy sauce mix for another round of eggs, if you wish. The eggs will keep, refrigerated in a tightly sealed container, for up to a month.
Click below to subscribe to the Refresh podcast by HuffPost Australia on iTunes.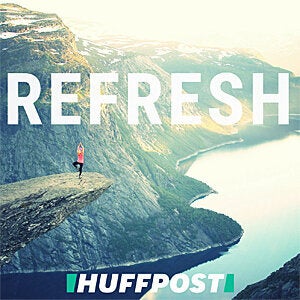 ALSO ON HUFFPOST AUSTRALIA