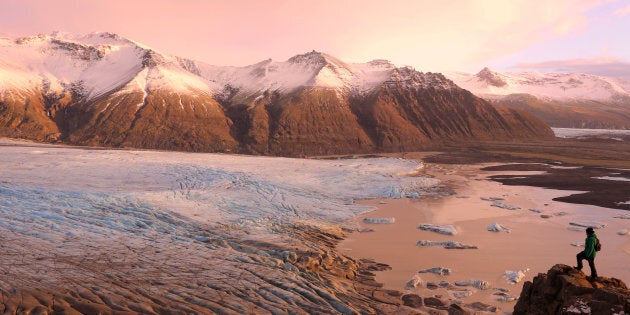 It's not often you hear of an Aussie jetting off to Iceland, and for good reason -- it's a 30-hour trip to get there, give or take, and is pretty much as far from Australia as you can get.
Iceland is arguably most famous for being one of the best vantage points to witness the Northern Lights -- a spectacular display of charged gas particles released from the sun's atmosphere which create vivid streams of green light as the particles collide. You're most likely to witness them from late August through to April, in the country's winter, though conditions need to be exact and they are elusive.
Travelling to Reykjavik outside of winter has its perks. For one, you can actually see stuff during the day -- from mid-May to mid-August the sun only sets for three hours (with a period of 24 hour daylight).
Beyond the Northern Lights, Iceland is a hikers dream with countless dormant volcanoes, waterfalls and glaciers to explore. There's a few volcanoes still active, three of which have erupted in the past 20 years.
Reykjavik itself, somewhat surprisingly, doesn't really look the way you might picture. Two-thirds of Iceland's population of 330,000 resides in the capital city, though aside from a few blocks in the old town, it's less about cutsie ski-lodge style architecture and more about functionality. Being one of the coldest and windiest places on earth means that buildings need to be strong -- and warm.
The entire country is refreshingly modest -- it's rare to see a luxury car on the roads and that's on account of both the cost to have them imported and the need for a more hearty vehicle in the snow and wind.
Locals are very friendly and speak great English. Aside from the Icelandic accent you'll hear a lot of Americans about town -- New York is a five-hour flight away which makes it a great long weekend trip for those from the U.S.
Traditional fare in Iceland includes horse, whale, shark and puffin -- yes, those adorable little birds that look a bit like penguins. Though it might seem uncouth for us Aussies to eat whale, that's their way of life, and Iceland has excellent fishery regulations which prevent the overfishing of their ocean. Everything caught or grown in Iceland is valued and respected -- due to most of the earth being volcanic rock, fruits and vegetables are purposely grown in hothouses. The result is a strong respect for all food. There is a lot of potato.
Interestingly, McDonald's failed in Iceland due to the exact recipe requirements, which meant most of it needed to be imported. The price for a Big Mac meal was roughly $25 -- not sustainable when there was much cheaper alternatives. You'll find a Zara in the mall but no H&M as yet.
When it comes to what to drink, turn on the tap and enjoy the most amazing water, filtered for thousands of years through the glaciers.
Click below to subscribe to the Refresh podcast by HuffPost Australia on iTunes.