Theresa May has condemned the "sickening cowardice" of the suicide bombing in Manchester.
Speaking in Downing Street on Tuesday morning, the prime minister said it was "now beyond doubt that the people of Manchester and of this country have fallen called victim to a callous terrorist attack".
"We struggle to comprehend the warped and twisted mind that sees a room packed with your children not as a scene to cherish - but an opportunity for carnage," she said.
May said police know the identity of the man who carried out that attack in which at least 22 people have been killed.
Following her statement outside No10, May said she would be travelling north to Manchester to meet the emergency services and the city's mayor Andy Burnham.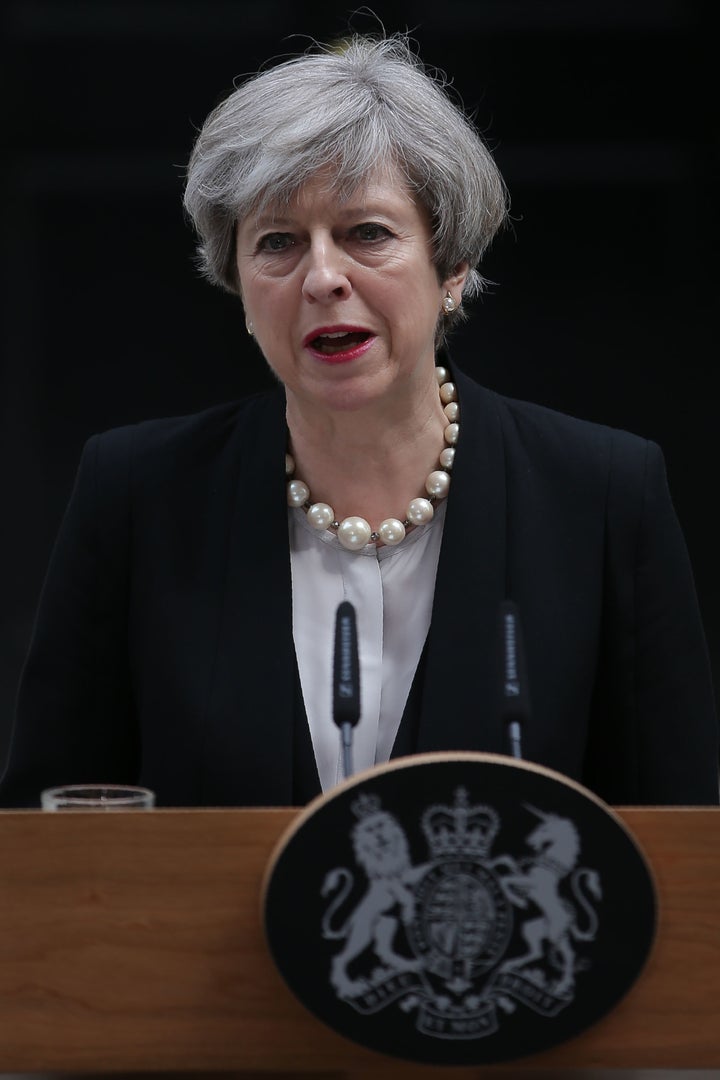 At least 22 people have been killed and a further 59 injured after an attacker struck an Ariana Grande concert at the Manchester Arena on Monday night. Police have confirmed a number of children are amongst the dead.
A lone male attacker, who died in the blast, was carrying an improvised explosive device which he detonated in the foyer area of the Arena at around 10:30pm.
Jeremy Corbyn has said this was "the most terrible and traumatic time" as "there can be nothing worse than losing a child in a situation like this".
"This is an appalling act of violence against people and it must be totally unreservedly and completely condemned," he said.
The prime minister worked over night and spoke to the Labour leader just after 4am to agree a joint reaction to the attack, HuffPost UK understands.
May, Corbyn and other party leaders have suspended campaigning in the general election.
Speaking in Downing Street, May said: "All acts of terrorist are cowardly attacks on innocent people.
"But this attack stands out for its appalling, sickening, cowardice. Deliberately targeting innocent children and young people who should have been enjoying one of the most memorable nights of their lives."
The prime minister said while people had witnessed the worst "we also experienced the best".
"The cowardice of the attacker met the bravery of the emergency services and the people of Manchester. The attempt to divide us met countless acts of kindness that brought people closer together.
"The images we hold in our minds should not be those of senseless slaughter but the ordinary men and women who put concerns about their own safety aside and rushed to help."
Parliament will not be recalled as there are currently no sitting MPs. All MPs from the last parliamentary session are now just candidates.
US President Donald Trump said the person responsible for the attack was an "evil loser".
The UK threat level has been at "severe", the fourth highest ranking which means an attack is highly likely, since 2014.
It has not been raised to the highest level, "critical", which means an attack is expected imminently.