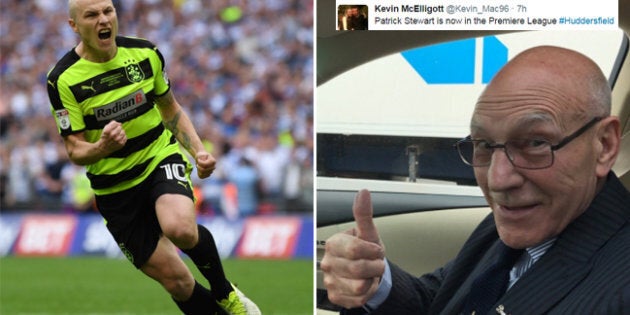 Look at Mooy! No, we're not quoting Kath and Kim. We're paraphrasing what the 160,000 residents of the northern England town of Huddersfield are likely saying this Tuesday, after Aussie Aaron Mooy helped them create footballing history.
Mooy is a 26-year-old midfielder from Sydney who has played for the Socceroos 22 times. All season, he's been plying his trade at Huddersfield Town, an unfashionable club which was mired in English football's second tier. Until now.
Overnight, Huddersfield Town secured promotion to the top level of English football for the first time in 46 years, and a spot in Premier League for the first time since it was rebranded as such in 1992. Though he was on loan from Manchester City, Mooy's consistency all year is a huge part of how that happened.
Here's a nice little compilation of his work this season:
To grab its Premier League spot overnight, Huddersfield had to beat Reading in a playoff at Wembley. The playoff for the third promotion spot (the first two teams are automatically promoted) happens each year, and is reckoned to be worth about $200 million to the winners because of the financial windfall of being in the Premier League.
With so much at stake, this was understandably not a pretty match. Everybody was tense, not least Patrick Stewart, Huddersfield's most famous fan who was born in Mirfield, just a few kilometres east of Huddersfield.
The football was a little ugly, and Mooy was not at his free-flowing best. But with the final scores locked at 0-0, and his team behind in the penalty shootout, the Aussie did what his team so desperately needed. He blasted his spot kick into the back corner, and his team went on to win the shootout from there.
Cue much love for the Aussie, who for the record, was Huddersfield's official player of the year. Fans even broke into their favourite song, "He's got no hair and we don't care". Up in the stands, Patrick Stewart looked close to tears.
In interviews afterwards, the softly spoken Mooy wouldn't be drawn on his future moves as a player, but was just happy to savour the moment.
"He has developed a fighting attitude since he arrived," his manager David Wagner said. If the Socceroos make next year's FIFA World Cup, that attitude will be needed.
ALSO ON HUFFPOST AUSTRALIA