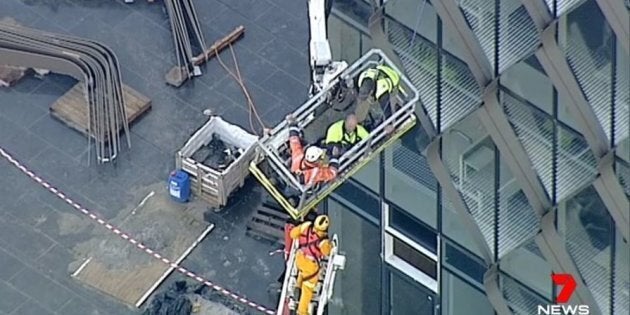 Emergency crews have rescued three construction workers from an open platform attached to a crane after it crashed into the third floor of a building in Geelong, Victoria.
The three men were trapped on the broken elevator platform, which was perched at a precarious angle high above Ryrie Street after it malfunctioned shortly before 9am on Tuesday morning.
One of the men was injured in the crash. Ambulance Victoria said he is receiving treatment for an arm injury.
Emergency services were able to reach the men with a specialist ladder from a fire truck and used a rope thrown onto a building next to the construction site to connect it to the injured man, the ABC reports.
ALSO ON HUFFPOST AUSTRALIA