Chinese retailer JD.com announced last week that they will build a drone strong enough to carry an entire ton through the air.
Delivery by drone however, is not new for the Amazon-look-a-like company, who has been delivering orders to their customers via drone since last November.
Once an order has been placed, workers at packing centres organise the items and load them onto the drones. The drones are automated machines and follow a fixed route taking them from the packaging centre to a specified company drop-off location. Once the drone has dropped the product, it returns to the packaging centre along the same fixed route. A JD.com worker then picks up the package from the drop-off zone and delivers it to the customer's door.
With this system, JD.com reports that 80 per cent of their orders are delivered on the day or the next day after the order was placed.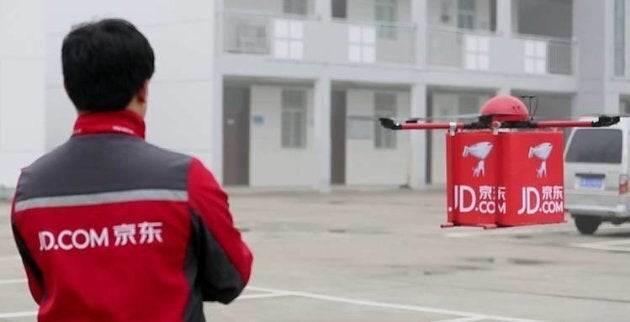 Apart from reducing the waiting time between order and delivery, the new approach means that people living in China's rural areas have more access to the products and services available to those who live in the city. This also means that big companies can access their rural client base, without having to charge consumers hefty delivery fees.
While some drones can already carry hundreds of kilograms, JD.com's plan to develop a drone with the ability to carry a ton could be a game changer. This new development would expand the scope of items deliverable to remote areas.
JD.com isn't the first company to think up this solution to difficult rural deliveries. In 2013, Amazon explored launching drone-driven deliveries called 'Amazon Prime Air'. The Amazon drone venture will launch once it gains commercial drone use approval.
Outside of China, this new technology could be incredibly useful for rural areas around the globe, as it gives communities the opportunity to access online products faster.
ALSO ON HUFFPOST AUSTRALIA