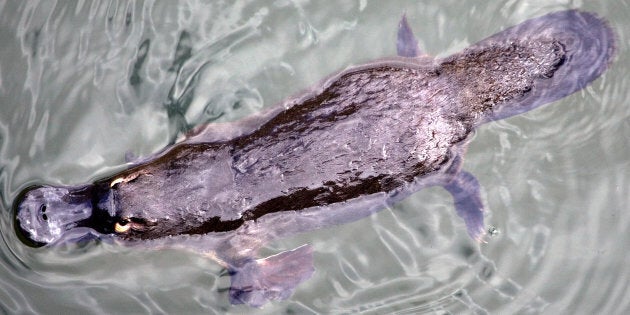 Up to half of a local population of platypuses may have been wiped out after five of the animals were found caught in illegal traps and died in the Labertouche Creek in eastern Victoria.
Authorities were alerted to the protected animals last week after they were found by a member of the public in two illegal opera house nets in a dam area of the creek near Jindivick in West Gippsland.
In Victoria, the use of traps such as opera house nets for the purpose of taking animals in or around public waterways is illegal and the penalties for hunting protected wildlife, such as the platypus, range from fines of up to more than $37,000 to between six and 24 months imprisonment.
Regional Manager Environment and Natural Resources for the Victorian Department of Environment, Land, Water & Planning (DELWP), Ryan Incoll told HuffPost Australia in a statement the nets had appeared to be in the area for a long period of time.
"One net contained three dead platypuses, the other contained two. It appears the nets have been in the dam for some time and individual platypuses have entered them over a long period," he said.
"This type of net is a death trap for platypuses, water rats, turtles and some diving water birds. The nets are often left overnight when some of these animals are most active."
DELWP also labelled the killings "senseless" in a statement posted to Facebook on Monday and said the long-term survival of the species could now be at risk, particularly after the population was strongly affected following the devastation caused by the 2009 Black Saturday fires.
"The Labertouche Creek population... was hit hard by the extended drought and the 2009 Black Saturday fires but had been showing signs of recovery in recent years, until now," the statement said.
"These senseless casualties may have wiped out up to 50 percent of this population and could make a significant difference to the population's long-term survival."
DELWP confirmed it is investigating the matter and said that it will work with state fisheries officers to "detect and deter" any future use of similar illegal traps and nets.
A spokesperson for the NPWS told HuffPost Australia in April that a vet's post-mortem examination found two of the platypuses' "heads were removed with a sharp object," while the third was found dead but intact.
Members of the public are urged to report any helpful information regarding the incident or any other environmental crime via the Crime Stoppers website or by calling 1800 333 000.
ALSO ON HUFFPOST AUSTRALIA