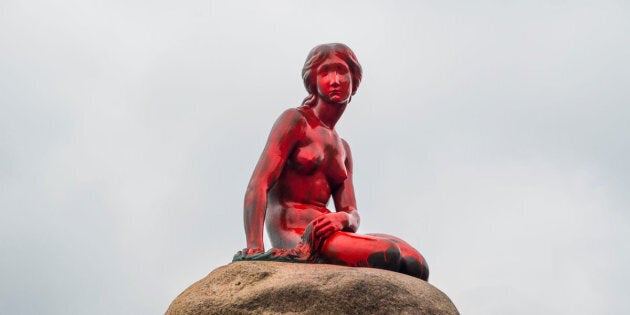 Denmark's famous Little Mermaid statue was covered in blood-red paint Tuesday to protest whale hunting in the Faroe Islands, Reuters reports.
Photos show the message "Danmark defend the whales of the Faroe Islands" painted in red in front of the statue. The Faroe Islands, a self-governing archipelago in the North Atlantic, are technically part of Denmark. Whale hunting is a Faroese tradition dating back over 1,000 years, but it's come under intense scrutiny in recent decades.
"The slaughter occurs mainly during the summer months in so-called 'traditional' communal drive hunts that locals refer to as 'grindadráp' or simply, 'the grind,' but more accurately this practice should be called what it truly is - mass slaughter," writes the Sea Shepherd Conservation Society, a marine conservation organization that has campaigned against whale hunting in the Faroes since 1985, according to its website.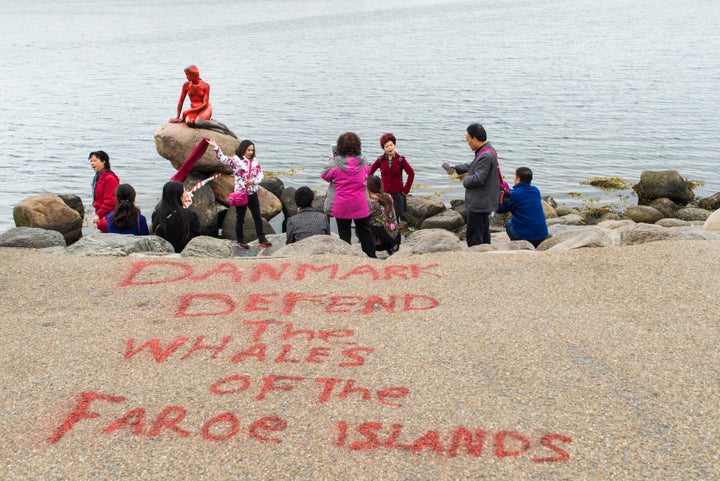 People take photos near the Little Mermaid statue, which was painted red in what local authorities say is an act of vandalism in Copenhagen on May 30, 2017.
The Faroese have brought in an average of 838 pilot whales and 75 dolphins annually over the past of 300 years, National Geographic reported in 2014. Hunting is a communal activity meant to gather food for island residents, and is not a part of a larger industry, experts say.
"They do feel a real cultural attachment to [the grinds]," Russel Fielding, a geographer who has studied the Faroese tradition since 2005, told National Geographic. "However, the Faroese are quick to point out that it is for food primarily."
Authorities have yet to identify who is responsible for vandalising Copenhagen's famous statue, but it's hardly the first time it's been the target of some kind of attack. The statue has been decapitated twice, once in 1964 and again in 1998.
Danish brewer Carl Jacobsen gifted the statue, by sculptor Edvard Eriksen, to Copenhagen in 1913 in honor of writer Hans Christian Andersen's famous fairytale.