Theresa May has been told by a Daily Mail journalist that she is coming off as a bit of "glum bucket" during the election campaign, and asked if she will inject a "bit more Boris" in the last two weeks before polling.
Despite criticism of that the Conservative Party is running an overly stage-managed election campaign, the Prime Minister took a series of questions from journalists at the end of a rally in West London on Monday.
She may now be regretting giving an opportunity to probe by the newspaper's political sketch writer Quentin Letts. The journalist asked:
"It may just be that the terrible event in Manchester has done this but this seems to be quite a low-key campaign.

"I don't need to be rude but you seem to be a bit of a glum bucket. Are you enjoying the campaign? Will we see a bit more optimism and a bit more Boris, a bit more life?

"It does seem a very subdued campaign so far."
Mid-question, May appeared deeply unimpressed: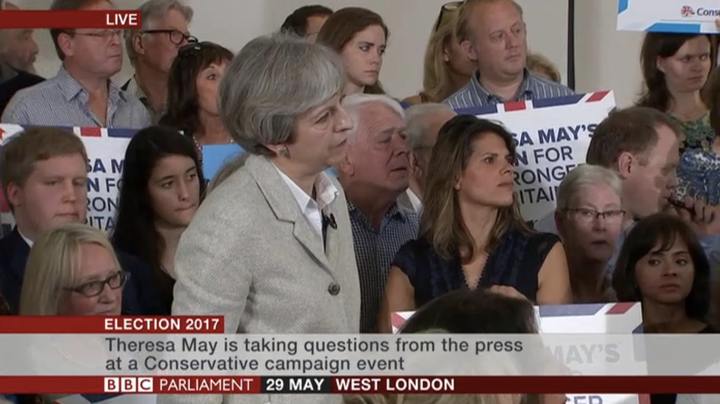 May replied:
"I think it was absolutely right that we suspended campaigning for a time after the Manchester attack and people have been respectful as they have started back into campaigning and I think that is also important.

"I said in my remarks, I am optimistic about what we can achieve for this country for the future of this is a crucial election and there is a very clear choice for people when they come to that poll on June the 8th and it is that choice between the coalition of chaos led by Jeremy Corbyn or the strong and stable leadership of me and my team, going forward with a vision for a prosperous Britain for the future."
Perhaps all press handlers will be more aware next time.
Previously, Letts ventured to Nick Clegg that the then Lib Dem leader and Deputy Prime Minister had the demeanor of a "spat-out Smartie".