There's a cliché about Fiji that you'll hear several times a day when you visit this holiday paradise -- 'it's Fiji time'. On one hand it's a happy excuse to loaf around and do nothing, but what it really means is that when you're on Fiji time, you don't need to rush anything. Isn't that what a perfect holiday is all about?
For Aussies travelling to Fiji, there always seems to be a large focus on very young families due to the 'kids clubs' offered at almost every hotel and resort. Though what most people might not realise is Fiji is a fantastic holiday for big kids too -- particularly teenagers who like an action-packed day.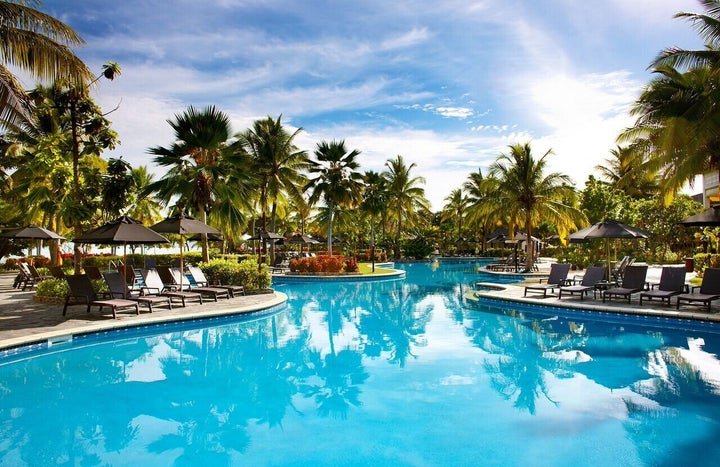 Denarau Island Sofitel Fiji Resort & Spa
From Sydney it's a short flight of only four hours to Nadi airport where you can either jump on a shuttle bus to your chosen hotel, or choose a private car or taxi.
Staying at the Sofitel Fiji Resort and Spa is utter luxury, from the swimming pool to the beautiful gardens and, best of all, the warmth of the locals. What sets Fiji apart from everywhere else is the genuine friendliness of the Fijians. The Sofitel hotel itself surrounds the most incredible swimming pool with luxurious deck chairs, side tables for your drinks, snacks and books.
One end of the pool is specially set up for toddlers -- shallow with a water fountain and plenty of shade -- the rest of the pool is for everybody else. There's also a separate pool slide that seemed to attract as many adults as it did children. The rooms are perfect for families or honeymooners alike -- incredibly comfortable beds, full views to the water no matter where you are, a small but tidy bathroom and a deck or balcony to sun yourself.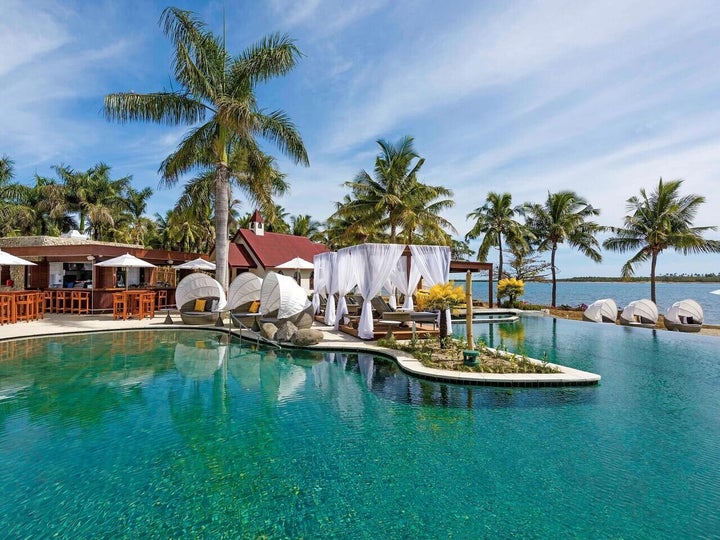 The great thing about the Sofitel is it caters for everybody, whether you'd prefer to lie back in a seaside hammock, join in on the many activities listed on the pool side black board -- or you can take a leisurely stroll down the beach. Food-wise, you won't need to leave the Sofitel. The buffet breakfast is an enormous mixture of western plus local delights, even catering for the gluten-free. The pool-side restaurant, Salt, is a great mixture of pizzas, hearty meals, seafood and fabulous cocktails. Happy hour starts at 5pm!
Ziplining Across The Rainforest
If you're up for an adventure, the Rainforest Ziplining tour is what you are after. It's only a 45-minute drive to the rainforest and it's quite a beautiful trip. If you've always wanted to soar through the treetops high above the rainforest canopy, then this is the Fijian activity you won't want to miss.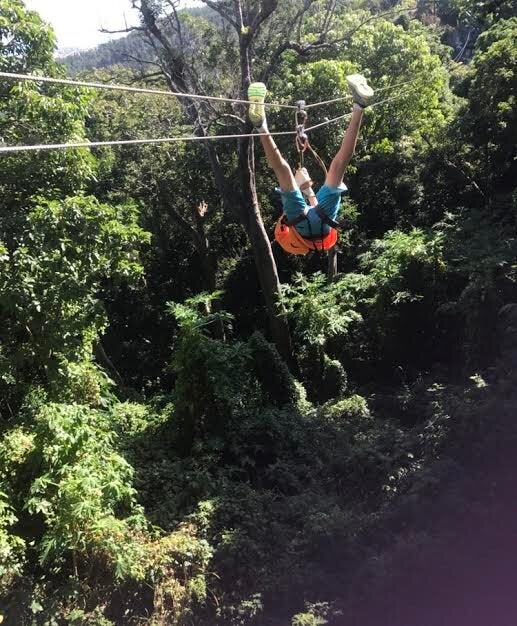 Obviously, it won't satisfy anybody with a crippling fear of heights but, for everybody else, this is a pure adrenaline rush. The Fijian guides took a year to build the zipline, using 'manpower' -- imagine carrying huge lots of wood and cables up the mountain?!
You'll need to be pretty fit for this as you'll be climbing 500 stairs to get up to the top. But once you're up, it's all downhill! It truly is an exhilarating experience, especially when you're with teenagers who insisted on ziplining upside-down. Soar down 16 lines of zipline, admire the beautiful scenery and, when you arrive back at the base, you'll be greeted with a delicious home cooked meal (like butter chicken with rice).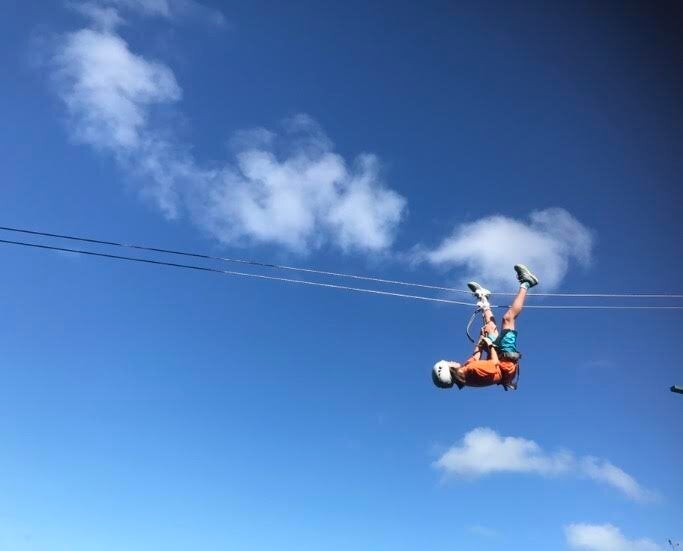 Nadi Temple, Garden of the Sleeping Giant & Sabeto Mud Baths Tour
It gives you a great look at Fiji, perfect for first-timers, stepping away from the luxury of your resort. Firstly, the tour guide will take you to Nadi to the beautiful Sri Siva Subramaniya Swami temple. It really is a beautiful building and it's the largest Hindu temple in the southern hemisphere. It's well worth a visit.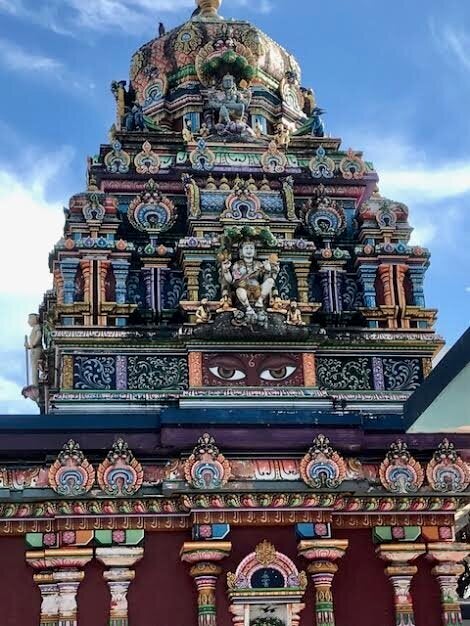 Then it was off to the local school where the kids were thrilled to meet a bunch of Aussie tourists. You'll learn a bit about each class you visit and it's fun to compare with Australian schools. The tour also stopped at a little village where only 700 people live in a small community that has its own school and church. The Veiseisei Village was Fiji's first Fijian Village and it's produced two Prime Ministers.
Next it was off to look at the fragrant flowers at the Garden of the Sleeping Giant. There was a short tour of the stunning gardens before being taken to the thermal mud bath and hot spring. First you strip down to your swimmers and then coat yourself with lashings of mud.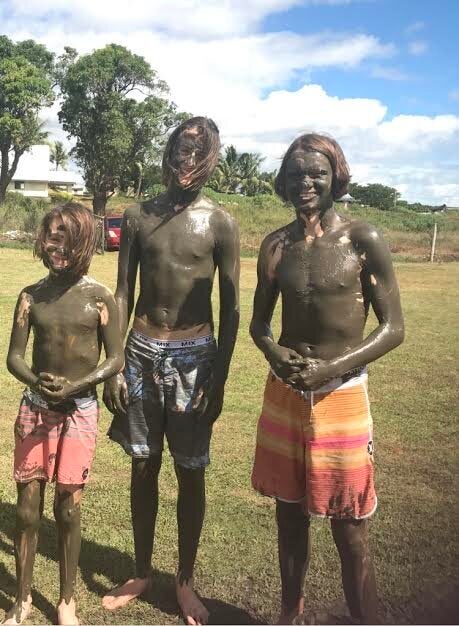 Once you're drenched in mud, you'll step into the lovely warm mud bath. After swimming around there for a while you're directed into another warmer bath, and then a third bath that's even hotter. Afterwards, your skin will feel amazingly smooth and the whole process is very invigorating.
Your final stop will be the Namaka Market, where the locals busily peruse colourful stacks of tropical fruits and vegetables. There's a curry stand if you fancy a snack or some of the great Fijian-style butter chicken.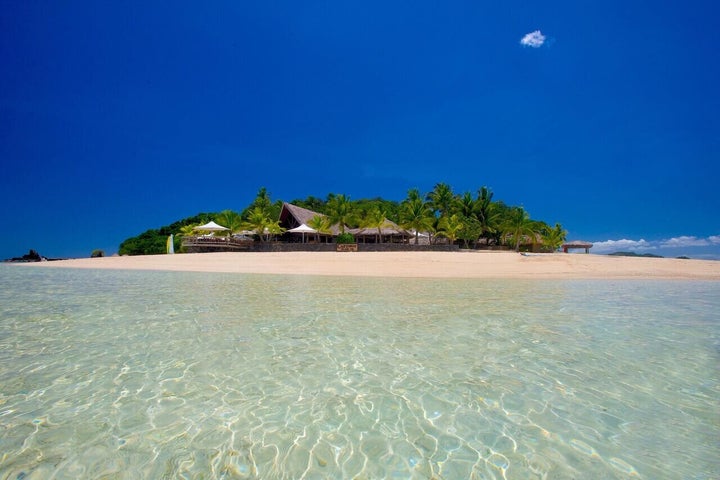 Castaway Island
Castaway Island is within the vicinity of Cloud 9 Fiji, North Beach, and Musket Cove Marina. It's a one hour trip on the ferry from the Denarau terminal, stopping at a few other islands along the way to drop off other passengers. It's close to where the latest season of American Survivor was filmed so it's pretty spectacular.
If ever a place could be accused of being a 'typical island paradise' then Castaway Island would be a top contender. It's up to you whether you choose to do anything other than lounging around the pool and the beach, or whether you're up for the multitude of activities (think along the lines of banana boat rides, parasailing, snorkeling).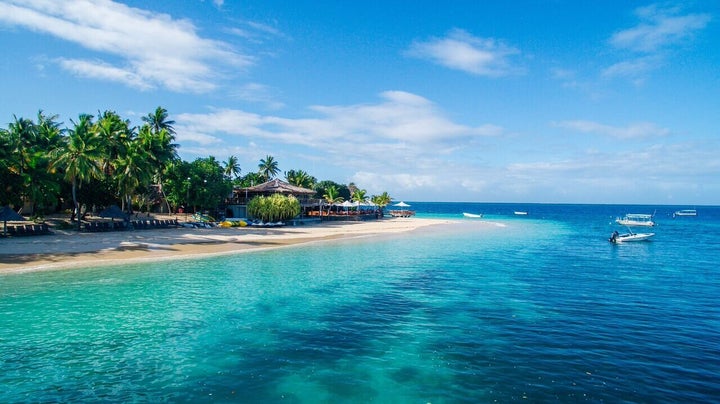 There are three great restaurants including a pizza restaurant, and an incredible breakfast buffet. There are nighttime activities on the beach, including a relay race using pieces of fruits that kids and adults seemed to enjoy. The accommodation is simple but nice and anybody could be forgiven for hiding out in their little hut for days on end. The huts that sit right on the water's edge are pretty special.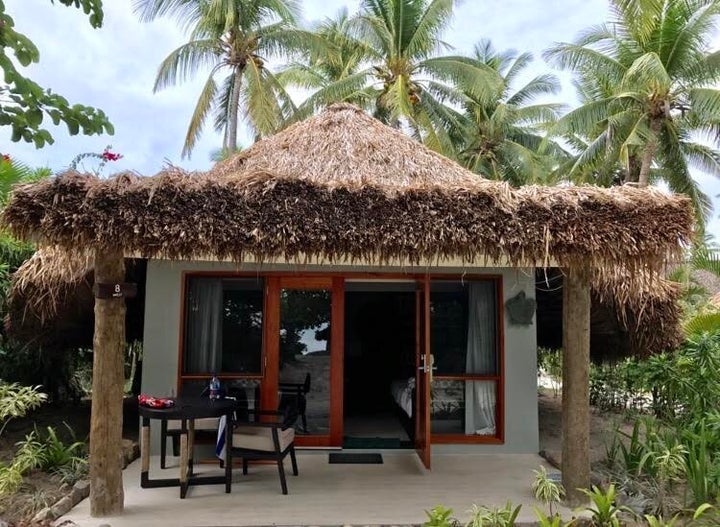 Castaway Island is everything that's so perfect about Fiji - the beautiful beaches, great food and the wonderful Fijians. Be prepared to say 'Bula' at least 30 times a day!
Libby-Jane traveled to Fiji as a guest of Expedia.
Expedia data shows Average hotel price in Fiji is $160 per night and the average flight price from Australia to Fiji is $670 (based on the average flight ticket price for all ticket fare types on Expedia's Australian website in the period 1 January – 30 April 2017 for the described destinations. Rates are subject to flight and date selections made.)
ALSO ON HUFFPOST AUSTRALIA