WASHINGTON — President Donald Trump said Thursday that his decision to pull the U.S. out of the historic Paris Agreement on climate change would protect American workers and the U.S. economy.
Trump, who prides himself on his business savvy, called the accord the "latest example of Washington entering into an agreement that disadvantages the United States." And he said it leaves "American workers, who I love, and taxpayers to absorb the cost in terms of lost jobs, lower wages, shuttered factories and vastly diminished economic production."
Many American businesses, however, were swift to condemn Trump's decision, saying it will have the exact opposite effect.
In a post on LinkedIn, Brad Smith, president and chief legal officer of Microsoft Corp., said "continued U.S. participation benefits U.S. businesses and the economy in important and multiple ways," including strengthening competitiveness and creating new markets for clean technologies.
"And by strengthening global action over time, the Agreement reduces future climate damage to people and organizations around the world," Smith wrote.
Facebook CEO Mark Zuckerberg said withdrawing is "bad for the environment, bad for the economy, and it puts our children's future at risk." Tackling the climate crisis, he added, can only happen via a global effort.
PepsiCo Inc., whose CEO, Indra Nooyi, sits on Trump's business advisory council, called climate change "one of the most important issues of our time" and said the climate agreement "was designed as a framework to help protect our planet while also spurring innovation and economic growth in participating countries."
Jamie Dimon, CEO of JPMorgan Chase, told HuffPost in an email, "I absolutely disagree with the Administration on this issue, but we have a responsibility to engage our elected officials to work constructively and advocate for policies that improve people's lives and protect our environment."
Walmart President and CEO Doug McMillon said Walmart would continue to lead on renewable energy and work toward cutting emissions. "It's the right thing to do for our customers, our business, and the environment," he said in a Facebook post.
"We want the US economy to be energy efficient and powered by low-carbon energy," reads the letter, which has now been signed by about 1,000 companies and investors. "Cost-effective and innovative solutions can help us achieve these objectives."
Nike, eBay and The North Face, who were among the notable companies to sign onto the letter initially, expressed disappointment with Trump's decision Thursday.
Even fossil fuel giants Exxon Mobil, BP, Chevron and Royal Dutch Shell had warned Trump against a withdrawal.
In a statement Thursday, BP's senior vice president of U.S. communications said the company has "long supported" the agreement and hopes the Trump administration "follows through with its intention to find a way for the U.S. to re-enter the accord ― or another mechanism for addressing the global climate challenge ― rather than to walk away from it entirely."
"BP continues to believe that it's possible to provide the world the energy it needs and achieve economic growth while also helping to transition the world to lower-carbon forms of energy."
Chevron spokeswoman Melissa Ritchie told The Telegraph that her company "supports continuing with the Paris Agreement as it offers a first step towards a global framework."
Robert Iger, the chairman and CEO of The Walt Disney Company, and Elon Musk, the billionaire founder of Tesla and SpaceX, both announced Thursday that they will leave Trump's advisory council, citing his decision on the Paris Agreement.
Here's how other companies and business executives have responded to Trump's decision.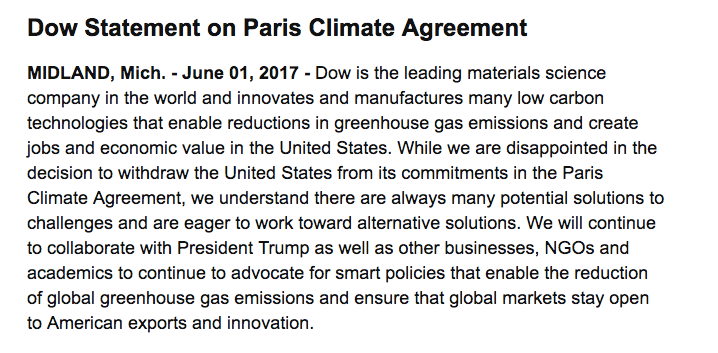 Ryan Grenoble contributed reporting. This article has been updated with more responses.