Kathy Griffin has slammed the Trump family for bullying her on social media after a controversial photo shoot, at times fighting back tears during a press conference alongside celebrity powerhouse lawyer Lisa Bloom in Los Angeles on Friday.
"I'm not afraid of Donald Trump," Griffin said. "He's a bully. I've dealt with older white guys trying to keep me down my whole career."
In the emotional press conference, the nervous comic stated that the Trumps "are personally trying to ruin my life forever" after a series of social media posts. Griffin has faced a week of intense backlash, which cost her several jobs, after releasing a gory photo showing the comedian holding a prop designed to look like the bloodied, severed head of President Donald Trump. The president called the photo shoot "sick."
Bloom stressed that the severity of the backlash did not match that of similarly violent images created by men in the entertainment industry in the past. She named Marilyn Manson, who alluded to violence against Trump in a 2016 video, and Ted Nugent, whose past comment about killing then-President Barack Obama Trump supported.
"They're all just considered 'bad boys,'" Bloom said.
Asked whether she thought the backlash against her was particularly harsh because she is a woman comedian, Griffin answered with certainty.
"This is a woman thing. I'm sorry if you don't agree with me, but I live it. I'm 56 years old. Everywhere I go, there's a male promoter. The people who sign my checks are white guys, usually older white guys."
Bloom stated the comedian has received death threats, which Griffin called "specific" and "detailed."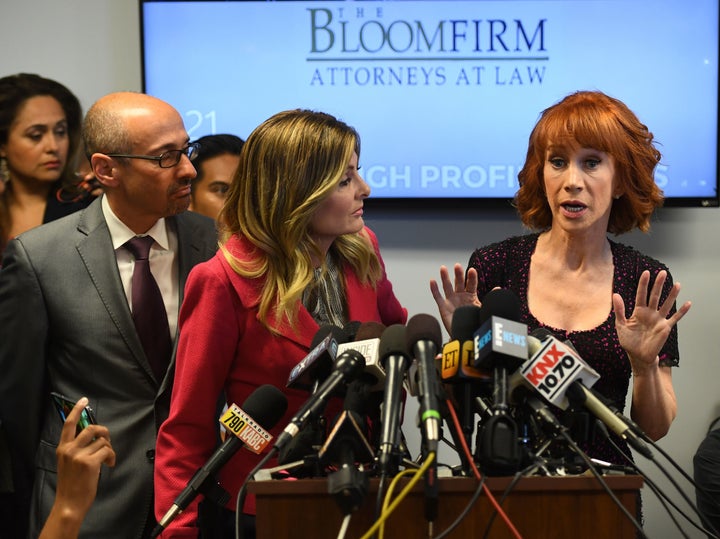 "You shouldn't have to die for this," Griffin said. The comic stressed that she stands by the apology she issued earlier in the week for the photo, taken by Tyler Shields.
"I went way too far," the comedian said at the time, adding, "It wasn't funny. I get it."
Trump tweeted his response on Wednesday, stating that his 11-year-old son Barron was having a particularly "hard time with this."
Melania Trump also added her voice to the controversy.
"As a mother, a wife, and a human being, that photo is very disturbing," she said in a statement. "When you consider some of the atrocities happening in the world today, a photo opportunity like this is simply wrong and makes you wonder about the mental health of the person who did it."
Donald Trump, Jr. tweeted several times about the controversy, writing, "This is the left today. They consider this acceptable." He also criticized CNN for not immediately cutting ties with the comedian.
The image has been denounced by many other public figures and prompted an investigation by the Secret Service; a lawyer stated she planned to "fully cooperate."
Griffin lost her decade-old gig hosting CNN's New Year's Eve coverage with Anderson Cooper, who shared words of criticism that seemed particularly hurtful to the comedian. A toilet stool company called Squatty Potty also cut ties with the comic, and Griffin said five scheduled tour dates have been canceled.
The image was created in response to Trump's comments about former Fox News host Megyn Kelly. During the 2016 presidential primaries, Trump said Kelly had "blood coming out of her wherever" during a 2015 debate.
"I don't think I'm going to have a career after this," Griffin said Friday. "He broke me."
But this won't be the last we see of her, if she can help it.
"You know what, I'm going to make fun of him more now," Griffin said. "More."