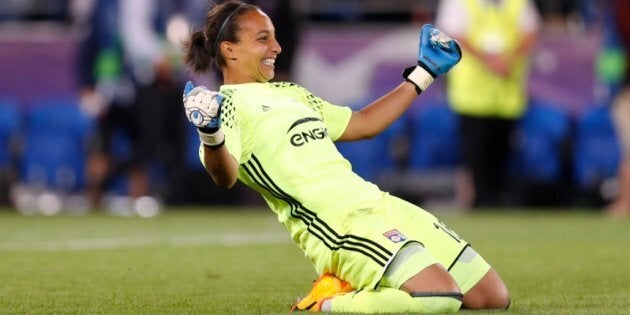 Sarah Bouhaddi. You might not know that name but you'll remember it from now on.
It's not every day a goalkeeper scores the final goal in a penalty shootout to seal a win as big as a UEFA Women's Champions League final for their team.
But that's exactly what Bouhaddi did when Olympique Lyonnais, typically known as Lyon, beat French rivals Paris Saint-Germain (PSG) on Friday.
Watch the pandemonium that kicked off after her spot-kick below.
Seven shooters from each side stepped up to the penalty spot before PSG's Katarzyna Kiedrzynek finally stood before Bouhaddi in a face-off between goalkeepers with the score at 6-6 and the chance to steal the win at stake, only to send it wide and hand the trophy to Lyon.
And to say Kiedrzynek was heartbroken after a tough 120 minutes of gameplay, a miss-kick and the pressure of saving her opposition number's penalty to stay in the game is probably an understatement.
And gee were they ready to celebrate.
ALSO ON HUFFPOST AUSTRALIA