Boobies are wonderful. Who doesn't love boobies? We speak, of course, of the birds and in particular, the delightfully named "Abbott's booby" which lives on Christmas Island.
But Abbott's booby is in trouble. There are between 1,500 and 2,500 nesting pairs on the island -- and they nest nowhere else in the world. The boobies live in trees on the island's rainforest, but a proposed phosphate mine now threatens them.
Some of you might have seen footage before of blue-footed boobies, which have an elaborate mating ritual.
Blue-footed boobies live in the Pacific Ocean, Abbott's boobies live in the Indian Ocean (where Christmas Island is), and as Australian Birdlife magazine editor Sean Dooley explained to HuffPost Australia, they are different to all other boobies.
"Their displays are more aerial. They are amazing natural flyers who are also endearingly clumsy when on the land.
"They nest in rainforest trees on Christmas Island, and when mining doesn't clear their trees, the updraft of ocean winds through cleared areas can knock the young boobies out of the nest."
Previous phosphate mining applications on Christmas Island were knocked back by both Malcolm Turnbull and Peter Garrett in their respective terms as federal environment minister. Whether the boobies will be so lucky this time is up for grabs.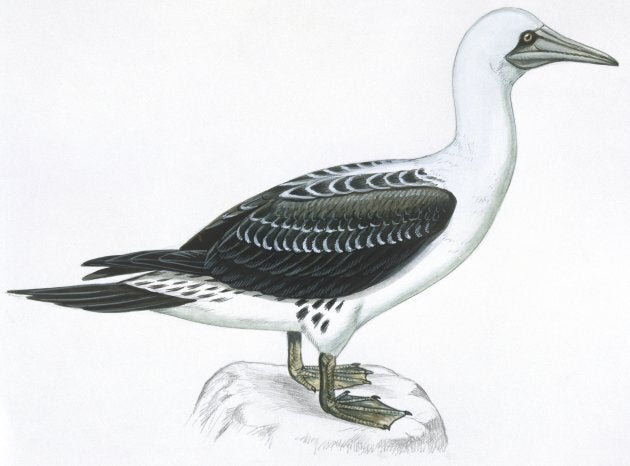 Birdlife Australia has now issued a new report entitled "Key Biodiversity Areas in Danger", which finds that 19 of Australia's 315 internationally important bird habitats are in serious trouble from mining, unsustainable water use, and inappropriate development.
The boobies are just one of the imperilled birds in Australia (including its waters and offshore territories). Others include Carnaby's black cockatoo and the Swift Parrot, which you can read about here.
ALSO ON HUFFPOST AUSTRALIA