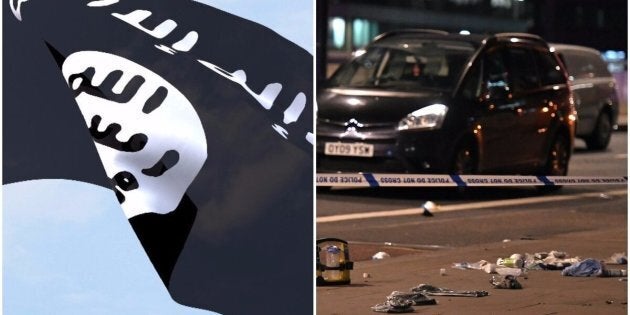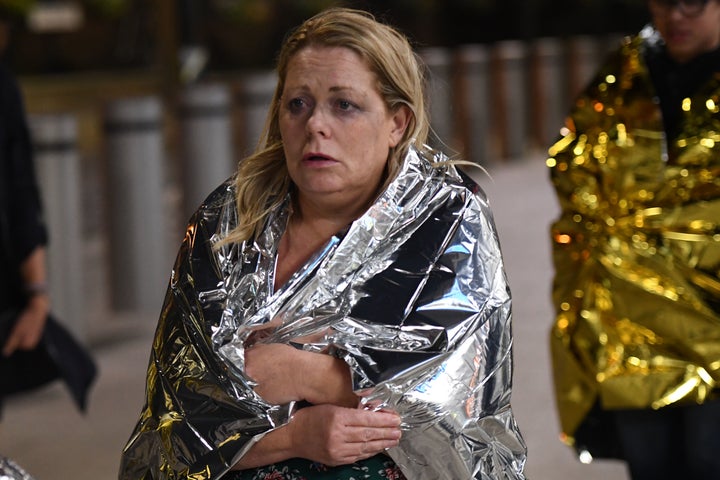 The so-called Islamic State's claim of responsibility for wreaking deadly terror on London Bridge and nearby Borough Market on Saturday is "strangely worded" and suggests the group is desperate to depict its strength, experts have said.
According to the SITE Intelligence Group, which verifies Islamic State (Isis) communique, the group posted a message on encrypted app Telegram to lay claim to Saturday's attack, in which three assailants killed seven and injured 48.
"Security source to Amaq Agency: A detachment of Islamic State fighters carried out the London attacks yesterday," the message, posted on Sunday, read.
But two experts have told HuffPost UK today that while the terror group's claim of responsibility was entirely expected, some aspects of its response are particularly noteworthy.
'Strangely worded' claim
Charlie Winter, from the King's College Centre for the Study of Radicalisation, told HuffPost that Isis's claim of responsibility was "strangely worded", perhaps as a result of crippling cyber attacks.
"There are a few odd things about the nature of the claim," he said. "It was only partially released in English and the translation was strangely worded."
"It seems to me there could have been a lot of cyber pressure on [Isis's] media operations last night, but it's impossible to know what the nature of the pressure was," Winter added. "There has been no statement from the central organisation, which is unusual because the claim implied that those who carried out the attack were directed rather than inspired.
"But again, this is terror group propaganda. I would expect more to emerge over the next few days."
Simon Mabon, an expert on Isis and terrorism, as well as a lecturer in International Relations at the University of Lancaster, told HuffPost that Isis used specific language to cultivate fear around its capabilities.
"They will lay claim to anything happened, because they were a group of people they have used the language of 'detachment' to suggest they are responsible and to suggest they are able to orchestrate such atrocities," he said. "Regardless of the veracity of this, it just feeds their purpose to make people increasingly scared and increasingly worried about what they are able to do.
"This is an attempt to create fear to cultivate division but also to depict strength."
The significance of Ramadan
Mabon added that the timing of the attack, during the Muslim festival of Ramadan, could be significant and tallies with a previously observed increase in attacks during the Holy month.
"Ramadan is hugely significant for all Muslims, it's their main religious festival and is a time of individual responsibility and reflection and individual struggle," Mabon said. "The concept of Jihad is that of a individual personal struggle, which is echoed by Ramadan which is includes a struggle to get through the day without eating and drinking.
"It's a time for pontification. It's also an opportunity for groups such as [Isis] to strike on people they don't class as proper Muslims."
It comes after Isis propaganda in the days before Saturday's attack instructed the group's supporters to use trucks, knives and guns to 'gain benefit from Ramadan'.
"This isn't just a case of [Isis], it's long been a tactic of radical violent extremism to suggest people improvise with what weapons are available to them. Improvisation is a longer-term trend," Mabon added.
The role of a 'network'
Mabon said that the group's attack showed there was a network, however small, working together.
"The fact there was more than one individual involved in this demonstrates there was a network, even just three people, who were working together," he said. "We may find out that these individuals have been together in various places, have received training, have received guidance."
The fact the three attackers acted as a group is "significant but not unusual", Winters added. "It's too early to point towards any coordination from Islamic State."
"Social networks are incredibly important when it comes to radicalisation and when it comes to facilitating and perpetrating acts of terror as well," Winters said. "You often see with [Isis] pairs of attackers carrying out operations. That there were three is different to last couple of attacks here in the UK but not unusual when it comes to terrorism more generally.
"Investigators will be going through the communications of these individuals very closely and it will take a lot of time and manpower. I imagine on the part of the attackers they will have been following basic operational security measures and so may have a very small online footprint."
Mabon also said that the role of online radicalisation may be important too.
"We may discover that they have become radicalised in the UK, taking advantage of videos on YouTube, or hate preaches," Mabon said.
It's a possibility already on the mind of politicians in the wake of Saturday's attack.
Prime Minister Theresa May used a speech in Downing Street on Sunday to hint at tougher measures to police online extremist content.
May said future anti-terror policy should "crack down on online extremism to deny the 'safe space' for potential violence".