A deadly siege in Melbourne overnight which left two men dead and three police officers injured is being treated as a lone-wolf terrorist attack, say Melbourne police.
Islamic State claimed responsibility for the hostage situation on Tuesday morning.
What We Know So Far

Yacqub Khayre, 29, has been identified as the lone gunman responsible for the Brighton siege;
A sex worker was taken hostage, the apartment attendant was shot dead and three police officers received bullet wounds;
Khayre has a long history of criminal charges and links to terror group Al Shabaab. He was charged but acquitted over the planned terror plot at Holsworthy Army Barracks in 2009;
Victoria Police are treating the attack as terrorism;
Prime Minister Malcolm Turnbull has called for an overhaul of parole laws in light of the attack.
Police are raiding the home and one other location and examining the laptops and phone of slain gunman Yacqub Khayre, 29, on Tuesday in the hunt for terrorist ties.
Just before 6pm on Monday evening, Khayre was shot dead by police, ending a two-hour long hostage situation where a 36-year-old Colombian escort he had hired was held captive and tied up for a short period of time and another 36-year-old man was shot dead.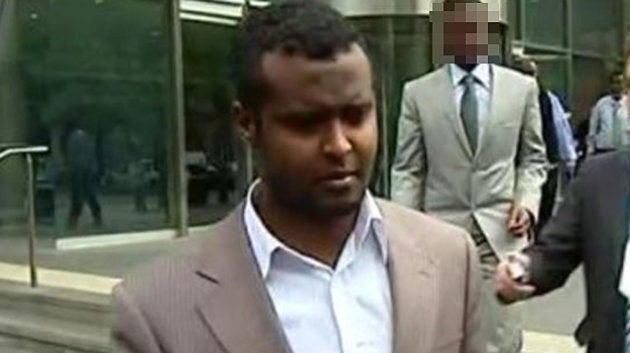 The body of the murdered victim -- who police say was an employee of the serviced apartments where the attack took place -- was found in the foyer when police arrived just after 4pm. The Chinese-born Australian is yet to be identified.
Victoria Police Commissioner Graham Ashton said Khayre had an extensive criminal history, but it's not clear what motivated this attack.
"He is someone that was known to us as having a long criminal history, a whole range of offending, going back many years," the Police Commissioner said Tuesday.
Khayre was charged over a plot to attack the Holsworthy Army barracks in Sydney in 2009.
He was acquitted, but three other men -- all with links to Somali-based terrorist group al-Shabaab -- were convicted of the attempted terror attack.
"Most recently he's done some prison time in relation to reckless intent to cause injury and whilst in prison was processed as well for arson whilst in the corrections system," Commissioner Ashton said.
Khayre was still out on parole from these charges when he committed the attack on Monday.
Police Commissioner Ashton said police were now treating the attack as a terrorist incident, but they had received no information in the lead up to suggest such an attack was imminent.
"(Yacqub Khayre) has a long criminal history with us, but also from what we're piecing together comments he made related to ISIS and Al Qaeda certainly for us put this in the terrorism category," he said.
"Certainly we don't yet know what caused him to go off like he has last night with undertaking the acts that he has," he said.
Commissioner Ashton said it was "a possibility" the attack was a planned attempt to lure police to the apartment in order to kill them by taking the sex worker hostage.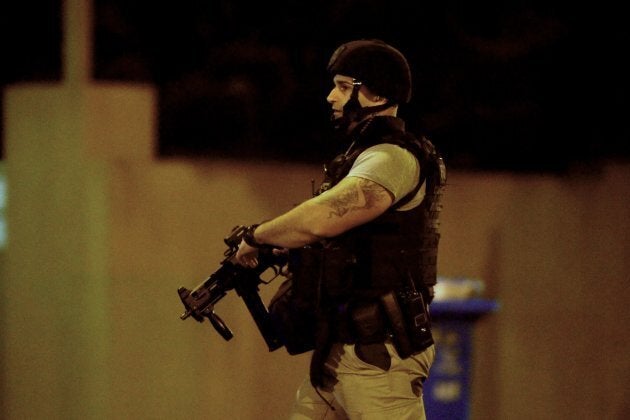 "Certainly a booking made to see an escort at the premises and he's then turned up at the premises with a firearm -- that's all been weighed into the calculations," he said.
"But we haven't found anything like a note or any comment around that so far."
Turnbull said he had spoken to Premier Daniel Andrews on Monday night and Tuesday morning about the attack.
"(Khayre) had a long record of violent offending: he had been an accused in a terrorism prosecution, although he had been acquitted; he was in prison for offences of violence and was released on parole; he had, we understand, offended while in prison," Turnbull said.
"It is very hard, I think, to understand why he was released on parole given the nature of his record and the nature of his offence."
During the hostage situation late Monday, a man believed to be Khayre called Channel Seven and said that he was acting on behalf Islamic State. The man reportedly said "this is for IS", as a woman was heard screaming in the background.
Police now say they believe it was a genuine call from Yacqub Khayre.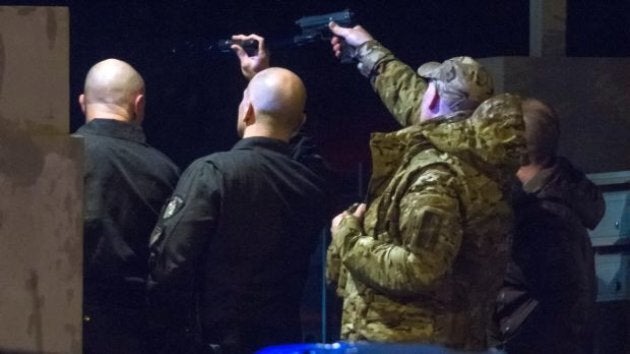 Islamic State claimed responsibility for the attack on Tuesday morning (AEST) in a statement, saying the gunman was "one of its soldiers" -- although police have cast doubt on this.
The terrorist group has blamed the attack on Australia's involvement in the US-led fight against Islamic State in the Middle East, saying via its propoganda arm, Amaq, that the attack "was carried out by a soldier of the Islamic State in response to the call for targeting the subjects of the coalition states."
But Commissioner Ashton expressed doubt over the suggestion the attack was prompted by ISIS, saying "they always tend to jump up and claim responsibility every time something happens."
The siege began at around 4pm on Monday, when police responded to reports of an explosion in the bayside suburb of Brighton, but police now believe that sound was gun fire.
When police arrived at the Buckingham Services Apartments in Bay Street, Brighton at 4pm, they found a man's body in the foyer.
Specialist police were called in and just before 6pm, the situation came to a head when the gunman came out of the apartment block and began firing at police with what is believed to have been a sawed-off shotgun.
Yacqub Khayre was killed by police during the ensuing stand-off and three police officers were shot by the gunman -- two in the hand and one in the neck and ear.
Two of the police officers remained in hospital on Tuesday, but their injuries were "non-life threatening -- which we're very grateful about", Police Commissioner Ashton said.
The sex worker, a Colombian national, who was taken hostage was "safely rescued", and although traumatised by the incident, she is physically unharmed, say police.
Authorities also confirmed on Tuesday that they have no intelligence to suggest the attack poses an increased threat to Victorians and that no other suspects are being investigated in relation to the incident.
Victorian Premier Daniel Andrews has paid tribute to the police officers who responded to the incident and who "sacrifice so much to keep us safe".
Federal Opposition Leader Bill Shorten also commended the efforts of police in responding to the "horrifying" attack, saying "Victoria Police demonstrate their courage yet again".
ALSO ON HUFFPOST AUSTRALIA