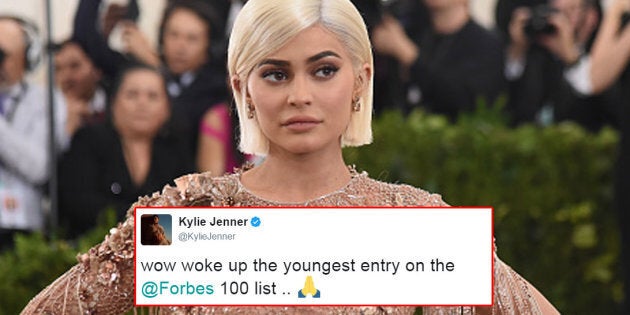 Sorry if you were feeling good about yourself this morning but 19-year-old Kylie Jenner woke up to find herself the youngest member on the Forbes 100 list.
Casually celebrating with a "wow", Jenner was placed at #59 on the list that ranks the highest-paid celebrities of the year. Jenner's main source of income has been her family's reality TV empire with shows like 'Keeping Up With The Kardashians' and her upcoming solo-show 'Life of Kylie'.
But Jenner supports her on-screen earnings with her incredibly popular cosmetics line, accessories and clothing sales as well as posting sponsored content for products on social media and appearances.
Jenner's youth isn't the only cause for the youngster to celebrate, with only 16 women making the top 100 list, two of them in the Jenner/Kardashian clan with big sister Kim clocking in at number 47.