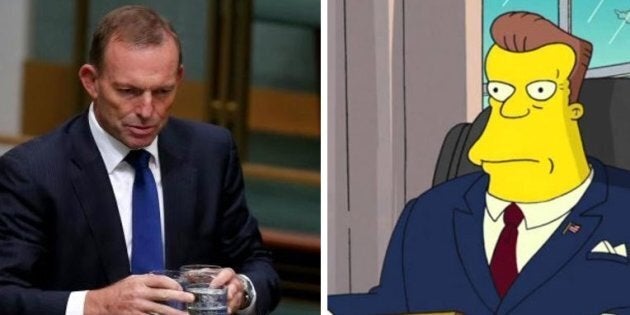 CANBERRA -- Reading news headlines and social media reports on Tuesday, you'd be forgiven for thinking you'd accidentally stepped into a time machine and been spat back into 2009.
The Australian Financial Review reported 'Coalition MPs revolt against Clean Energy Target'. In the Sydney Morning Herald, the headline read: 'Tensions erupt in Turnbull government over climate and energy policy'. And News Corp headlines said, 'Backbenchers challenge Turnbull over Clean Energy Target'. Every report on the Coalition's Tuesday afternoon party room meeting to discuss the energy report from government chief scientist Dr Alan Finkel, cast Tony Abbott as the headline act in opposition to plans for a clean energy target, with Fairfax even reporting that a Coalition MP warned: "Malcolm could lose his leadership over this".
No, we're not back in 2009, when then-opposition leader Turnbull committed to action on climate and renewable energy, and was rolled by a vocal crowd of opponents led by Abbott -- but it sure feels like it. Back then, it was Turnbull's support for an emissions trading scheme which was his downfall. In 2017, the drama is coming from the Finkel report, which urges the government to commit to a clean energy target -- possibly up to 42 per cent of electricity production from renewable sources by 2030 -- and outlines that taking action in this area would actually be cheaper, and lead to lower power prices, than doing nothing.
On Tuesday, Turnbull canvassed the opinions of his party room with a special meeting running for several hours. A long afternoon and evening meeting stretched on, with reports of up to 30 MPs addressing their colleagues on the report -- most opposed to, or at least harbouring concerns about, the Finkel report, according to reports.
While energy minister Josh Frydenberg had been confidently asserting that the report would be supported roundly by his colleagues, it seems more than a few hold deep reservations about the Finkel report, driving another wedge into a Coalition party room already splintered on a handful of deep ideological issues.
An interesting point, however, is a small detail deep in the AFR's report. While Abbott has already been publicly vocal and critical of the Finkel report in media interviews, the AFR reported:
Mr Abbott, who had not read the Finkel report, slammed the CET on Monday as a "magic pudding" and "a tax on coal".Australian Financial Review
Abbott, the star attraction of the anti-Finkel crowd, has reportedly not even read the report he has been opposing. It smacks of the immortal line from 'The Simpsons Movie', as President Arnold Schwarzenegger confidently says "I was elected to lead, not to read!"
The chances of Abbott unseating Turnbull in another climate-fuelled coup seem infinitesimal -- Abbott is not thought to have anywhere close to the strength of numbers or party room popularity he enjoyed while prime minister, so Tony 2.0 is unlikely. However, the schism in the Coalition over climate and energy policy cannot be underestimated. There remains a hard core of MPs and senators resolutely opposed to phasing out coal and gas in favour of solar, wind or other renewable sources of energy, and they have support from the likes of key Senate crossbenchers One Nation and Cory Bernardi.
But while the Coalition tears itself apart again over climate and energy, one guy happy to sit back and watch it all go down is Labor leader Bill Shorten. The opposition leader spoke on Tuesday night of a new "civil war" in the government over the Finkel report.
"It would appear that chaos is the order of the day," Shorten said.
"Just when Australians thought that the climate change wars were over, it looks like a new civil war in the Liberal Party has taken it up to a new level."
On Tuesday, following the meeting, Frydenberg told ABC's 7.30 program it was "too early to say" whether the Coalition could agree to a clean energy target. No doubt more will unfold in coming days and weeks.
ALSO ON HUFFPOST AUSTRALIA