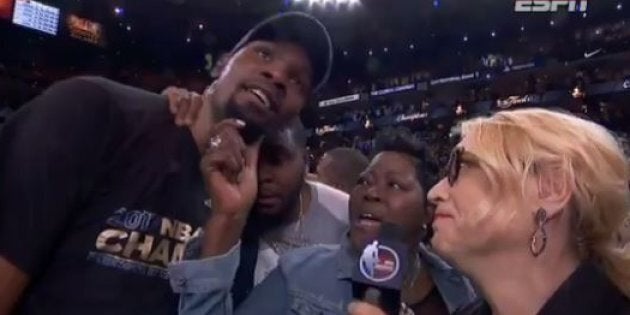 The Golden State Warriors have won their second NBA title in three years, beating the Cleveland Cavaliers 129-120 in Game 5 to clinch the finals series 4-1.
You know who also won? Warriors star Kevin Durant and his mum both won. When Durant was interviewed for the incredible feat of scoring 30 points or more in each of the five finals games, his mum Wanda just couldn't leave her baby's (formerly) chubby chin alone, could she?
She was clucking in a mother hen kind of way just after the match finished too.
Durant would go on to be named finals MVP.
This was a match which always looked in the box for the Warriors. A couple of times this series, you could have written your headline five minutes before the end, then suddenly be forced to wipe the lot in an instant.
Not this time. Though the lead changed several times early in Game 5, it was all the Warriors in the back end of the game. The Cavs came...
But the Warriors came harder.
The Warriors and Cavs have now fought out the last three NBA finals, in what has become one of the great rivalries in NBA history. It's now 2-1 for the team from San Francisco bay area, and while Cleveland's LeBron James is still the biggest name in the game, Kevin Durant is closing.
Which is what made this embrace so inspirational for all fans.
"I couldn't sleep for two days, I was anxious, I was jittery," Durant admitted after the game.
"Lebron and Kyrie [Irving], I've never seen anything like those two before. But we prevailed, it was great to do it on our home floor."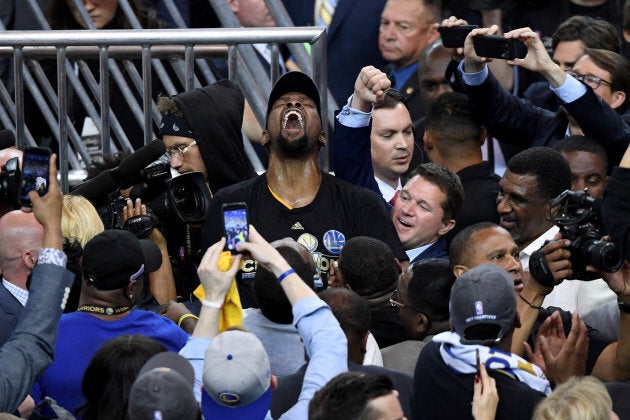 ALSO ON HUFFPOST AUSTRALIA