North Korean authorities have released Otto Warmbier, an American who was held captive in the country since January 2016, Secretary of State Rex Tillerson said Tuesday.
President Donald Trump directed the State Department to secure Warmbier's release, Tillerson added.
Warmbier left North Korea in a Medivac flight because he has been in a coma since March 2016, his family said in a statement.
Intelligence reports suggested that he had been beaten so badly while in custody that there were fears he had died, a U.S. intelligence official told The New York Times.
The announcement of Warmbier's release overlaps with former NBA player Dennis Rodman's arrival in North Korea.
Thomas A. Shannon Jr., the undersecretary of state for political affairs, said earlier this week that Rodman was not acting in any official capacity on his visit. Rodman backed Trump's presidential campaign and twice appeared on his "Celebrity Apprentice" TV show.
Warmbier was a 21-year-old junior at the University of Virginia and on a group tour to North Korea when two guards apprehended him at Pyongyang International Airport. He was accused of "perpetrating a hostile act against the DPRK" and sentenced to 15 years in prison with hard labor.
His plight came to international attention six weeks later, when he was shown giving a tearful confession in a North Korean courtroom, claiming he had stolen propaganda signage from his hotel.
"Please, people in the government of the DPR Korea, I beg that you see how I was used and manipulated," he said. "I have made the single worst decision of my life."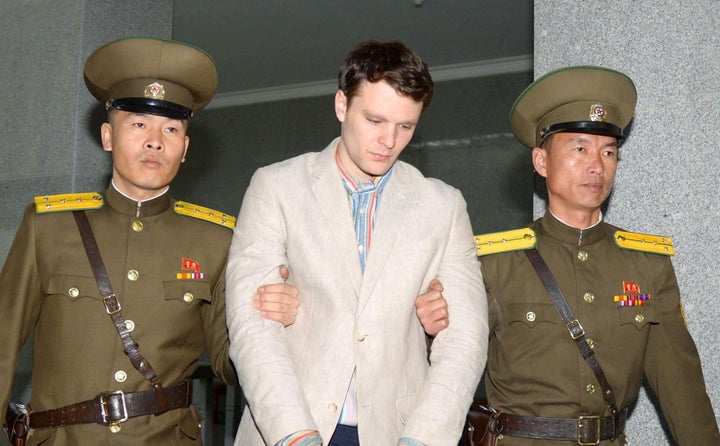 North Korea often releases detained U.S. citizens only partway into their long and harsh jail sentences. Pyongyang released three U.S. prisoners in late 2014 who had been sentenced to hard labor, including missionary Kenneth Bae, who was two years into a 15-year prison term.
North Korea is believed to still hold at least two U.S. citizens ― Tony Kim, who had been in the country teaching at Pyongyang University of Science and Technology, and Kim Dong-chul, an American businessman imprisoned on charges of espionage.
Washington and Pyongyang haven't had a diplomatic relationship since the Korean War armistice was signed in 1953, and relations have only worsened since the inward-facing regime began working on its nuclear capabilities. Trump has repeatedly stated his intention to deal with the threat, even stating in April that a "major, major conflict" could arise. Yet there's also hope that Trump's overtures to China present a unique opening for some U.S.-North Korean diplomacy.
This is a developing story. Check back for updates.
Nick Robins-Early contributed reporting.