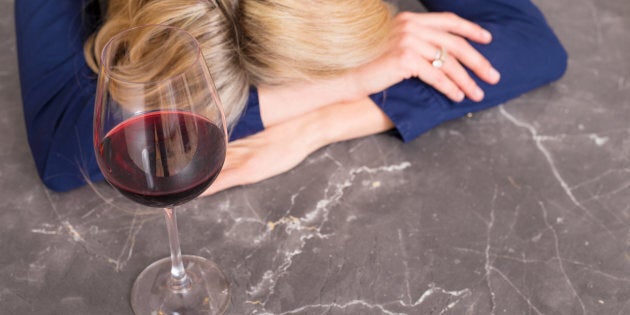 We all like whining about inaccurate weather forecasts. As for the Weather Bureau itself? Apparently it just likes wine.
The strangest thing happened last Thursday. A forecast issued for the Sydney region read thus: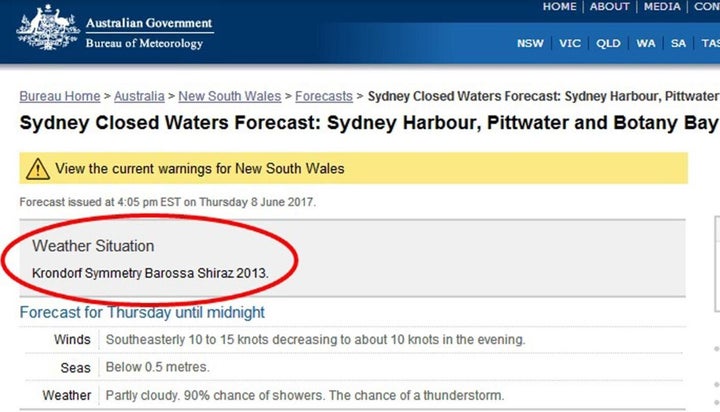 A drop of rain or two? Forget it, more like a nice drop of red. So weird. But what exactly was going on? Well, we put that to the Bureau who answered as follows:
"It's certainly not your usual forecast. As soon as we became aware of the error, the text was replaced with the correct information. We're reviewing processes to see this doesn't occur again and we'll aim to keep our forecasts to the weather in future."
They're reviewing processes?
We're not entirely sure what sort of "processes" led to booze being inserted in place of meteorological information, but yeah, those processes probably demand a second look.
Meanwhile, in what we think was a pretty clever "process" which needs no reviewing, the makers of Krondorf Symmetry Barossa Shiraz wasted no time capitalising on the weird error.
Barossa winemaker Nick Badrice said it was the first time his Krondorf Symmetry Barossa Shiraz 2013 had featured on the Sydney weather forecast (no kidding), but that the Bureau of Meteorology was spot on in terms of its wine recommendation.
"There is nothing better than enjoying an award-winning Barossa Shiraz on a rainy and stormy evening, and it seems that the Bureau of Meteorology agrees," Badrice said.
"It is delightful to enjoy on its own, so is the perfect wine for sitting in front of the fire while the weather wreaks havoc outside."
The boozy BoM update was first spotted by Tim Eckert, a guide with SA wine tour outfit Cellar Door Tours, who shared a screen shot of the update on his Facebook page.
Meanwhile, the Bureau has offered no suggestion as to what sort of wine to match with a 20 degree mostly sunny day with a slight chance of a shower -- which is a shame, because that's what's on the cards for Sydney on Wednesday.
ALSO ON HUFFPOST AUSTRALIA