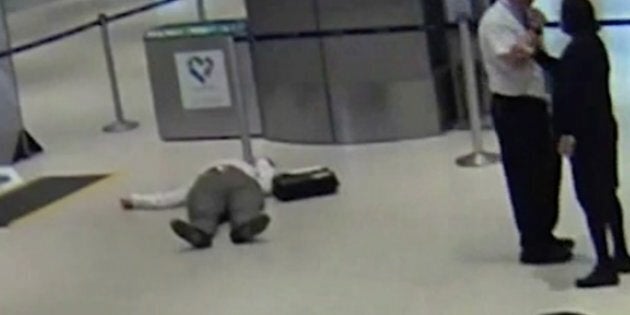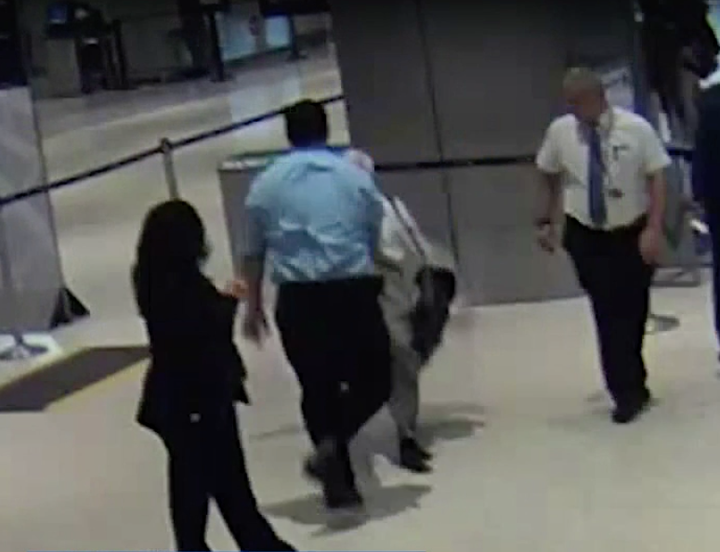 Surveillance video shows passenger Ronald Tigner being shoved to the floor by a United Airlines employee in a blue shirt.
The video shows Tigner lying on the ground as employees appear to offer no assistance. Not until a fellow passenger rushes over and kneels down beside him does someone call for help.
KPRC also obtained a 911 call from the incident in which a United employee says Tigner "has fallen down" and says he does not know why he fell.
The employee who shoved Tigner was later charged with injury to an elderly individual, KBRC reports. He was fined and ordered to apologize and attend anger-management classes.
Tigner tried to rectify things with the airline but wasn't pleased with United's slow response, his lawyer William Hoke told HuffPost. Tigner decided to file a lawsuit after seeing footage of Dr. David Dao being dragged off a United flight in April.
"[Tigner's] main concern was getting his story out there so the traveling public knows about this, and instead of talking about core values [United] will actually do something to stop it," Hoke said. "The most astonishing part is that nobody helped him."
United apologized in a statement issued this week.
"We have seen the video from 2015 that shows completely unacceptable behavior by a United employee. This employee was terminated from United in August 2015 following the incident. The conduct shown here does not reflect our values or our commitment to treat all of our customers with respect and dignity. We are taking a thorough look into what happened here and reaching out to our customer to profusely apologize for what occurred and to make this right."
United, along with otherairlines, has taken heat lately for a string of unsavory exchanges between passengers and employees. Besides Dao, a disabled Florida woman sued United, claiming she was injured by employees during a flight from Houston in September. In May, a North Carolina father announced plans to sue United after he was accused of molesting his son on a flight.