Donald Trump Jr. took the opportunity to tweet about partisanship politics after a top House Republican and others were shot while at a baseball practice in Alexandria, Virginia, just outside Washington Wednesday morning.
Trump's retweeted a political commentator, Harlan Z. Hill, who addressed the controversial "Julius Caesar" play in New York that depicts President Donald Trump as the title character. Meanwhile, House Majority Whip Rep. Steve Scalise (R-La.) was rushed to the hospital with a gunshot wound to the hip. Four others, including the suspect in the shooting, were transported to a local hospital, Alexandria Police Chief Michael Brown said.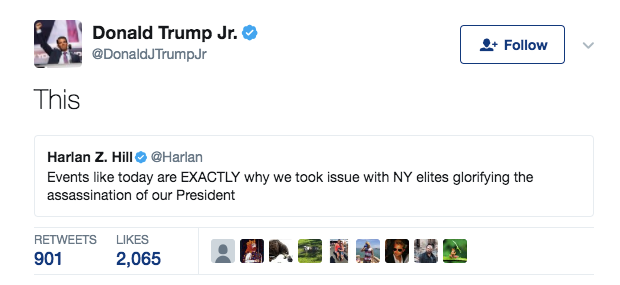 "Julius Caesar" is a cautionary tale that warns against the use of political violence, and the republic falls apart shortly after Caesar's assassination.
The play is a part of The Public Theatre's free "Shakespeare in the Park" project and had been running for weeks before an "Inside Edition" report showed the famous assassination scene. Sponsors Delta Air Lines and Bank of America pulled funding shortly after the backlash began, but the theatre would not apologize for the show.
The younger Trump also retweeted a post on reports that the the gunman had asked Rep. Ron DeSantis (R-Fla.) about the party affiliation of the lawmakers who were at the field who were practicing for Thursday's annual congressional baseball game.
Some Twitter users found Trump's tweet to be in poor taste.
President Donald Trump issued a statement saying that he and Vice President Mike Pence "are aware of the shooting incident in Virginia and are monitoring developments closely. We are deeply saddened by this tragedy. Our thoughts and prayers are with the members of Congress, their staffs, Capitol Police, first responders, and all others affected."