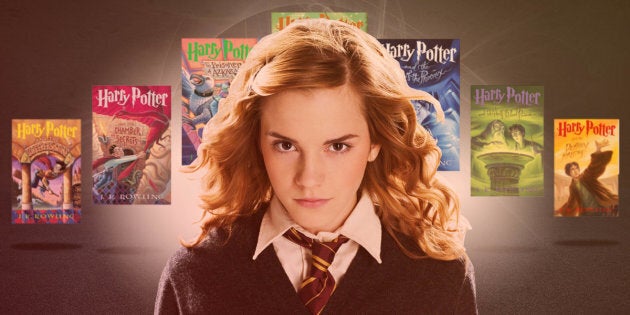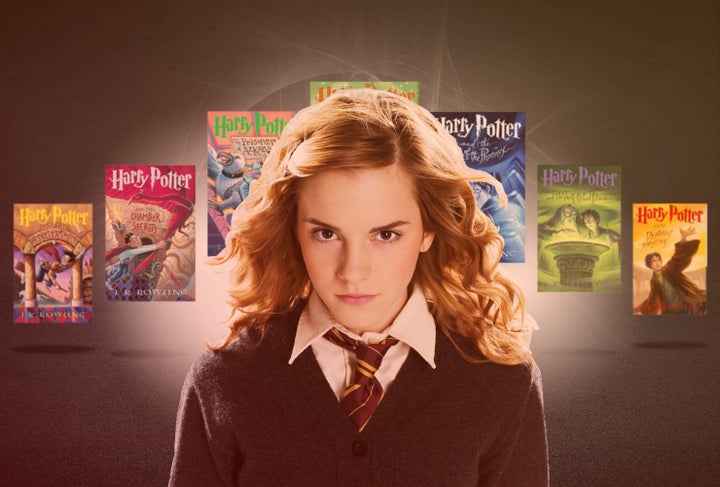 The Women's March on Washington was littered with references to Hermione Granger.
"When Voldemort is president, we need a nation of Hermiones!" read one sign, which was posted on Twitter on Jan. 22, 2017, the day after more than 3.5 million people around the nation marched in solidarity with women's rights.
"Without Hermione, Harry would've died in book 1," read another.
In 1997, readers were first introduced to the brilliant and bookish character in Harry Potter And The Sorcerer's Stone ― a young witch born to Muggle (non-magical) parents, with lots of "bushy brown hair and rather large front teeth." In 2017, Hermione's face is on protest signs around the world. She's been reimagined as the center of the Harry Potter series, tasked with battling the patriarchy. You can even purchase posters, T-shirts and embroidered crafts on Etsy that ask "What Would Hermione Do?"
Over two decades, the young British witch from J.K. Rowling's beloved Harry Potter series has grown from a literary smart girl into a powerful feminist symbol.
To understand the enduring appeal of Hermione, take a look back at what made the character connect to readers in the first place. Before Emma Watson portrayed the literary character on the big screen, forever entwining her own image with that of Hermione, Hermione Granger was a description on a page ― one that millions of children (and adults) felt drawn to.
The first thing that makes Hermione so special is that the role she plays in the Harry Potter series defies certain literary tropes; tropes that articulate the role girls should play in boys' lives, both on and off the page.
"Usually when there are two boys and a girl, the girl is kind of the sidekick, and as they get older the boys fight over her attention," Dr. Cecilia Konchar Farr, a professor of English and Women's Studies at Saint Catherine University told HuffPost. "And what was very powerful was that Hermione was always so much a part of the trio. Hermione's not just a sidekick, she's a central character."
When The Smart Girl Gets To Save The Day
Instead of centering Hermione's beauty or male-approved desirability, J.K. Rowling always centered Hermione's brains, compassion and morality. There aren't very many references to Hermione's looks in the books, but readers of the Harry Potter series are constantly reminded that Hermione works harder and performs magic better than nearly everyone around her. This means that, not only is she consistently at the top of her class, but she is also an invaluable part of both the resistance against Voldemort and a key (and equal) member of the Harry-Ron-Hermione trio. After all, on more than one... or two... or three occasions, Hermione saves both Harry and Ron's lives.
Her contributions and equal standing with the two male protagonists provide readers ― both boys and girls ― with a way to understand and relate to feminism. And Hermione's "mudblood" status provides an avenue through which to explore deeper issues of racism and oppression.
"[Hermione ] displays a kind of feminism that is accessible to people for whom the term feminism has been sort of systematically demonized," said Dr. Christopher Bell, a professor of Communication at the University of Colorado and editor of Hermione Granger Saves the World: Essays on the Feminist Heroine of Hogwarts.
Hermione's appeal was always rooted in her ability to be a stand-in for smart, hard-working girls ― girls who yearned to see those qualities rewarded and valued in a world that still largely determines the worth of women and girls by their looks. As a girl who grew up being infinitely more confident in my academic and oratory abilities than my physical skills or looks, reading about Hermione was a form of wish fulfillment. What a world it would be if the smart girl got to save the day standing shoulder-to-shoulder with her male peers, and be celebrated for her accomplishments.
Rowling has been vocal about the real-life inspiration for Hermione, calling the witch a caricature of her younger self. ("I wasn't that clever. But I was that annoying on occasion," Rowling told TIME in October 2000.)
She has also said that putting her female protagonist's abilities and cleverness front and center was intentional.
"I know that Hermione is incredibly recognizable to a lot of readers and yet you don't see a lot of Hermiones in film or on TV except to be laughed at," Rowling told Wonderland Magazine in 2014. "I mean that the intense, clever, in some ways not terribly self-aware, girl is rarely the heroine and I really wanted her to be the heroine."