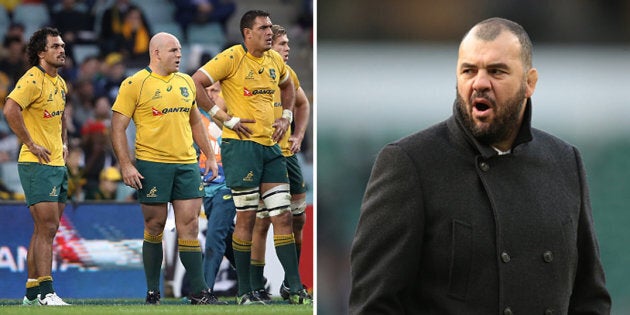 Wallabies coach Michael Cheika has contacted an impassioned fan to respond to an online viral rant he posted to Facebook laying out exactly what is wrong with the "disgrace" of a national team after an embarrassing loss to Scotland on home soil over the weekend.
Cheika told media on Monday that he called Jack Quigley -- a 29-year-old rugby coach and player from Lismore, NSW -- to discuss his claims that the Wallabies lack passion and said the Facebook post has been put up on the walls at the team's training camp for the players to see.
"I spoke to the gentleman, gave him a ring because why not?" he said.
"I think that's important that you talk to the fans. When we say come out to pressers and say 'we want to make the fans proud' it's not lip service. We do.
"I just spoke to him about some of the things that we're feeling and what we want to do and what's going on in the background because we're feeling the same thing as the fans, too."
In his rant, Quigley admits he is just a "pleb", a "nobody" and his opinion "counts for the square root of f-all in the grand scheme of things" but said that the Wallabies' recent string of poor performances has made it clear that they "don't care enough".
"But I've got one thing. Passion. Passion for the game of rugby. And for the Wallabies. And you can't deny me that. Despite your best efforts," he said.
When I was a kid -- hell, even now, I would've given my left nut just to pull on a Wallabies jumper, but when I see you guys run out, I feel like you don't care. I KNOW you don't care, because it shows."
Time after time, Quigley's been watching, hoping, pleading, for his team to show some of the same. But every time, he's been disappointed.
"I love you, but I'll be blunt. The Wallabies are a disgrace. You got lucky in the Quarter Finals of the World Cup in 2015 thanks to Craig Joubert losing the plot in the last minute (against Scotland, funnily enough) for some reason and you've lived off it ever since."
"When I was a kid -- hell, even now, I would've given my left nut just to pull on a Wallabies jumper, but when I see you guys run out, I feel like you don't care. I KNOW you don't care, because it shows. And don't tell me I'm wrong. Don't say that you DO care, because my response is that you don't care ENOUGH! CLEARLY!"
Now, fellow fans are calling for the avid footy supporter to be allowed to address his concerns to the Wallabies in person and Cheika has admitted the post "was pretty confronting" for some of the players who have seen it.
"I think that he expressed how he was feeling after the game and I don't think it's too far away from what some of us were feeling as well," he said.
"I think that was pretty confronting for a few of the guys who hadn't seen it because it was pretty heavy in some ways."
The rant follows the Wallabies' demoralising 24-19 loss on Saturday to what Quigley called 'Scotland B' (two of the team's British Lions are on tour in New Zealand).
It is just the third time in 35 years that Scotland have beaten the Wallabies. They also look set to overtake Australia in the world rankings for the first time ever.
After the collapse against Scotland, Cheika put his team on notice ahead of Saturday's game against Italy in Brisbane, the final Test of the June series.
Cheika accused the team -- captain Michael Hooper, fullback Israel Folau and inside centre Karmichael Hunt excepted -- of being physically and mentally off-pace, saying physical intent would be the number one selection criteria going into the last Test.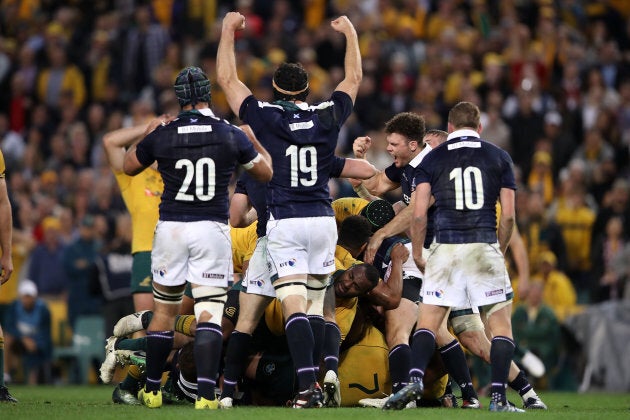 The problem, Quigley said, is that the players have lost touch with the common man.
"You're quite literally hurting people with your lack of application to your jobs," he writes.
"The Wallabies' attitude towards the basic skills is unacceptable. A culture of blame-avoidance has been allowed to fester."
You can read the full take-down here:
Clearly, a lot of other fans agree. In just 36 hours, his post had amassed over 40,000 'likes' and 8,200 comments, many of them calling on Cheika to give Quigley his requested 15 minutes to talk some sense into the Wallabies players.
In the post, Quigley offers to do the four-hour round trip to Brisbane "to look these guys in the eye and tell them WHAT IT MEANS to be a rugby fan in this country".
"Because they don't know. They're not fans. They're players and coaches. That's different. They don't know."
"I'll take a day off work. It'll cost me $150 in addition to the 4-hour round trip but I'll do it."
"And then I'll pay $100 and a 4-hour round trip on Saturday to drive up and have the privilege of watching you stutter and stumble and fumble and make a game against Italy look a million times harder than it actually is.
"But I'll do it. And I'll cheer you on and hope that you win so that on Sunday I can go into work to earn my peanuts with a smile on my face while you enjoy another skinny latte at the airport."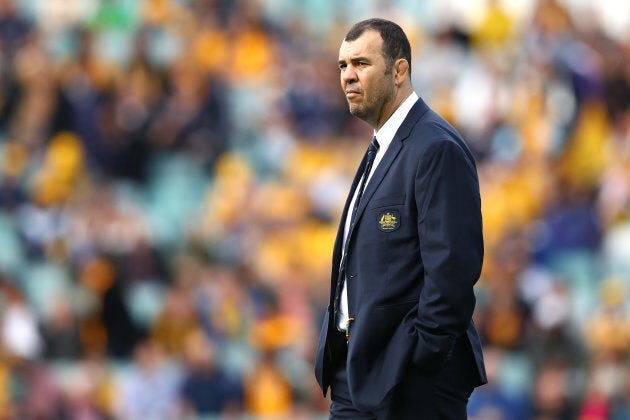 The situation for the ARU is now so dire that rugby chief Bill Pulver has offered to resign immediately at Tuesday's emergency meeting if everyone in the room agrees he's no longer the right man for the job.
It remains to be seen whether he or Cheika will bring Jack Quigley in to give them a talking-to.
But it couldn't make matters any worse, right?
ALSO ON HUFFPOST AUSTRALIA