There's no denying that the best part of planning a holiday is dreaming of all the amazing food you'll eat when you're there. Part of discovering a foreign culture is trying local delicacies and Contiki have answered all your tastebuds' prayers with the launch of their new foodie tour, Munch.
Culinary experiences are a key factor for travelers choosing their next destination and food tourism was the number one travel trend of 2016, and so this new nine day European offering was planned to revolve almost purely around eating. Heaven!
Foodies Dan Churchill and Hayden Quinn helped kick off the first Europe Munch trip back in May, to be able to fill in would-be travelers on what they can expect. The Europe trip is a nine-day journey which covers Rome, Florence, Barcelona and the South of France.
"After traveling around Australia filming 'Surfing The Menu, Next Generation' with Hayden we loved bringing people closer to the stories of food and inspiring them to cook their deliciousness. Not to mention the idea of traveling is the best way to see the world. So when the opportunity to do something similar, talk, eat and cook but in Europe came about, it was an absolute no brainer," Churchill told HuffPost Australia.
"I also got to share this amazing experience with one of my best mates. I had never done a Contiki tour before and the new Munch option sounded exactly what I would be into. More about the food, the culture and the story about how both interacted in some of the world's most historical regions."
As for their favourite stop on the trip, Quinn said it was hard to pinpoint.
"Everywhere was so incredible. It had been a while since I had been to Europe --- Dan and I did have a quick stop over to Cannes last year for the TV festival -- so to be able to get back and explore was awesome. For me Italy has always been a place that I love visiting, I think it is the combination of the people, the food, the passion and the history. I particularly love Florence, there is something about it that just makes your want to transport back in time and pretend you are Leonardo Da Vinci," Quinn said.
Churchill agrees that Italy is his top spot, too.
"Every place provided its own unique experience and memory, but I have a spiritual connection to Italy. I love everything about it -- the architecture, the flavours of the food and of course the people. The days in Florence were phenomenal. Situated in the Tuscany I ran in and out of the city crossing bridges, stopping into stand up bar cafes ordering an 'un caffe' and having a six minute moment of pure Italy. When it comes to a cultural morning routine you don't get it much more than that. It's these little moments for why Italy will always be at the top. That and the fact we had the World's Best Awarded Gelato in San Gimignano the same day. Tough afternoon really," Churchill said.
As for their favourite meals from the nine day experience, get ready to drool.
"It would have to be the wine tasting dinner at Castello il Palagio. Set upon a beautiful vineyard in Tuscany, the lovely and passionate owner of this phenomenal Chianti winery took us downstairs to see the rustic French and American oak barrels in which the wines were aged. We then walked up to the long decorated table which was like a picture perfect setting from an Italian postcard -- everything that Italy is all about. A long table, wine and shared small intricate plates. In regards to the meal, it was my my new favourite soup called Ribollita, famous in Tuscany and comprised of bread, beans and vegetables," Churchill said.
For Quinn it was all about a quaint little lunch.
"My favourite meal on the trip was a lunch I had with a couple of my fellow travellers in Genoa. We did a little research online and found this amazing spot called Antica Osteria Di Vico Palla, tucked away down a small alley far from the main heart of the town. We were so excited to get in there that we arrived half an hour before they opened for lunch and just sat in the restaurant soaking it all up. Once the doors were officially opened we had the most charming and fun Italian waiter -- I think he was pretty taken by the girls so we had some special Italian service -- and of course we had the classic Pesto Genovese plus what was probably my favourite dish a seafood pasta that just blew us all away, paired nicely with some crisp and cold white wine. I think the highlight was not only the amazing food and service but the fact that we were the only non-Italians in there. It seemed very legit!" Quinn said.
As for where to next on the duo's travel itineraries, Churchill is hoping to visit Japan and South America.
"I would love to do Japan. Everyone says so many wonderful things and as a chef the food scene related to their culture and story is meant to be phenomenal. From the way you are meant to sit and the manners, I can not way to share that story. South America has always been on my bucket list, as has India. Indian cooking has such a diverse regional cooking range and I want to experience them all -- from the colder locations in the North to the more tropical fruitier locations down south. I am looking forward to doing China later in the year and telling their story as well. I have been there once already, but this time it is going to be phenomenal," Churchill said.
Click below to subscribe to the Refresh podcast by HuffPost Australia on iTunes.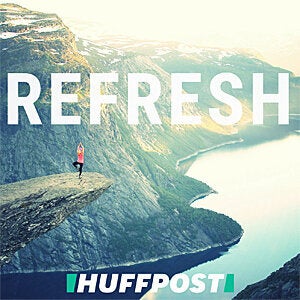 ALSO ON HUFFPOST AUSTRALIA