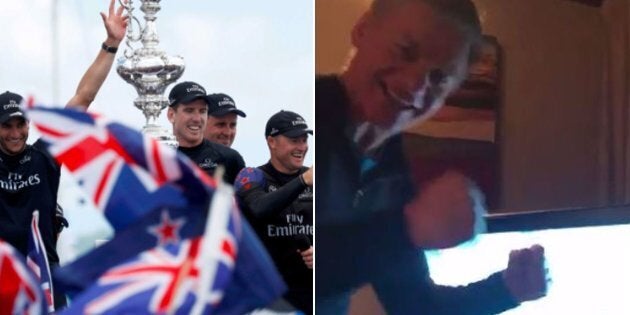 There are no words for how happy the nation of New Zealand is this Tuesday, after Emirates Team New Zealand beat the American boat Oracle Team USA in the America's Cup in Bermuda.
There are even fewer vowels to describe the tiny nation's joy -- oh, but that's just a gratuitous dig at the NZ accent, and this is no day for trans-Tasman jibes. This is a day to celebrate the ingenuity and all-round sailing skill of the Kiwis.
Better boat, better crew, better tactics. This, in a nutshell, is how the Kiwis won.
"Yeah, it's been a long time coming and it's not without its adversity along the way but right now every day feels like it was worth it," Team NZ boss Grant Dalton said (in the video above).
"The guys sailed perfectly today. It's a victory for the country. We're a little nation, brilliant, brilliant, brilliant day for New Zealand."
Four years ago, the Americans -- skippered by Aussie Jimmy Spithill -- pulled off perhaps the greatest comeback in sporting history, coming back from 8-1 down to win 9-8. There would be no such turnaround this time for Spithill and friends. The Kiwis won the first-to-seven series 7-1. Boom.
Nobody was more pleased than Kiwi Prime Minister Bill English, who got up in the middle of a cold winter night to watch the action on TV in his jammies.
When Australia became the first challenger country to take the America's Cup (which is said to be sport's oldest trophy, dating back to 1851) 30 years ago in 1987, our then-PM Bob Hawke famously declared, "Any boss who sacks anyone for not turning up today is a bum".
Bill English wasn't quite that over-the-top, but the image of him in pyjamas may be just as hard to erase from the collective memory. Maybe we should look at more wholesome images.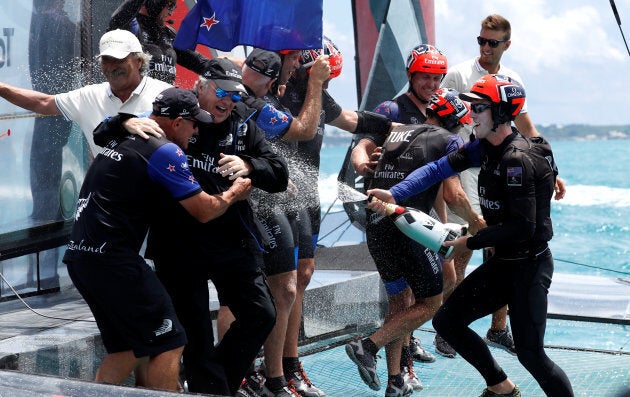 As the Sydney Morning Herald explains, the Kiwis developed a revolutionary cycling system. Instead of powering the hydraulics which control the catamaran's foils through traditional arm power, they use leg power.
Bigger muscles, and it also frees the hands to do other tasks. Clever. And their "cyclors", as they are known, included an Olympic cycling medallist.
The Kiwis will now host the Cup in four years' time, and are said to be strongly considering a rule change where crew members must be from the country of origin as the team entry. That would hurt the Americans as nine of their crew were Aussies -- but it could be good for us, if we manage to enter a boat.