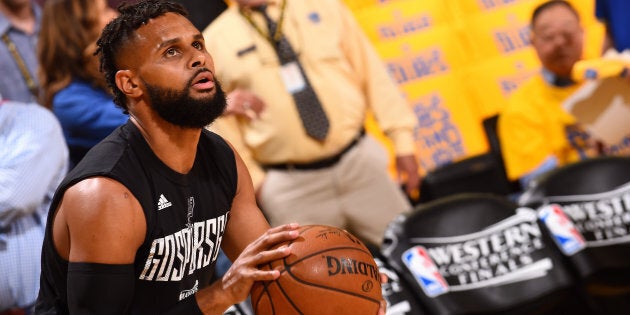 Aboriginal and Torres Strait Islander people from across Australia have been recognised at the annual NAIDOC awards, with basketball superstar Patty Mills one of the big winners.
The awards ceremony, held in Cairns on Saturday night, kicks off 2017 NAIDOC Week. This year the theme is Our Languages Matter, which celebrates the longevity and diversity of Aboriginal and Torres Strait Islander languages.
At Saturday's gala event, Mills, a Muralag Torres Strait Islander and Ynunga Aboriginal man, was named Person of the Year. The award was accepted by his father Benny Mills.
The Canberra-born San Antonio Spurs point guard was honoured for using his high profile to work for Aboriginal and Torres Strait Islander rights.
It's been a good couple of days for Mills, with the award coming amid speculation he is poised to sign a $US50 million deal to remain at the Spurs.
Other major winners at the awards were Latia Schefe, who took out the Youth of the Year Award, and Elverina Johnson named Artist of the Year.
The most coveted award of the night, the Lifetime Achievement Award, was taken home by community activist Diane Ryder.
"I'm really humbled to receive this award because this is about a community for me that comes together, that reconciliation isn't just a word, but they practise it on a daily basis," Ryder said in her acceptance speech.
"I am honoured, I can't put this into words as to what this means to me."
Speaking on Sunday, Indigenous Affairs Minister Nigel Scullion said more needed to be done to preserve languages of Australia's first peoples.
"We invested some $10 million some time ago into the protection and investment in languages. I'd certainly like to see something like a vision where an hour a day that every primary and secondary student gets to learn an Indigenous language," he told ABC television.
"Without language, you don't have a culture. That's why language is just so important. We've lost nearly half of the 500 languages that were here pre-European settlement."
"It's just really important that we come up with some ideas to ensure that we, as Australians, preserve the language ... it's just so much a part not only of Aboriginal and Torres Strait Islander culture and identity, but as an Australian identity."
The full list of NAIDOC Awards winners can be found here.
ALSO ON HUFFPOST AUSTRALIA
Ngongs were announced in Cairns