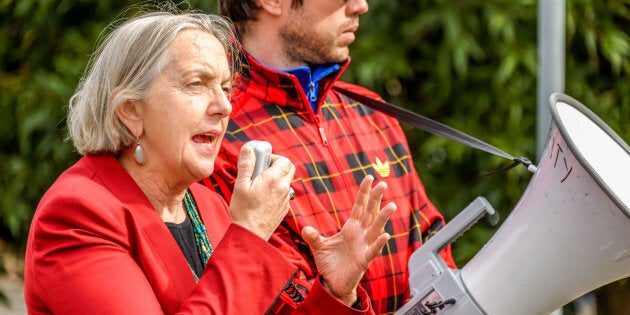 Greens senator Lee Rhiannon has admitted she's disappointed in leader Richard Di Natale following her temporary ban from party room discussions.
The ban on Rhiannon was announced this week in the wake of divisions within the left-wing party about the NSW senator's conduct during negotiations over Gonski 2.0.
The move to outlaw Rhiannon from the party room is said to be an attempt to drag the NSW branch of the Greens into line with the federal party on key policies.
Speaking on Sunday, Rhiannon said she felt let down by Di Natale's leadership.
"I have been disappointed in Richard's leadership but you need to lead for everybody and it is not just me, the Greens New South Wales members no longer have a voice," Rhiannon told ABC television.
"We need to ensure that we are a party based on its members. When you consider the huge changes that are going on in the world ... we need to be part of that world-wide change that is occurring.
"I don't think there is anything wrong with young members who join the party who want to talk about social and have a different vision of the world."
The rules governing the NSW branch of the Greens allows it to instruct Senator Rhiannon on how to vote, even if it contradicts the federal party's position. That's different to Labor and Liberal party rules.
Rhiannon was confident the existing party rules would remain in place for the meantime.
"Changing the rules won't happen overnight," she said.
ALSO ON HUFFPOST AUSTRALIA