Luke Skywalker's original lightsaber, the mesmerizing movie-prop weapon that eventually saved the galaxy from evil, has been bought at a Hollywood auction for $450,000 by Ripley's Entertainment.
And Skywalker's droid buddy, little R2-D2, went to another buyer for an enormous $2.76 million, breaking the record for any movie memorabilia ever auctioned, according to the Profiles in History auction house.
The lightsaber, used in the ground-breaking 1977 "Star Wars" film and 1980′s "The Empire Strikes Back," was originally owned by Gary Kurtz, a producer on both films.
The sci-fi weapon was created using a 1930s-era Graflex flashgun camera, according to the auction house.
"For us, that's a cool 'believe it or not' ― recycled art before anybody was calling it that," Ripley's exhibits vice president Edward Meyer told The Orlando Sentinel. Ripley's, headquartered in Orlando, Florida, runs several Believe It Or Not! museums and events.
The auction house provided no information on the droid lover who scooped up R2-D2 on Wednesday. The 43-inch-tall R2-D2 was compiled of parts used during filming of the original "Star Wars" trilogy, AP reported.
The lightsaber is a "Star Wars" icon. Luke relied on his trusty sword — which Obi-Wan Kenobi characterized as an "elegant weapon" from a "more civilized age" before the dark times — in his final confrontation with the man he eventually discovers is his father, Darth Vadar. Fans across the nation earlier this year paid homage to the late Carrie Fisher — Princess Leia — with lightsaber vigils.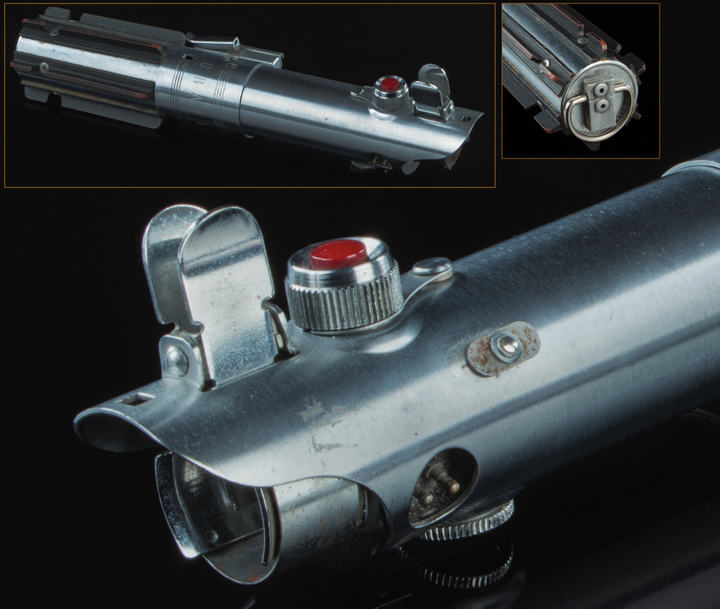 Ripley's has some other quirky "Star Wars" items, including hair from a Chewbacca costume and a Pieta-style sculpture of Chewbacca holding Han Solo. It has also obtained a 15-foot version of the film series' Millennium Falcon ship, created from nearly a million matchsticks, which will be a centerpiece of Ripley's "Star Wars" display, according to the Sentinel.
The "Star Wars" artifacts were among a number of eclectic Profiles in History auction offerings, which also included a 50th birthday party invitation President Donald Trump, now 71, sent to actress Loni Anderson ... in a galaxy far, far away.