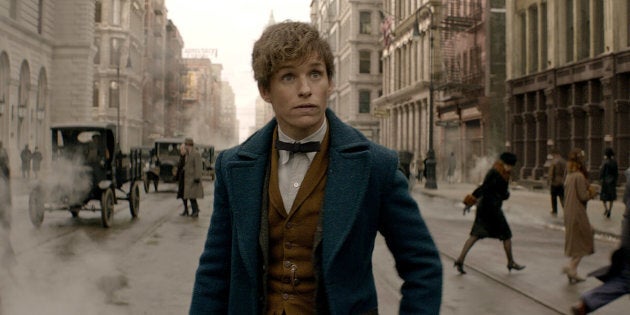 When we last left the world of "Fantastic Beasts and Where to Find Them," the Magical Congress of the United States of America was imprisoning Gellert Grindelwald, who'd been lurking around disguised as Percival Graves (Colin Farrell). Next year's "Fantastic Beasts" sequel will pick up months later, after Grindelwald has escaped and begun recruiting Dark Magic disciples.
Warner Bros. revealed the plot Monday, in conjunction with the start of production. The still-untitled "Harry Potter" spinoff will revolve around a young Dumbledore (Jude Law) recruiting his former student Newt Scamander (Eddie Redmayne) to stop onetime BFF/crush Grindelwald (Johnny Depp) from "gathering more followers to his cause — elevating wizards above all non-magical beings." In a loyalty-testing mission surrounded by "an increasingly dangerous and divided wizarding world," Newt reunites with Tina (Katherine Waterston), her sister Queenie (Alison Sudol) and the non-magical baker Jacob (Dan Fogler).
Moving the action from New York to Paris, the 1920s-set sequel will also feature Credence Barebone, the brooding teenager played by Ezra Miller, whose fate is unknown. Zoë Kravitz, seen briefly in a photo in "Fantastic Beasts," is joining the cast as Leta Lestrange, who had a close relationship with Newt during their time together at Hogwarts. (Her relationship to Bellatrix Lestrange is unclear.) "Avengers: Age of Ultron" and "The Dark Tower" actress Claudia Kim will play a circus performer, while Callum Turner joins the spell-casting as Newt's brother. Kevin Guthrie is reprising his role as Magical Congress honcho Abernathy.
David Yates, who directed "Fantastic Beasts" and the final four "Harry Potter" movies, is at the reins again, working off a screenplay written by J.K. Rowling. (Yates is slated to helm all five installments in the "Beasts" franchise.) Filming is taking place at Leavesden, the Warner Bros. studio complex outside London where all the "Potter" movies were shot.
It's time to protect your movie-buying funds from those sneaky Nifflers: The next chapter of "Fantastic Beasts" will open in theaters Nov. 16, 2018.