It's not the biggest fashion faux pas going around, but a hair elastic on the wrist does tend to lessen the impact of a well put together outfit or well manicured hand with chic wrist candy.
But the problem with not keeping your hair tie on your person is that the second you put it anywhere else for safe keeping it disappears to presumably join all the other hair ties, bobby pins and odd socks of the world. Then you find yourself stuck at pilates frantically rummaging through your gym bag looking for a stray and nobody needs that kind of anxiety in their life.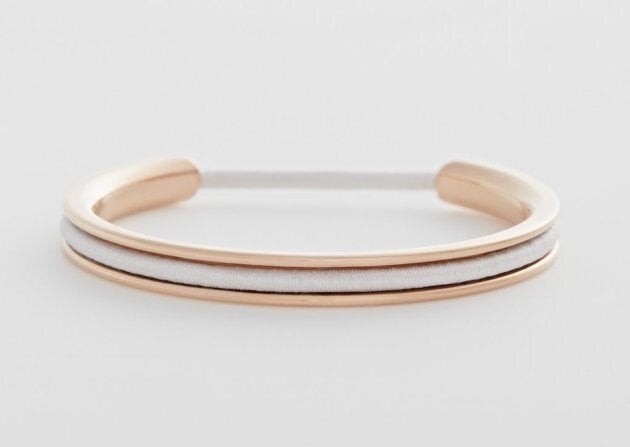 I''m a passionate problem solver. I really try not to see problems, only opportunities," Alice Pritchard-Davies, creator of the Fore Hair Tie Bracelet told HuffPost Australia.
"I left the corporate world a couple of years ago and launched two businesses in the same year. It has been a crazy roller coaster of emotions, late nights, and fairly non-stop work. I'm so grateful to have my little sister Isobel on this roller coaster with me -- we created Fore together."
Pritchard-Davies came up with the idea after tiring of forever searching for a hair tie, like 99 percent of other women.
"I am always rushing everywhere. On any given day I could go from nannying to business meetings, walking my dog, a netball game, and then out to dinner. It can be a little chaotic at times, especially with all the necessary outfit changes. I found it really annoying digging around for a hair elastic in my oversized handbag, full of so many random loose objects. Having a hair tie on your wrist is the best place for it to be, but it felt uncomfortable and looked unpolished," Pritchard-Davies said.

"The product development was a really fun new process for me. We used 3D printing to create plastic samples until we got the size and dimensions right, which was a wonderfully fast and inexpensive way of perfecting the prototype. We then sourced manufacturers and worked closely with them to develop the real samples before placing a larger order, ready for launch. We sold out much sooner than expected and so unfortunately we're out of stock for a few months which was frustrating. But we're back in stock now!"
Even better, $1 from every order goes to charity.
"We have a partnership with I=change, supporting women and girls less fortunate than ourselves. We want to ensure our success enables us to give back to those who need support, giving them greater opportunities for the future."
"Our Fore bracelets allow busy, active women to keep their hair elastic where they need it, without it being uncomfortable and leaving unsightly red marks. You can mix and match the bracelet and hair elastic colours to suit any outfit," Pritchard-Davies said.
ALSO ON HUFFPOST AUSTRALIA