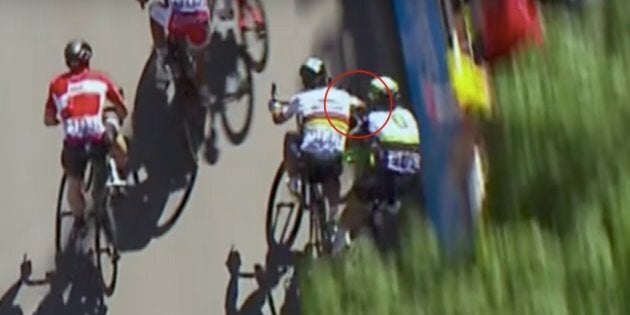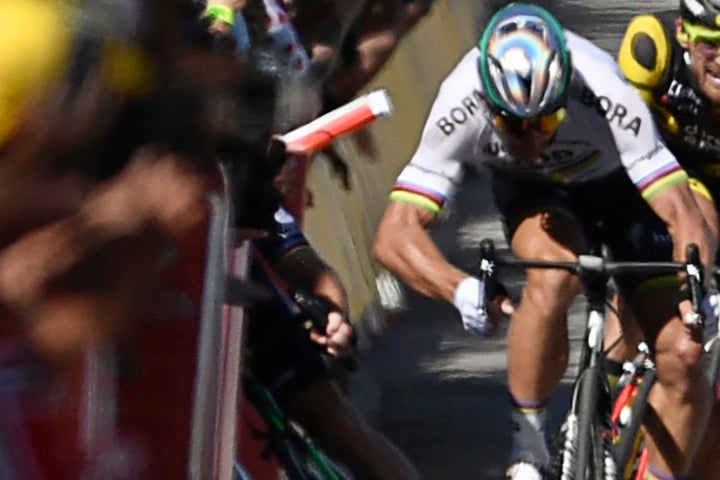 In a rare ruling, a well-known cyclist has been disqualified from the Tour de France after he was seen elbowing another rider, sending his competitor crashing into a barricade.
Peter Sagan, 27, of Slovakia, was kicked out of the competition on Tuesday after he was accused of willfully causing the crash that injured British cyclist Mark Cavendish and caused two others to fall during the sprint finish in Vittel in the race's fourth stage, officials said.
"I get on with Peter well," Cavendish, who rides with team Dimension Data, later told Reuters. "If he came across, it's one thing, but the elbow. ... I'm not a fan of him putting his elbow in me like that. A crash is a crash. I'd just like to know about the elbow, really. I'd just like to speak to him about it."
The 32-year-old, who was taken to a hospital for evaluation, said he suffered a gashed finger, which he guessed would need stitches, as well as an injured arm that was later seen placed in a sling. The injuries to his arm may have been amplified by a previous injury, he told the BBC.
Sagan, cycling with the Bora–Hansgrohe team, went on to place second, behind Frenchman Arnaud Demare, in Tuesday's fourth stage of the race. For the last five years, he won the green sprinter's jersey awarded at the multi-week tournament, and was vying to tie the record by claiming a sixth. The tour, which began on Saturday and finishes on July 23, is made up of 21 stages over about 2,200 miles and the cyclist with the lowest overall time wins a yellow jersey.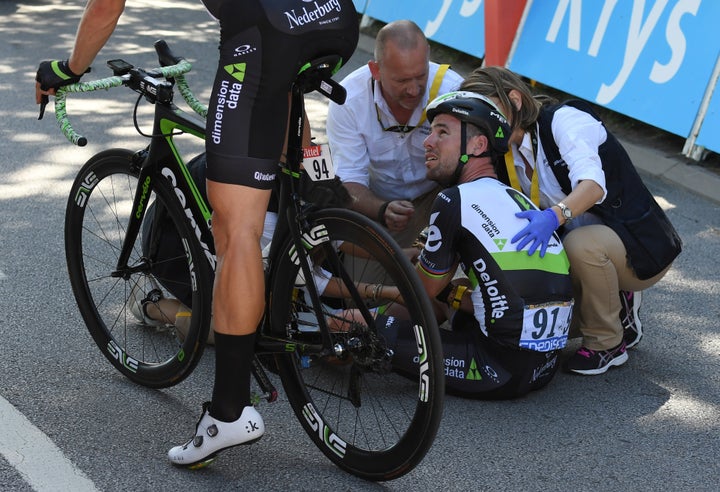 Sagan, who also has won two UCI Road World Championships, apologized to Cavendish after the crash but also defended what happened. He told The Associated Press: "I just didn't know that Mark is behind me, he's coming from the right side.
"Mark was coming pretty fast from the back and after I just didn't have time to react, to go left, and he just came (into) me and after into the fence," he said.
His explanation and apology weren't enough for race officials, however.
Race jury president Philippe Marien cited a part of the International Cycling Union rules for Sagan's disqualification. The rule says that any rider making a willful obstruction "against one of the 1st 10 riders placed" faces elimination.
Aside from doping offenses, disqualifications are rare in the race that was first held in 1903, according to the AP.
In 2010, Australian Mark Renshaw got the boot for trying to headbutt fellow rider Julian Dean in a sprint finish.