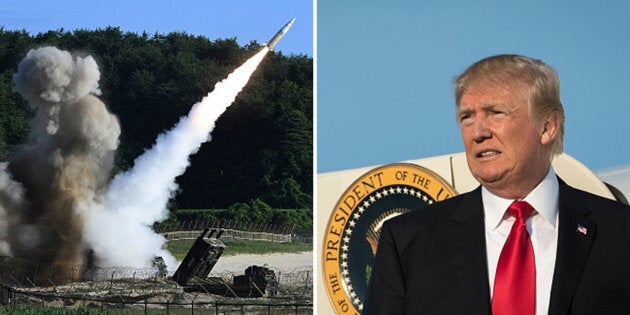 Speaking to 'The Project' on Wednesday night, Professor of Human Security and International Diplomacy at Melbourne's RMIT University, Joseph Siracusa said North Korean Dictator Kim Jong-Un "has crossed the red line" with the missile launch.
"This is about his tenth missile test since President Trump was elected. Frankly, we are in uncharted waters," he said.
"American policy has failed to stop North Korea from reprocessing developing nuclear weapons, militarising them and now to launch them.
"Not to mention they have 5,000 tonnes of biological and chemical weapons which could be put in the war heads, too. They pack quite a punch and they are in no mood to step down."
Siracusa went on to say the danger associated with the current situation internationally also rests on the unpredictability of Trump as U.S. President.
"Both [Jong-Un and Trump] are, to a certain measure, controlled by their military people. The motto of the armed forces is, 'we are ready to fight tonight,'" he said.
"They are ready to take on the North Koreans. No-one has won any money on betting on Chairman Kim's restraint and no-one has won any money betting on Donald Trump's predictability so we have a very, very dangerous situation.
"I would call it day 13 of the Cuban Missile Crisis."
And in terms of what could happen next, the U.S. global security expert said that one particular American think-tank judged the prospect of war between North Korea and the United States within 30 days as an 84 percent chance.
"The armed forces simply execute the commands of the Defence Department with the approval of the President. There are several options here," Siracusa said.
"They could try to knock them out with nuclear weapons. They probably won't do that. There will be a smaller skirmish, a proportional response or let a war unfold on the Korean Peninsula which would be over in five days and there'd be 2.1 million casualties.
"That's why I say it is very, very dangerous. What it will look like? It will look like hell, actually... There isn't much room to manoeuvre but we are in uncharted waters."
North Korea launched a ballistic missile into the sea on Tuesday from its western region, which flew for 37 minutes and was claimed by local state media to have the ability to carry a large nuclear weapon.
The Jong-Un regime often conducts major exercises around important international and American events, and has in the past fired weapons around the American July 4 holiday. The Chairman used the launch to taunt the U.S. during its Independence Day holiday, calling the missile a "gift" to Americans.
The US also said it is "prepared to defend ourselves and our allies and to use the full range of capabilities at our disposal against the growing threat from North Korea," and called for an emergency meeting of the United Nations Security Council.
U.S. Chief Pentagon spokesperson Dana White said: "The United States seeks only the peaceful denuclearisation of the Korean Peninsula... Our commitment to the defence of our allies, the Republic of Korea and Japan, in the face of these threats, remains ironclad."
Prime Minister Malcolm Turnbull and Federal Minister for Foreign Affairs Julie Bishop also condemned the missile launch in a statement, calling it a "dangerous escalation by a reckless regime," and announced support for any "defensive measures" launched against North Korea.
"Australia categorically condemns North Korea's first launch of an Inter-Continental Ballistic Missile," the statement said.
"The Inter-Continental Ballistic Missile launch is a dangerous and provocative act that destabilises the region and directly threatens all nations within range of this offensive weapon.
"The world expects that we live in a rules-based system and this unacceptable missile launch is in breach of numerous United Nations Security Council Resolutions."
ALSO ON HUFFPOST AUSTRALIA