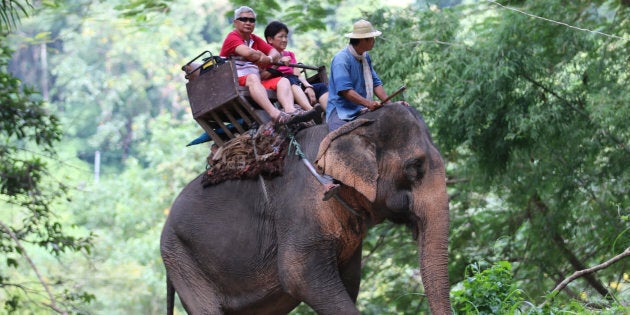 A new report by World Animal Protection released on Thursday found that three in four elephants in tourist entertainment venues across Asia are living in unacceptable welfare conditions.
The 'Taken For A Ride' report looks the welfare of elephants in entertainment venues and is the result of of an 18-month investigation into 220 elephant tourism venues in Thailand, Nepal, India, Sri Lanka, Laos and Cambodia, housing 2,923 endangered Asian elephants.
Forty-four percent of Australians believe riding an elephant is acceptable, with findings highlighting the need for more education around animal tourism -- rides and general animal interaction are still very popular with adventurous tourists. In fact, in some ways we're going backwards.
Since the initial investigation in 2010, there has been a 30 percent increase in the number of elephants at tourism venues. It is important to point out that this number represents a small increase of elephants in high-welfare venues, but also an increase of elephants in low-welfare attractions.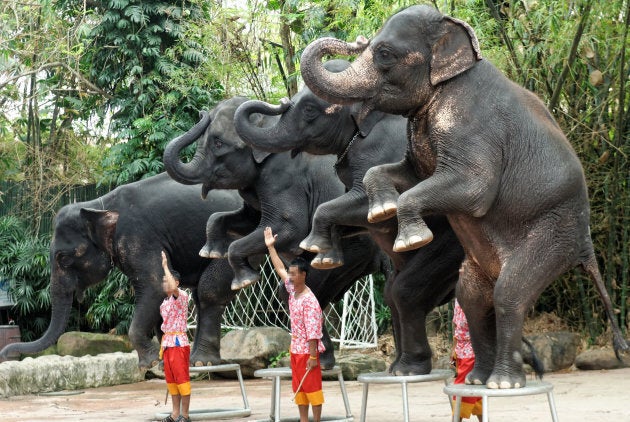 Elephant rides and other attractions such as circus-style shows in which elephants perform unnatural 'tricks' remain popular tourist activities.
"Elephants are wild animals with instincts for the wild. Before they can be used for tourist rides or shows, they must go through a torturous breaking in process in which they are essentially starved and beaten into submission, all when they are just babies," Ben Pearson, Senior Campaign Manager, World Animal Protection said in a brand statement.
"We're urging Aussie tourists to think about the welfare of the elephants. If you can ride, hug or have a selfie with an elephant chances are that animal has been subjected to cruelty."
That being said, it's unrealistic to expect travellers to avoid interacting with animals altogether. Almost half of all Australian tourist visit wildlife attractions because they love animals, according to new TNS polling commissioned by World Animal Protection. So, how can we do it ethically?
"Before you travel, do plenty of research on the places you want to visit and the activities you want to do. Don't be afraid to ask questions. At a true elephant-friendly venue, elephants can move around and socialise freely, and visitor contact is not allowed."
"If possible, the best way to see elephants is in the wild. Sri Lanka has the highest density of wild Asian elephants in the world -- you can often see them on safari tours in Uda Walawe, Wilpattu or Minneriya National Parks," Pearson said.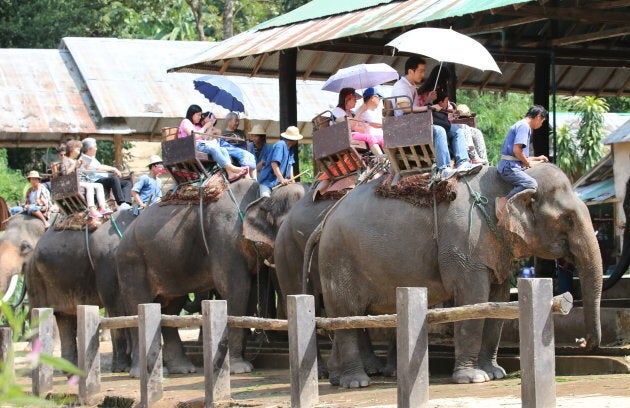 Here are WAP's tips to prepare yourself for an animal-friendly holiday:
See animals in the wild, ensuring you are always far enough away from the animals.
Visit a genuine wildlife reserve or sanctuary, making sure there isn't direct contact between visitors and animals and animals are rescued, not bred in captivity.
Buy locally produced, environmentally sustainable souvenirs that are free from animal products. You will be supporting local communities and contributing to the conservation of animals and their natural habitats.
Visit a nature conservation project or volunteer at one. By planting trees for example, you help contribute to the conservation of elephant and orangutan habitats.
Take part in active eco-tours where nature and wildlife are not disturbed.
Complain when something does not feel right! If you see animal cruelty, please report this to the (local) authorities or a local animal welfare organisation.
ALSO ON HUFFPOST AUSTRALIA
Click below to subscribe to the Refresh podcast by HuffPost Australia on iTunes.