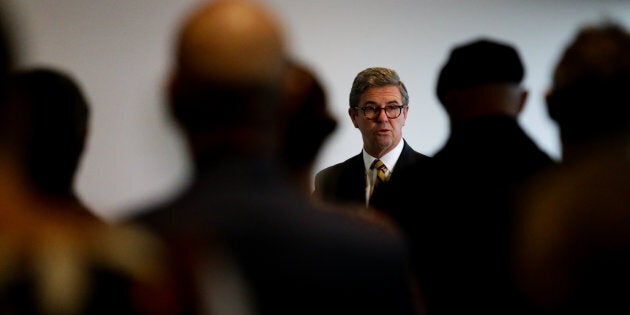 An unexpected potential threat has emerged against Malcolm Turnbull's razor-thin majority, with Labor backing a High Court challenge to disqualify a Coalition minister from parliament.
Labor will proceed with a court challenge against Assistant Health Minister David Gillespie, who it is alleged has an indirect financial interest in the Commonwealth, understood to involve a post office situated in a small shopping centre Gillespie owns in Port Macquarie, The Sydney Morning Herald reports.
Gillespie has received independent legal advice that he has not breached the Constitution by owning the shopping centre which leases space to an Australia Post outlet, which is a Government-owned corporation.
Attorney-General George Brandis has previously said it comes "nowhere near" grounds for disqualification under section 44 of the Constitution.
EXCLUSIVE x 2: Labor has approved and launched its High Court challenge against Turnbull minister David Gillespie. It's happening #auspol

— Adam Gartrell (@adamgartrell) July 7, 2017
If Gillepsie were disqualified by this court action, it would force a by-election in the seat of Lyne and would threaten Turnbull's one-seat majority.
Comment has been sought from Gillespie's office.
Foreign Minister Julie Bishop has labelled the challenge a stunt.
Acting Labor Leader Tanya Plibersek said section 44 of the Constitution is there to prevent conflicts of interest and prevent the potential for corruption.
"So we think it is very important the electors get the opportunity to see whether the man that has been elected to represent them is constitutionally able to do so," she told reporters.
Fairfax reported earlier this year the Nationals MP owns a small suburban shopping complex in Port Macquarie and one of the shops is an outlet of Australia Post -- a Government-owned corporation.
Brandis revealed at a Senate estimates hearing in June that he had urged Gillespie to seek his own legal advice.
"(Sydney SC Guy) Reynolds' opinion is that Dr Gillespie does not have a section 44 problem," Brandis told the hearing.
"I have not written any advice in relation to the matter but I can tell you that I discussed the matter with Dr Gillespie and I formed the preliminary view that his arrangements were nowhere near a section 44 problem because of the indirectness of the interest."
Former Labor candidate for the seat, Peter Alley, flagged the issue and told Fairfax it was not a decision he was taking lightly.
"It has been taken after considering expert legal advice from senior counsel about the constitutionality of Dr Gillespie's election in 2016," he said.