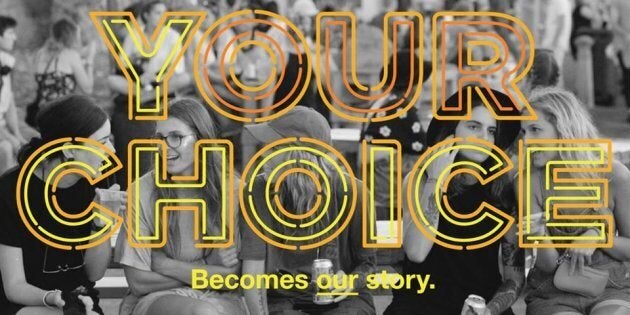 Hundreds of Australian live music venues, musicians, promoters and industry identities have teamed up for a campaign to stamp out sexual assault and violence at concerts and festivals.
The 'Your Choice' movement has signed up Bluesfest, Groovin The Moo, Splendour In The Grass, Laneway, Falls, Live Nation and many more to its plan to stamp out bad behaviour in music. It is the latest, and by far the largest, push to bring attention to assaults at music events, following a growing trend of musiciansandfestivals calling out such bad behaviour, several alleged sex assaults at the Falls Festival, and the 'It Takes One' awareness campaign from Melbourne band Camp Cope. Your Choice aims to "influence a culture of positive behaviour through shared responsibility", raising awareness about inappropriate behaviour and encouraging other patrons to speak up or call out about unsavoury incidents.
"The message loud and clear is, if you see some anti-social behaviour, you need to speak up. We want to hear from you," said Splendour co-CEO Jessica Ducrou at a press conference in Melbourne on Friday.
Others signed up to the campaign include Bernard Fanning, Sydney; venues including Big Top and Beach Road Hotel, Melbourne's Corner Hotel and Northcote Social Club, and a swag of musicians including Gang Of Youths, Josh Pyke, Montaigne, Something For Kate, The Jezabels and The Drones. In a release, Your Choice said it hoped to work with relevant bodies and organisations to build strategies to stamp out this behaviour at concerts.
"Your Choice is about being culturally proactive, we don't want to stick our heads in the sand around any of these issues and pretend they're not happening. As industry representatives, we will continue to work with the public, emergency services, community groups and government agencies to develop informed and preventative strategies rather than legislative, restrictive solutions," the campaign said.
A list of "house rules" posted on Your Choice's website includes "you don't have the right to touch someone without their permission, respect their personal space" and "no means no." The website will also include a resource centre for bands, venues and others to share initiatives and information.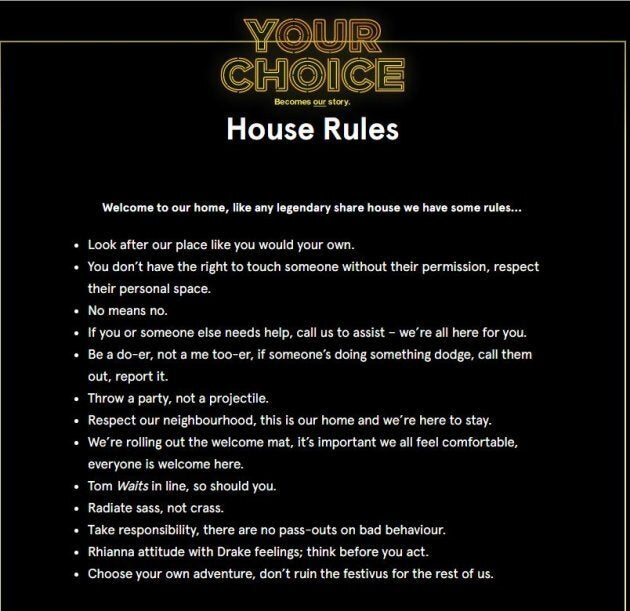 "We agree there needs to be a wider conversation around behavior and individual accountability, and we will continue to work with festival promoters and industry to develop and implement strategies to ensure safe environments for all music fans," said Craig Lapsley, commissioner of Emergency Management Victoria.
"Having a central place like Your Choice, industry can go to for ideas around harm minimization and experienced contacts who can help them develop strategies, as well as a forum for discussion is a win for everyone."
Helen Marcou, co-founder of the Save Live Australia's Music (SLAM) movement, also praised the idea.
"Sexual harassment and assault is endemic in our society, it's prevalence is often a barrier to women and our LGBTQI communities being able to connect and participate in not just live music culture but everyday life," she said.
"I'm so pleased to see a united community response coming from our Music Sector. Your Choice is a campaign with a clear message, exercise respect, because everyone has an equal right to enjoy our music scene free from harm."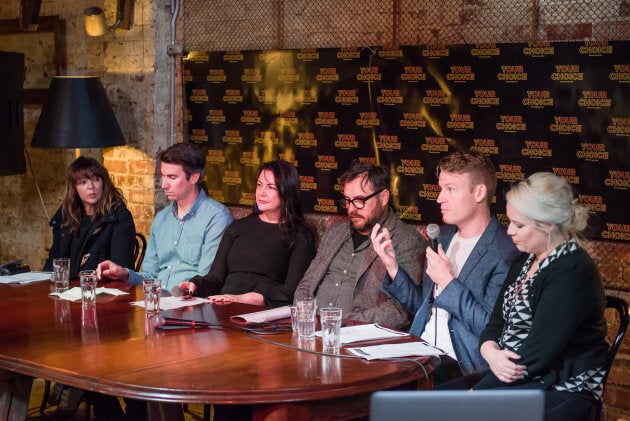 Splendour In The Grass co-CEOs Ducrou and Paul Pittico said their event, to be held next weekend, would prominently spread the word of Your Choice.
"Australia is one of the most highly regulated countries in the world with lots of checks and balances in place that help make you safe. Who is responsible for the decisions you make?" the pair said.
"At its core, Your Choice is a discussion about safety at gigs, concerts and festivals and how we can collectively have an inclusive, supportive good time at these shows. Your Choice will start the conversation and we hope, positively shift the behavioural culture that seems so prevalent these days."
ALSO ON HUFFPOST AUSTRALIA